Sporting Glory Gives Way to Something More Fulfilling
---
Posted on December 12, 2019 by Alumni
Alumni
---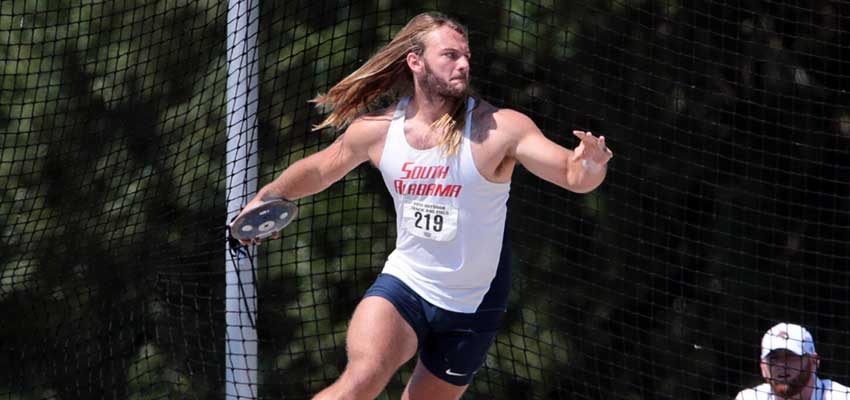 ---
Jan-Louw Kotze came to the University of South Alabama hoping to compete for a discus gold medal in the Olympics. That didn't work out (although he hasn't quite given up on it yet). In the meantime, his experience at South has led him to something more satisfying.
"One thing that always bothered me about athletics is that, especially in an individual sport like track and field, it's a relatively egoistic pursuit," Kotze said. "I wasn't really helping anybody by throwing this implement really far." So he has begun studying at the University of Minnesota for a doctorate in counseling psychology — an interest he discovered as a South undergrad.
"Actually helping people deal with problems in their lives or reach a better place," he said, "that's going to be ultimately more fulfilling, I think, than sporting glory."
For even more fulfillment, he's thinking of taking up ballroom dancing. And the piano. "I like the concept of a Renaissance man — someone who can do a lot of things pretty well."
Kotze (his name is pronounced "yon low COAT-zuh") has certainly done well at athletics. He came to South from Paarl in the South African province of Western Cape, about 35 miles northeast of Cape Town.
As a high school track and field athlete, he drew international attention for his skill in the discus throw, the shot put and the hammer throw. Several U.S. college coaches reached out to him, including Paul Brueske, head coach of the South men's and women's track teams.
In 2012, both Kotze and Brueske traveled to Barcelona, Spain, for the World Junior Championships — Kotze to compete, Brueske to recruit. The coach had never met Kotze's parents and didn't know what they looked like, but coincidentally bumped into them anyway, struck up a conversation and discovered who they were.
"For me, that was a sign," Kotze said. "I'm a Christian, and that was my divine guidance, if you will, that I had to go to South Alabama."
It worked out brilliantly. He arrived at South in January 2013 and stayed until July 2019, earning a double bachelor's degree (B.S. in exercise science, B.A. in psychology) and then a master's in behavioral and brain sciences.
"It was halcyon, those days at South," he said. "I miss them now already, but I know they will always be with me. Wherever I go, there South will be."
Kotze won the discus throw four years in a row at the Sun Belt Conference Outdoor Track and Field Championship and was the 2017 Sun Belt Postgraduate Scholar Athlete of the Year. He also won 22 discus and five shot put competitions at other meets.
In 2016, he finished sixth in the discus at the NCAA Division I Outdoor Championships, earning first-team All-America honors. He holds the school and conference records in the discus, and the school record in the weight throw (an indoor version of the hammer throw). He stands second on the South career list of longest shot puts.
"Discus throwing was my main event," Kotze said. "I didn't get good enough, unfortunately, to make it to an Olympic level. I was not far off, but in a sport like that, unless you are one of the top five in the world, you're not going to make a living out of it. And even if you do, it's only while you're good, which is not a very long time. So ultimately it was, at least economically, not an especially sustainable way to build a future."
He does hope to continue his training at Minnesota. "I resolved that I'll give it a shot until at least the next Olympic games, which is next year at Tokyo," he said.
Meanwhile, another interest he discovered at South has turned into a passion. He took a couple of psychology classes, "and I realized I loved it." He's excited about the Ph.D. program, even though it will take six years to complete. "They're trying to develop you as a researcher, as a clinician and then as a teacher," he said. "So that just takes a while to do."
As a psychology student, or maybe just as a person who tends toward introspection, his chief subject for analysis is himself. He's aware that athletes sometimes have trouble transitioning from the sport that took up so much of their time and shaped so much of their identity. They lose not only the thrill of competition but also their support network: teammates and coaches. "It's very difficult to overcome that sudden loss," Kotze said. "In some way, it's as though somebody died."
No matter what, he plans to keep active. At 6 feet, 1 inch tall, he weighs 210 pounds, down from his peak of 240 as a student-athlete but still solid. "I doubt that I'll ever stop lifting weights unless the injuries pile up so much that it's not worth it anymore," he said. "I'll probably still try to be strong and have power because I feel those are good things to have."
He also wants to develop his artistic and creative side through dancing and music. "Next year, I hope to start learning an instrument," he said. "I feel as though I should be able to play at least one at a non-embarrassing level. So I'm thinking of taking up piano."
The University of Minnesota, with more than 50,000 students, feels a little overwhelming so far. In contrast, the University of South Alabama seemed the perfect size for him: approachable, but big enough to include lots of subcultures for him to explore. He got to know members of the band, representatives from student government, cheerleaders, nursing students, international students, commuter students, military veterans and many other different types of people.
"I found it stimulating," he said. "I've always struggled with shyness throughout my life. I still struggle with reaching out to people, but it got better at South. If you talk to my parents, that's one of the things they appreciate the most."
For academics, social life, athletics and personal development, "I sing the praises of my university," Kotze said.
Maybe most important, he said, "I was appreciated and liked by my fellow students. I felt loved in a sense. I felt welcomed by people from all across the board. How unlikely is that? I might never have that again. I feel very lucky and fortunate and blessed."
---
---