---
Posted on May 18, 2023 by Alumni
Alumni
---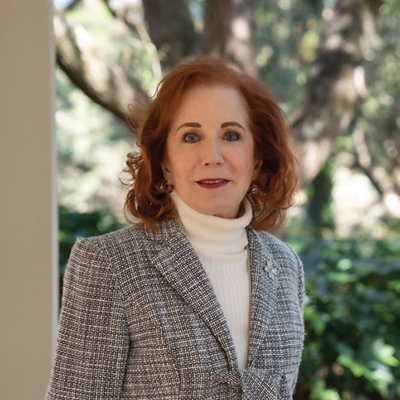 ALEXIS ATKINS
Vice Chair of Board of Trustees sees change and growth
As a working mother taking night classes in the 1990s, Alexis Atkins did not have much time to invest in extracurriculars at the University of South Alabama. She's certainly made up for that since.
Her contributions at South include membership on the Executive Advisory Council of the Mitchell College of Business and the Board of Directors of the Jaguar Athletic Fund. She was president of the National Alumni Association and is currently vice chair of the University's Board of Trustees.
She's seen great change at South.
"Today, it's incredible, with all the new buildings and beautiful grounds," said Atkins, who studied human resources development and earned a bachelor's degree in 1997. "And there's USA Health and all of the hospital facilities. It's been very exciting to be a part
of that."
Atkins, vice president of human resources and co-owner of Budweiser Busch Distributing Inc. of Mobile, is past chairman of Feeding the Gulf Coast (formerly the Bay Area Food Bank) and past president of Executive Women International. Recently, she was honored by the Yellowhammer news outlet as an Alabama Woman of Impact.
In 2016, Atkins was nominated to replace Sandy Stimpson, the mayor of Mobile, on the Board of Trustees. She considers it an honor to serve the University. She's proud of having served as chair of the board's search committee that recommended Jo Bonner, the former congressman from Mobile, become the fourth president of the University of South Alabama.
"He will make us the Flagship of the Gulf Coast," Atkins said. "His background in state and federal affairs will be a great help in moving the University forward."
Atkins and her husband, Michael, live in Mobile and together have five children.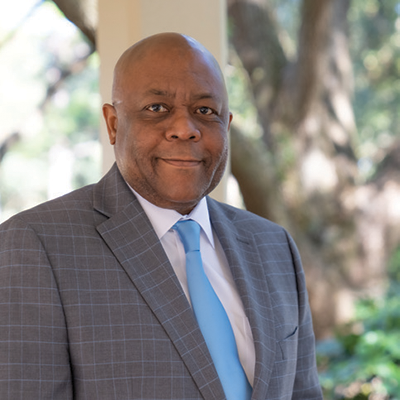 LENUS PERKINS
From Birmingham business executive to secretary of the USA Board of Trustees
On the day after Christmas, 1985, Lenus Perkins left West Africa to study civil engineering at the University of South Alabama.
His biggest problem was the language barrier.
Perkins spoke fluent English, coming from Liberia, but had never heard a thick Southern drawl.
"It was a cultural shock," he said, laughing. "I really did struggle to understand Southerners. I remember one of my professors in chemistry had a thick accent. Finally, I went to him and said I couldn't understand what he was saying, and he spent some extra time with me."
More than 30 years later, Perkins is a South graduate and Birmingham business executive who serves as secretary of the USA Board of Trustees. It's an honor he never expected. Along the way, he's learned how to say "y'all," talk about American food and football, and value the culture of opportunity in his adopted country.
He continues to keep in touch with his mentor, Dr. Kevin White, emeritus professor of civil, coastal and environmental engineering.
"Going to South, I learned to appreciate so much," he said. "Even now, that's my perspective. I want to do everything in my power to make the institution grow and draw international students and students from less fortunate families."
After earning his civil engineering degree from South in 1991, Perkins began a career with Bhate Environmental Associates. As the company's executive vice president, he is responsible for corporate oversight and program management for business units of the company – environmental remediation, compliance, construction, and business development strategies for local, state and federal contracts, including with the U.S. Defense and State departments.
Perkins and wife, Michelle, live in Birmingham;
the couple has two children and a niece they raised from Liberia.
---
---