Learning to Eat for Wellness
---
Posted on June 9, 2022 by Alumni
Alumni
---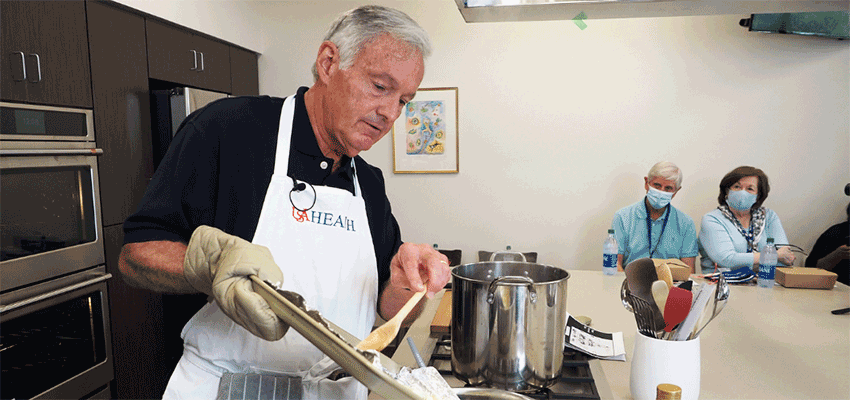 The culinary medicine program at USA Health teaches the importance of eating healthy.
---
All of us have heard, for as long as we can remember, that eating our fruits and vegetables, limiting our sugar intake and staying away from saturated fats will help keep the doctor away. As a steady stream of research findings demonstrates, that advice is even more important than we realized. And from all this comes the field of culinary medicine.
Culinary medicine is a relatively new, evidence-based field in medicine that blends the art of food and cooking with the science of medicine. The practice is aimed at helping people reach good, personal medical decisions about accessing and eating high-quality meals that help prevent and treat disease and restore well-being.
Culinary medicine falls under the USA Health Integrative Health and Wellness program spearheaded by Robert Israel, M.D. A long-time primary care provider in Mobile, Israel not only is an advocate for culinary medicine but is a practitioner himself.
"Our eating habits have a significant impact on our health, maybe even more than we initially thought," Israel said. "Through good eating habits, we can change the course of some chronic diseases such as diabetes and heart disease, while still being able to eat flavorful foods that are enjoyable."
People throughout the Mobile area got a taste of culinary medicine in April when USA Health hosted John Wesley McWhorter, DrPH. McWhorter is one of the nation's leaders in culinary medicine. He serves as an assistant professor in health promotion and behavioral sciences and director of culinary nutrition for the Nourish Program at the Michael and Susan Dell Center for Healthy Living at the University of Texas Health Science Center School of Public Health. He is an appointed faculty member at McGovern Medical School, serves as a national spokesperson for the Academy of Nutrition and Dietetics and is an advisory council member for the Teaching Kitchen Collaborative.
During a three-day visit to Mobile, McWhorter worked with current and future healthcare providers, sharing the message of how to work with patients to understand the importance of good eating habits, and held an open forum for the public.
During one session, McWhorter utilized the USA Health demonstration kitchen located at University Commons to show medical students and providers how healthy meals can also be tasty.
"This is such a great opportunity for people in our area to hear how what we eat impacts our health conditions and how changing our eating habits can make us feel better and help prevent and/or reduce the impact of chronic health conditions," said Margaret Sullivan, vice president for development and alumni relations at the University of South Alabama and another driving force behind USA Health's culinary medicine efforts. "Unfortunately, Alabama ranks high in too many chronic diseases that are impacted by our diets. Dr. McWhorter's workshops were a perfect way to further advance USA Health's culinary medicine initiatives."
Now, USA Health's culinary medicine program has become part of the Teaching Kitchen Collaborative (TKC), a global network of 35 teaching kitchens. The TKC is an invitational network of thought-leading organizations using teaching kitchen facilities and concepts as catalysts for enhanced personal and public health across medical, corporate, school and community settings.
"The Gulf Coast is an area with a world of flavor but also a huge number of people affected by poor eating habits, including too much added sugar, too many processed foods and, unfortunately, foods that are devoid of nutritional value," Israel added. "Changing that has been shown to improve people's health and reduce disease. Helping people learn how to make those modifications is the goal of our program."
As USA Health expands, so does its culinary medicine effort. The physician office building on the Mapp Family Campus in Fairhope will be home to another demonstration kitchen. With the facility scheduled to open in fall 2022, people in Baldwin County will have a more convenient location to learn about the value and importance of healthier cooking and eating.
"Baldwin County has been the fastest growing county in all of Alabama for the past decade," Sullivan said. "This influx of people has stretched the healthcare system, especially in an area that already is considered underserved. USA Health is helping to alleviate some of that strain, while at the same time bringing in new programs like the culinary medicine effort that are the hallmarks of academic medicine."
When fully completed, the Mapp Family Campus will meld advanced medicine with wellness. Water features, walking trails, outdoor education and gathering areas will provide a serene and beautiful setting to engage patients, employees, students and others drawn to the campus by services provided in a freestanding ambulatory surgical center and a physician office building. In keeping with the teaching mission of USA Health, the Mapp Family Campus will also host wellness programming to support patients and others in the community and provide a novel practice setting for educating and training future healthcare providers.
Watch Dr. Israel speak about the Culinary Medicine program at USA Health.
---
---