---
Posted on May 18, 2023 by Alumni
Alumni
---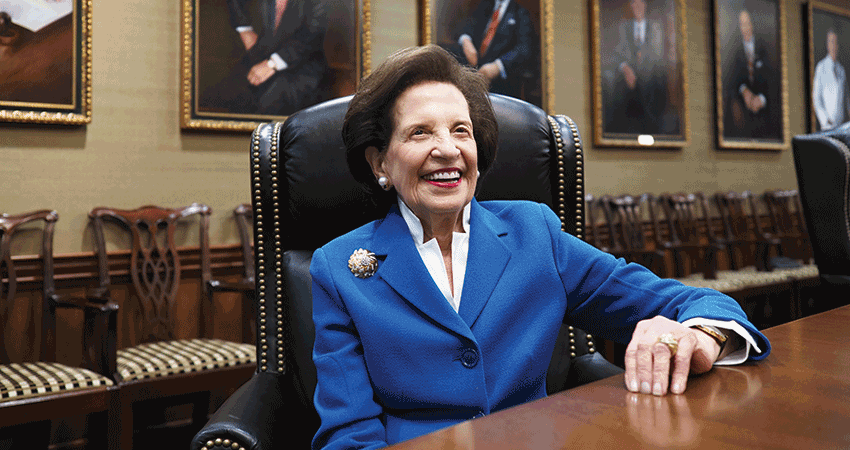 ---
For someone who has flown around the world and met with presidents, Arlene Mitchell is firmly grounded in family – both immediate and her adopted one at the University of South Alabama.
In an interview at her home in Spring Hill, the newest chair pro tem of the Board of Trustees discussed everything from the importance of the University and USA Health to the partnership with her late husband, Mayer Mitchell.
And when Arlene Mitchell was selected this summer to her new role – as the first female chair pro tem in the University's history – she thought about setting an example for members of her own family. "I have three daughters, and lots of granddaughters, and I know it means a lot to them," Mitchell said. "That makes me proud."
When Mitchell joined the board in 2007, there were two women serving as trustees. Now there are five, including Vice Chair Katherine Alexis Atkins, which means women lead the board that governs the University. Gov. Kay Ivey serves as ex officio president. Lenus Perkins, who came to South as an international student from West Africa before graduating in 1991 with an engineering degree, is secretary.
"We've come a long way," Mitchell said. "The board has gotten more diverse."
Members of the Mitchell family have been philanthropic leaders at the University of South Alabama for half a century, making their family one of the most generous private donors to higher education in the history of the state of Alabama. The Mitchell Center, the Mitchell College of Business and the Mitchell Cancer Institute have been named in their honor.
Arlene Mitchell was married to Mayer "Bubba" Mitchell, a USA trustee who built a Mobile-based real estate empire with his brother, Abraham "Abe" Mitchell. She was appointed to the USA Board of Trustees after the death of her husband.
She grew up in Atlanta and met her husband at the University of Pennsylvania, where he and his brother were studying finance. Years later, Abe Mitchell served on the board at the Wharton School of Business.
The family's pull to South has made a transformational impact through education in Mobile, where there are not as many big-dollar donors compared with larger universities with long histories and wealthy alumni.
Arlene Mitchell, a winner of the Mobilian of the Year award, is active with the Ahavas Chesed Synagogue. Her civic work includes support of the Gulf Coast Exploreum Science Center, Senior Citizens Services of Mobile and the Boys and Girls Club of South Alabama.
The family's work with the USA Health Mitchell Cancer Institute began with her husband, who was first diagnosed with cancer in his 30s. He was given just six months to live, but lived to be 74, surviving five different cancers.
Mitchell believes that experience made her a stronger person. There were hard times. Yet she laughs when she tells the story of a low moment that became a turning point.
Her husband spent time at the University of Rochester Medical Center, so they rented an apartment in Rochester, New York, where the weather was often miserable. She remembers going grocery shopping in the snow, then slipping and falling on their front steps, with bags spilling everywhere.
Just then, Mayer opened the front door, frustrated with their time in Rochester, saying that if he was going to die, he might as well go home to Mobile.
"'You're not going to go home!'" Arlene insisted. "You're going to stay here and take all that medicine!' And he just looked at me, because I'd never screamed at him like that before. And he decided to stay."
Her husband lived long enough to join his wife and brother at the "topping out" ceremony for the MCI,signing a beam during construction of the Mitchell Cancer Institute, a place other cancer patients could go to for academic healthcare treatment close to home. In the last 15 years, South and the USA Health system have continued to grow, with new buildings and programs.
"It's mind-boggling to me," she said. "So much had changed since Mayer was on the board."
In their marriage and in Mobile, Arlene and Mayer Mitchell were a team who complemented each other and worked together in community projects and philanthropic endeavors. The couple raised three daughters and a son. Through the years, the family traveled the world for pleasure and in advocacy, visiting the White House and meeting heads of state. Along the way, they also picked up an appreciation and knowledge of art. When asked about pieces they collected, Mitchell's answers almost always include a family story about where they were going and what drew them to a scene.
"A lot of our paintings have children in them," she said. "In fact, one of Mayer's favorite pictures is at South right by the president's office."
Mitchell is a strong supporter of Jo Bonner, the former Alabama congressman who in January 2022 became the fourth president of the University. His experience is something she relies upon as the new chair of the USA Board of Trustees.
"I think Jo is going to be such an asset," she said. "I think Jo will make sure we have these contacts in the state and beyond to get the support we need."
She approaches her own job with humility.
"It's an interesting experience, and I hope I'm up to fulfilling it," Mitchell said. "It's a little overwhelming, but I'm learning. Just learning to be with a lot of different people, dealing with different personalities, and being able to handle that and not step on too many toes."
That shouldn't be a problem for the new chair of the Board of Trustees. In a way, she's been preparing for this job her whole life.
---
---