Transforming Medicine Mapp Family Campus
---
Posted on May 17, 2023 by Alumni
Alumni
---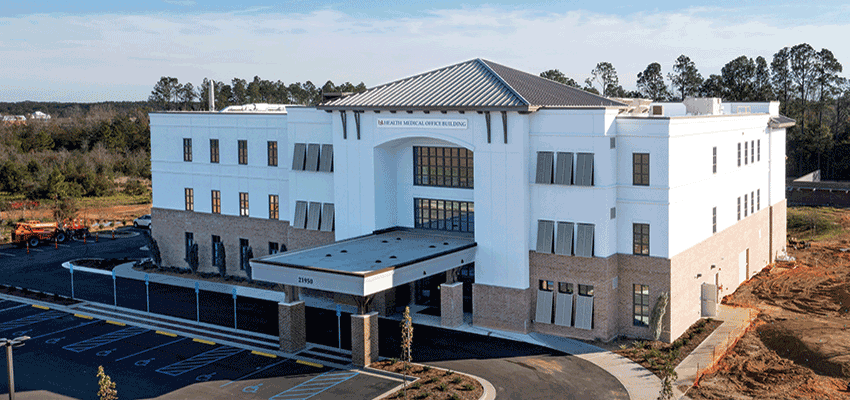 Mapp Family Campus Building located in Baldwin County.
---
Dressed in a red cardigan, Louis Mapp laced his fingers and grinned as he took the podium to a standing ovation.
"God has richly blessed our family," he told those gathered to dedicate a new medical office building in Baldwin County in November. "It has been an honor to share His blessings with USA Health and this wonderful medical campus."
Mapp, leaders from USA and USA Health, and local dignitaries then cut a red ribbon to dedicate the three-story, 50,000-square-foot medical office building located on a medical campus named for the Mapp family.
USA Health's Owen Bailey recalled conversations around the Mapps' kitchen table when the idea for the new campus was taking shape. "Louis has a vision to bring academic healthcare to Baldwin County," said Bailey, chief executive officer and senior associate vice president for medical affairs. "It was important to him that the campus be focused on wellness, nutrition and disease prevention – concepts he has embraced throughout his life."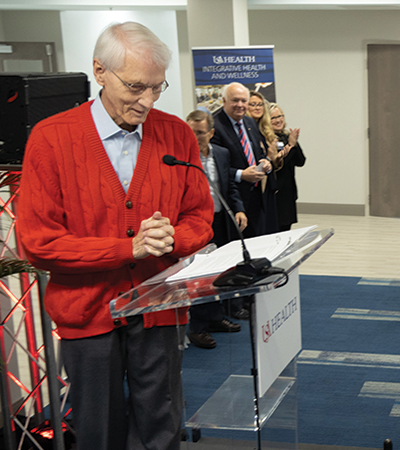 The Mapps' donation of eight acres for the campus was a continuation of the family's longtime investment in academic medicine – from financial support to provide special services for hospitalized children to the gift of volunteerism when Louis Mapp rocked babies in the Neonatal Intensive Care Unit at Children's & Women's Hospital.
When the time came to choose the parcel to donate, the Mapps generously insisted on the property at the corner of state highways 181 and 104, Bailey said. Today, the campus's prominent location puts it within 15 miles of approximately half of the population of Baldwin County, one of the fastest growing counties in America.
In recent years, USA Health has steadily widened its footprint in Baldwin County, opening a second site for the Mitchell Cancer Institute in 2017 in Fairhope and adding other patient care services in locations from Spanish Fort to Foley.
The new medical office building enables the region's only academic health system to bring a number of specialties under one roof and to roll out new offerings for the area such as pediatric pulmonary and pediatric endocrinology care, expected to open this spring.
Anchoring the first floor of the medical office building is Baldwin Family Medicine, which serves as a demonstration of USA Health's strong connection and collaboration with other healthcare providers in the community.
"Collaborating with community physicians, providers from USA Health are bringing their specialized expertise to meet the healthcare needs of people in the region," Bailey said. "As the only academic healthcare system in the region, USA Health continues to expand relationships with community providers and other partners as we strive to provide increased access to the care that people need and deserve."
With more than 65 exam rooms, the medical office building is equipped to provide 70,000 patient visits each year. The building also will house a full array of imaging technology, including X-ray, mammography, ultrasound and CT.
Services will include endocrinology, urology, gastroenterology, urogynecology, colorectal surgery and general surgery, with room to add other specialties. In addition to pediatric pulmonary and endocrinology, specialty services for children will include surgery, urology, gastroenterology and cardiology.
Within the facility, USA Health physicians and other providers will incorporate health and wellness strategies for patients along with traditional medicine. A demonstration kitchen located on the third floor gives patients and caregivers the opportunity to engage in healthy-eating classes – a way to fulfill the health system's mission of helping people lead longer, better lives.
The plan for the campus includes multiple water features, walking paths, and outdoor educational and gathering areas — all designed to create a peaceful environment.
Later this year, a 24,000-square-foot ambulatory surgery center is scheduled to be completed, which will round out the campus as a powerhouse for medical services and medical education in Baldwin County.
"The Mapp Family Campus will be another important location for educating and training the next generation of healthcare providers," said John V. Marymont, M.D., MBA, vice president for medical affairs and dean of the Frederick P. Whiddon College of Medicine at the University of South Alabama. "Having this additional site also will allow USA Health to help alleviate some of the healthcare provider shortages being faced in our region."
At the dedication of the new medical office building in November, Natalie Fox, D.N.P., executive director of academic physician practices, provided insight into the difference that academic medicine brings to a community.
"It brings together a team of healthcare professionals – our physicians who can deliver high-quality expertise along with our medical students who are continually learning and our residents – in a rich environment where we have the latest in innovation, treatments and management," Fox said.
If you would like to support the Mapp Family Campus please visit southalabama.edu/giving/mappcampus.
---
---