---
Posted on June 25, 2021 by Julie Jackson
Julie Jackson
---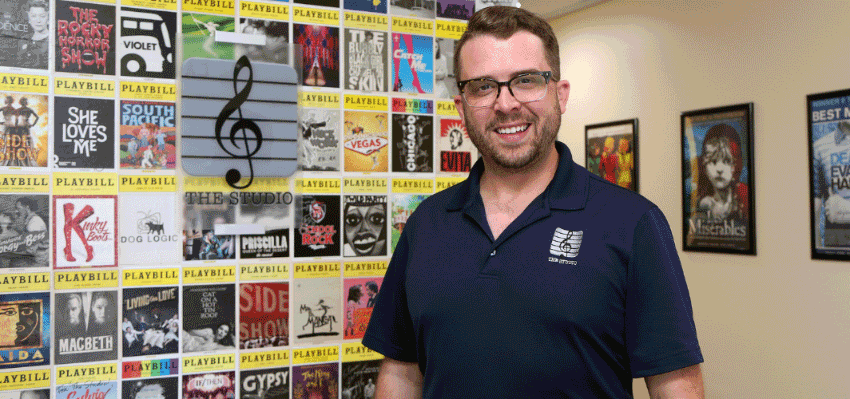 Brandon Marcus '13, Owner, The Studio, Daphne, Ala.
---
Brandon Marcus did not plan to study musical theatre at South. He began his college career as a voice and music therapy student at the University of Alabama.
When his father was diagnosed with stage four brain cancer, Marcus decided to return home to Mobile to spend as much time as possible with his dad.
He transferred to South. South doesn't offer a music therapy program, so he changed his major to musical theatre.
"It opened a completely different world," said Marcus. "I never thought I'd be working with kids, and now I can't imagine my life without them."
Rehearsing for a career
Marcus worked with a local children's theatre company in Mobile while earning his degree. He took that time to explore every nuance of the performing arts, from choreography, costuming and scenic design to artistic and music direction.
Two months after he graduated, he opened The Studio.
"We offer everything a student could possibly need in the performing arts," said Marcus.
What started out in 2013 as a single-room voice studio in Mobile has now expanded to a multi-room space in Daphne that serves 100 students, as young as five and as old as 18.
Some of The Studio's students take classes just for fun. Others hope to pursue the performing arts at the collegiate level and beyond.
"We recently had a student who went to Atlanta to film a Marvel movie," said Marcus. "Another is auditioning for a Reese Witherspoon movie in Mississippi."
Compassion plays leading role
Marcus says he leans on what he learned at South every day.
"My professors pushed me, and I thought it was a little hard," Marcus said. "But now that I look back, I am so thankful for it."
Through his own experience, Marcus learned how to work with students.
"At the end of the day, students are human. You have to treat them with compassion. South taught me all of that."
Watch Marcus's interview here.
---
---