---
Posted on July 12, 2019 by
---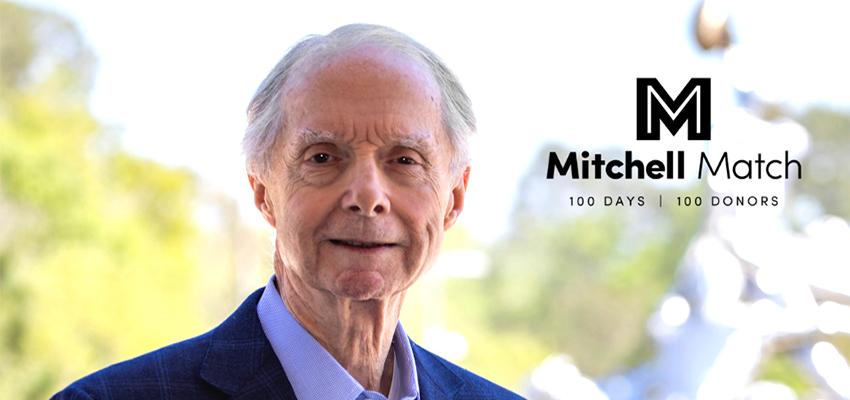 ---
The playing field at the University of South Alabama's new Hancock Whitney Stadium will be named Abraham A. Mitchell Field, in recognition of a $5 million commitment from Mitchell to the football stadium project.
The gift is a challenge match to attract additional philanthropic support for the project. "The University of South Alabama is extraordinarily grateful to Mr. Mitchell for his very generous gift to the Hancock Whitney Stadium project," said USA President Tony Waldrop. "Mr. Mitchell has been exceptionally generous to the University for many years, and we are very pleased that his name will be prominent on another of the many facilities that he and the Mitchell family have made possible with their philanthropy."
The $5 million naming gift for Abraham A. Mitchell Field is structured as a challenge gift that will facilitate additional donations to Hancock Whitney Stadium. Mitchell will match, on a one-to-one basis, any donation to the stadium project from a minimum of $500 to a maximum of $250,000 per donor. A special campaign called 100 Days | 100 Donors launched on May 1 to challenge others to support the Mitchell Match.
"It is my hope that others will be as inspired as I am about the future of the University of South Alabama, and the significant milestone that the new stadium represents, particularly its impact on student life," said Mitchell. "I'm extremely proud to have played a role in the growth and development of the University, and I look forward to continued enhancement of USA's success in academics, healthcare and athletics."
The philanthropic support of Mitchell, along with his late brother, Mayer Mitchell, and Mayer's wife, Arlene Mitchell, has enabled the University to offer substantial new scholarship funds to students, and to construct the Mitchell Center, the Mitchell College of Business, the USA Health Mitchell Cancer Institute and other facilities of USA Health and the USA College of Medicine.
"Mr. Mitchell has had a profound and remarkable impact on every aspect of the University of South Alabama, from student scholarships and academics to healthcare and athletics," said Ken Simon, chair pro tempore of the USA Board of Trustees. "This gift continues and expands the legacy of improvement and expansion that he and his family have made possible over the past several decades. We are extremely pleased that the Abraham A. Mitchell Field at Hancock Whitney Stadium is now part of that legacy."
Fundraising for the stadium continues, and additional sponsorship and donor opportunities are available. To support Hancock Whitney Stadium, contact Joel Erdmann at jerdmann@southalabama. edu or (251) 460-7121, or Jacob Ludwikowski at jludwikowski@southalabama.edu or (251) 461-1553, or visit GetOnCampus.com.
---
---