---
Posted on December 12, 2019 by Alumni
Alumni
---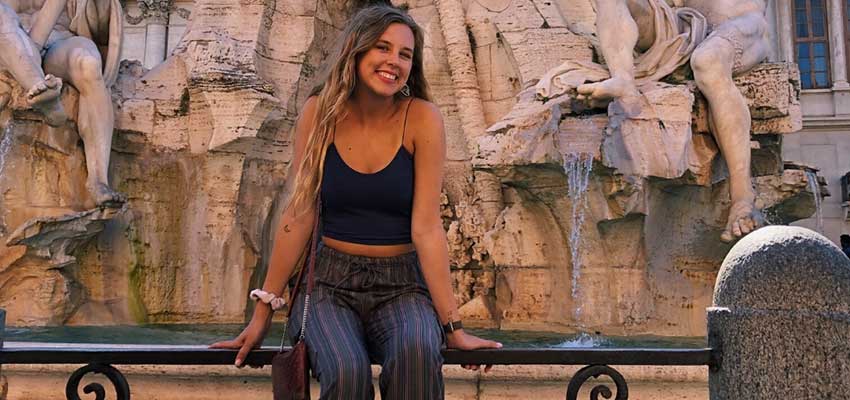 ---
As a nursing student, Kelsey Moon never imagined she would be studying art history in Italy. But pushing herself beyond her comfort zone is a challenge Moon readily accepts.
A sophomore in USA's College of Nursing, Moon grew up in Birmingham, the youngest of three. Originally, she wanted to attend college out of state and never even considered applying to South. A summer beach vacation changed Moon's trajectory when her mom encouraged her to tour the University. She immediately fell in love with South's campus.
"It felt like home," Moon said. "I thought, 'maybe I am supposed to be here.'"
Her goal of becoming a nurse is one area that has never wavered, much like her passion to travel overseas. Early in her freshman year, Moon began researching study abroad opportunities that would allow her to complete a few of her elective classes.
"I knew I wanted to study abroad early in my college career, so that I can focus on nursing school later," said Moon.
She initially felt overwhelmed by the multitude of international programs offered. Jan Dominique Santos, a study abroad advisor in USA's Office of International Education, guided Moon through the process.
"She sat down with me and broke it down realistically into what would be most beneficial and what I could afford," said Moon. That's when she found the program that would take her to Italy for two weeks last summer to study art history.
A self-described people person, Moon was thrilled to study abroad and experience a new culture, but the academic focus felt a bit daunting. "It was an art program, so it was way out of my comfort zone," laughed Moon.
Moon's program took her to the well-known art meccas of Rome and Florence to visit some of the most well-regarded museums and historical sites. However, it was the lesser-known Orvieto, with a population just over 20,000, that became her favorite destination. "It felt like the real Italy," said Moon.
Moon doesn't speak Italian, but she didn't let that obstacle hinder her from diving headfirst into the culture. She relied mainly on hand gestures to communicate with the locals. "It made me realize that, even though we don't speak the same language, we can still communicate. We're not that different," said Moon.
An unexpected challenge came in the form of a more laid-back class structure than she is accustomed. "Naturally, I am very structured and time-oriented," she said. The program offered students free time to experience the Italian culture. "It helped me learn how to manage my free time, and that was a big take away."
Moon is hoping to take a little bit of the laissez-faire attitude with her this semester. "I'm trying not to take things so seriously," she said. "Yes, I have schedules and deadlines, but I really want to enjoy this time of my life, because I won't get it back."
---
---