Connect with Alumni: Dan Ollis '80
---
Posted on May 17, 2023 by Alumni
Alumni
---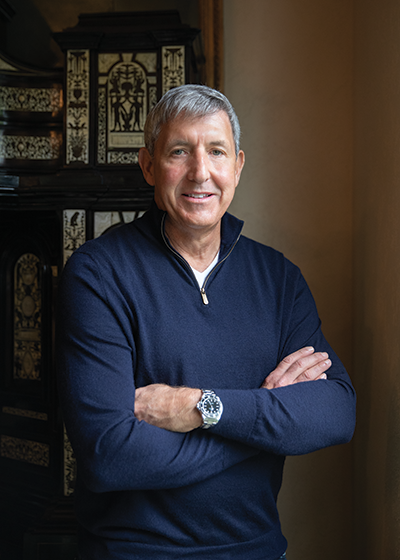 Dan Ollis '80 was born in Virginia, but his parents moved the family to Mobile before Dan was even conscious of what life was like in Virginia. A graduate of Davidson High School, he attended a small, Jesuit college just down Old Shell Road from the brand-new University of South Alabama campus, where he eventually transferred.
"In the beginning, I wanted to study medicine, like many people at South Alabama," he said. The medical school, also in its infancy, was hyper-competitive, with students far more intelligent than those Dan was used to studying with. "I went to the business school and I asked, 'What is the best major with the best jobs to make the best money?' And the counselor said accounting." Not having an actual idea of what "good money" meant, Dan was told that with his grades, he would pass the CPA exam on the first try, even though the major was highly difficult, making South Alabama a competitor among older colleges and universities.
Like most students his age, Dan had a job during college, at First National Bank in downtown Mobile, where he worked every afternoon. His sophomore year, he met the managing partner of a major accounting firm also located in the building and was offered an internship. "I didn't go back the next quarter; instead, I interned – I hated every minute of it."
Dan found that the accounting classes grew more unappealing and his usual straight As became only As in the classes where he did find interest. It was when he discovered the Small Business Institute program at South Alabama, where students learned about starting and running a business of their own. "The idea of entrepreneurship was interesting to me. I didn't know how to start or run a business."
Dan interviewed for and started from scratch as a salesperson for Masland Carpets in Richmond, Virginia. The regional manager learned that Dan was born in Virginia and wanted to hire someone who Virginians would trust and find relatable. He quickly became a leading salesperson in the company. "I desired to make the money that people were making in big cities. I wanted the opportunity to travel outside of the rural roads of Virginia," Dan said. Just as Dan was considering moving to New York City – "just like the song, if I can make it there, I can make it anywhere," he said – the company offered him a position as big-city as it comes.
The position was in Los Angeles. "I moved there, not knowing the first person."
Dan Ollis met Hal Swanson in 1990, at a party in L.A., given in Hal's honor. Hal grew up on a farm in Kansas, where his entire family lived and worked. But by 1990, Hal had a successful interior design company in Kansas City and was making a name for himself. Dan and Hal became close almost immediately. As Dan traveled from L.A. to Kansas City, the pair realized they had mutual friends in and around Kansas City, some even from South Alabama.
Since the party in 1990, Dan and Hal have been together in every aspect of life, including their business, Swanson-Ollis Interiors, now in its 33rd year of operation.
They decided to open an office in L.A. after being one of the top two firms in Kansas City. Dan says, "Kansas City, some don't know, is a very wealthy, very spectacular city." When a client convinced the pair to join her at the premier world opening for the New York City Ballet, she told them they were too talented for Kansas City. She said they should only consider New York City or Los Angeles. "So, we went to L.A."
In L.A., Dan and Hal shared a duplex with a friend in an area of square city blocks featuring 100-year-old homes lending splendid charm and inspiration to design. Since the two traveled to and from Kansas City, their roommate frequently held lavish parties, featuring intricate, purposeful design. "The idea of the duplex was to show people our work," said Dan. Hal agrees, saying, "We had a terrific time, showing it off while having fun."
Dan recalls a former professor in the business school at South Alabama, previously the CEO of a large company, who came to the school to teach senior-level courses. "He was so old-school that we had assigned seats. He would call on whomever he liked, regardless of whether you raised your hand."
In one of the classes, the professor asked, "What is the purpose of a business?" While fellow students guessed that it was to create jobs or provide services, Dan said he finally spoke up. "I shouted, 'Just to make money!' And that professor said 'YES! Until you can make money, you can't provide the jobs and services. Bring in more than you spend, it's just as simple as that.'"
When Dan was alone in Virginia, traveling the state as a salesman, he read about the art of manifestation. That is, how to create a successful life from a place within, where joy, peace and true love reside. Dan realized success lies in how you move forward and create it for yourself.
"I think it is important for students at South Alabama to know, and what I would want to say, is you don't know where that road is going to take you. You have to have your eyes wide open. Once you start living, thinking, doing that, you become magnetic to things. Each of you are equal to what could be for you."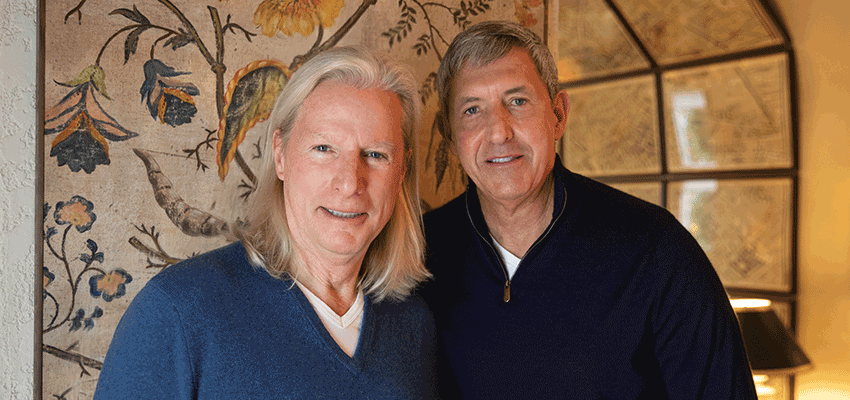 Dan and Hal both feverishly agree that their desire never wavered to do something bigger and better, even as the world around them changed drastically. One thing Dan said he learned in business school is the ability to remain flexible, regardless of your industry. "We didn't anticipate September 11, the recession, COVID. We continually had to reinvent ourselves."
During the COVID lockdown in the U.S., Dan and Hal knew they would have to not only be flexible but remain vigilant as to how their market and industry would be affected.
"The super wealthy were buying second and third homes in areas that had private security and five-star chefs in their private clubhouses. They could have these places to go where they could get to and have all their luxuries and not have to be around any other people. But they also wanted to be next to world-class medical care should they need it."
While most of their friends are downsizing and settling in, Dan and Hal say they have never been more excited to do everything they want to do in life. Through the firm, the pair are working in the U.S. Virgin Islands to develop a private, gated, remote community, away from crime and whatever the "next pandemic" will be.
They are also beginning to transition to living part-time in France and have found a chateau in Nice. "We love antiquities," Dan said. "There is something about seeing an object that is centuries-old, that is just beautiful. We wanted something that has history in it.
"My whole life philosophy has become 'Je dois habiter Paris ou Nice,'" Dan quipped. Translation: I have to live in Paris or Nice.
"Each project of ours has joy, frustration, everything in between," Hal said. "Every day is unique and very different. We have all kinds of projects and clients."
Overall, arriving at South Alabama with a major that did not excite him taught Dan one of his most important lessons in life. "You have to have an imagination. In that, you have to create something. There is success there."
---
An Evening Under the Stars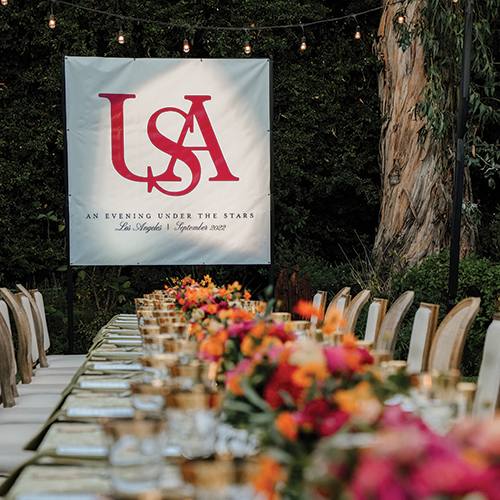 Local alumnus Dan Ollis and Hal Swanson hosted an evening at their home in the Hancock Park neighborhood of Los Angeles. South alumni from across the country mingled with President Bonner and USA leadership to hear what South is doing and, critically, what alumni can do for South. Dan and Hal's wishes were to spread the message that to whom much has been given, much is expected.
Dan and Hal worked for months with Vice President for Development and Alumni Relations Margaret Sullivan and National Alumni Association Executive Director Karen Edwards to plan the perfect evening. Alumni from Los Angeles, Phoenix, Atlanta, Pensacola, San Francisco, Tucson and Mobile attended this special event. From the save the date and engraved invitations to the swag bags given to every guest upon leaving, the evening was exquisite.
Celebrity Chef Edouard Moyal, who cooks for Eric Clapton, Joe Walsh and Ringo Starr, among others, created a spectacular outdoor, seated, seven-course French dinner. The evening combined food, drink and fellowship to discuss the upcoming football game at the Rose Bowl and to further alumni connections. But most importantly, it showcased and celebrated how the University contributed to the accomplishments of those in attendance.
The evening was the first of its kind in the University's history. But if Dan has his way, not its last. Part of Dan and Hal's vision is for alumni across the country to host similar evenings to then encourage others to engage with and support the University. Dan shared, "I saw an opportunity to share how I feel about the University. My education impacted my life. I know South has done the same for many others. "My hope is they will feel and do the same
as Hal and I. Jo Bonner says, 'South is the Flagship of the Gulf Coast.' He is right. It is time that we toast our University and its success. I call on all who can to join with me and Hal to support South's growth and expansion."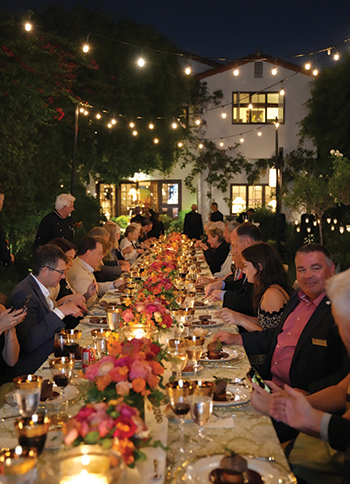 Sullivan added, "I love Dan and Hal. Yes, they make my job easier and more fun, but also, they have truly become good friends. They took their idea and with nothing more than logistical support from the University, implemented it with perfect tact, taste and vision. They brought together alumni and friends who can make a difference to so many, explained how much we need them and showed how they can support South. Now they are encouraging others to do the same. I'm pleased to share that USA Health will bring Chef Moyal to Mobile for a special culinary medicine fundraiser in the near future. Look for more information soon."
"It is so important that we engage our alumni throughout the country to tell the stories of our great University, the Flagship of the Gulf Coast," said President Jo Bonner. "Now more than ever, it is imperative that events like Dan and Hal's are held across the country to connect our alumni, remind them how important South has been to their lives and how they can impact others."
---
---