Momentum Builds for Pediatric Emergency Department
---
Posted on July 12, 2019 by
---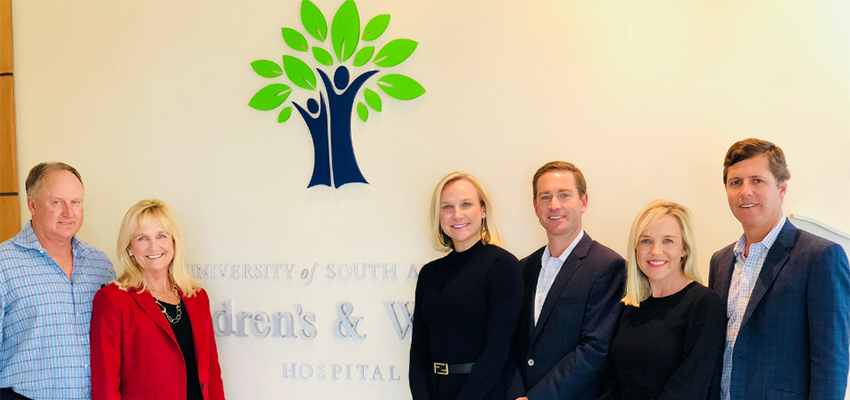 ---
No one wants to think about their child being rushed to a hospital emergency department. Unfortunately, accidents happen, and thousands of children are seen in the pediatric emergency department at USA Health Children's & Women's Hospital each year.
Fortunately, because of the unwavering commitment of the community, alumni and USA Health leaders, sick and injured children are treated by the most qualified physicians, nurses and caregivers who have specialized training designed to meet a child's unique needs.
Kristen Beard DeLaney, along with members of her family, believe strongly in supporting the region's only children's and women's hospital to ensure that everyone who lives on the Alabama and Mississippi Gulf Coast and beyond have this resource available should they need it.
"Having a specialized children's and women's hospital close to home is not something we should take for granted," DeLaney said. "Many families have to travel hundreds of miles to get the care we receive here."
USA Health Children's & Women's Hospital is in the first phase of a capital campaign to build a new pediatric emergency department on its midtown Mobile campus. To-date, $4 million has been raised toward a $10 million goal. Construction will begin when the campaign raises $5 million, USA Health officials said.
Now, the pediatric emergency department is an 11-bed unit that treats more than 35,000 young patients - age 19 and younger- each year. While the unit is staffed with the highest trained and most caring team members, it is housed in a 6,766-square-foot space. Plans call for an expansion to 25,000 square feet, with additional rooms for beds, patient care areas and testing.
The new emergency department design calls for designated areas for major medical treatment, resuscitation, psychiatric patients, an isolation area for infectious disease patients and better triage capabilities. Larger and additional private treatment rooms will better accommodate caregivers and patient during care.
The Beard family, including Kristen and her husband Drew DeLaney, Brooke Beard Dodson and her husband John Dodson, and their parents, Brad and Melissa Beard have been generous supporters of USA Health initiatives. The group has been instrumental in launching the campaign for expanding USA Health's pediatric emergency department.
"Our family is honored to support USA Health Children's & Women's Hospital," Kristen DeLaney said. "A hospital focused on the needs of children and women is a unique and precious gem. We love this hospital and this community and recognize the need to support local institutions like USA Children's & Women's, serving so many in Mobile and surrounding areas."
DeLaney, and her sister Brooke Beard Dodson, said they are grateful the pediatric emergency department was there when their little ones needed after-hours acute care. While their children didn't require long hospital stays, they know that's not the case for others.
"Once we became mothers and saw firsthand our children as patients, our love and appreciation for USA Children's & Women's grew and motivated us to become more involved," Dodson said. "For so many families, leaving town for a child's cancer treatment or a surgery is financially difficult and adds more obstacles to an already trying time."
Kristen DeLaney said she and her family encourage others to support the campaign for a larger pediatric emergency department by making a donation of any size:
"Sure, big gifts are appreciated, but small gifts can be made by so many more people and they can add up to match large gifts," she said. "All parents hope they never need the care of a children's and women's hospital. If you do, you can be at ease knowing there is a wonderful facility with caring doctors and nurses here in Mobile."
---
---