Pathway to Pure Discovery
---
Posted on May 18, 2023 by Alumni
Alumni
---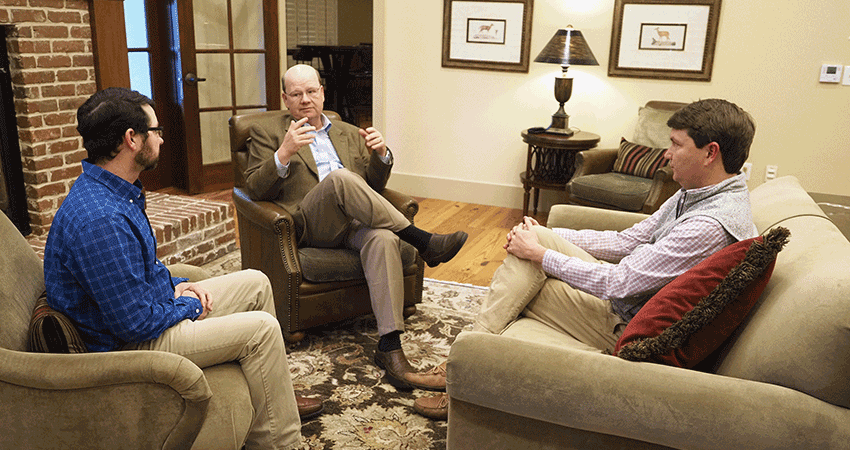 ---
For 30 years, the Marine Science Department, now the School of Marine and Environmental Sciences, worked out of one office in the basement of the Life Sciences building. "We started as a few biologists to make up the department," said Sean Powers, Ph.D., and director of the school. "However, Marine Science was only the second Ph.D. program at South, which shows a sign that we are serious about research."
At its inception, the program was intended for graduate education and research, alongside a solid partnership
with the Dauphin Island Sea Lab, located just 35 miles away from campus. The department has always excelled at research, largely due to the proximity of campus to the shoreline. "We consistently have more applicants than we can ever take – the graduate program gets six applicants for every spot available."
With the University's executive leadership ready to spend money on marine scientists and host a world-renowned program, grant funding became more valuable than before. "Most faculty are experienced, and we're so well known in our field, that one in three faculty grant applications are accepted," Powers was proud to say. "More grant money, more grad students."
New facilities, classrooms and laboratories are being renovated on campus, in the former cancer center, supported by a $2.1 million grant from the state of Alabama and with University fund allocation.
Around 2012, the department was seeing grants awarded at an average of $1 million a year. This last year, the school hit a record $13 million in new grant funding and has an overall research budget of $20+ million, second only to the entire Whiddon College of Medicine. Powers and staff knew exactly where to put their hard-earned dollars. "Undergrads wanted the majors."
South Alabama is the only four-year public university located on the Gulf Coast. This strategic location makes the school prime real estate for those who have a passion for marine and environmental sciences. The decision to balance graduate and undergraduate studies simply made good sense. In 2021, with the goal of 20 students, the school launched the undergraduate studies program. "We got 47 students and have 140 applicants accepted [to the University] at this point."
Students are not the only ones attracted to the idea of a revitalized program in such close proximity to hands-on research. The expansion required recruiting faculty who share the passion for this new vision. Two of those new hires are USA alumni. "Both had very successful early careers at great universities. Steven at Northeastern in Boston, one of the most prestigious in the nation, where he just got tenure. And Charlie at the University of Florida, which routinely rates in the top 10 of public universities," said Powers. "They were secure and had many accolades. But we convinced them both to come back and be a part of the new school and programs."
Steven Scyphers, Ph.D. '12 came back home to South in August after 10 years building a marine science program and well-established lab at Northeastern. He gave up tenure at the university to continue his research on the living shorelines of Mobile and Baldwin counties, research he began in the Ph.D. program. "The ability to come back and teach environmental sustainability from a sociological perspective was what really drew me into the revitalized program here at South Alabama," said Scyphers.
Scyphers' research includes areas such as the Bayou La Batre fishing community, the Causeway and, of course, Mobile Bay.
"Understanding how people use the shorelines of Mobile Bay using a social science approach is truly at the heart of understanding these living shorelines," he said. Scyphers' research will include taking a deep dive into understanding who has access to and relies on places like parks and the Causeway. "Different groups have more or less access and depending on what the conditions those places are in." He is also interested in collaborations on habitat qualities on the coastlines and how people interact with the systems.
Fun fact about Scyphers: His passion and enthusiasm for the living coastline research he will conduct convinced two of his Northeastern graduate students to also leave Boston for South Alabama and Mobile.
Charlie Martin, Ph.D. '10 joined the program in January from the University of Florida, where he built a brand-new marine lab on Cedar Key. Powers says the University recruited Martin specifically so USA can do more work in the Mobile-Tensaw River Delta, North America's most bio-diverse habitat.
Martin is originally from Gadsden in north Alabama and says trips to Mobile and the beaches of Baldwin County inspired him to come to South as a student and he is eager to return as a professor. He will have both a new lab and office at South.
As a fish scientist, Martin has worked and researched in some of the region's most biodiverse areas such as the Dauphin Island Sea Lab, at Coastal Carolina studying biology and he was part of the precedent-setting examination at Louisiana State University of the Gulf Coast shorelines after the Deepwater Horizon oil spill. "Mobile, South and Dauphin Island are my special places," he said. "If I could write a book, it would be about the Delta."
Fun fact about Martin: He believes it is great to see the growth and the new facilities being renovated for research but is certain that the trajectory of the program is what makes young faculty want to be a part of USA.
Each of these scientists is enthusiastic about the new future in Marine and Environmental Sciences at USA. Whether it is environmental partnerships, working with state and federal agencies, intern opportunities or finally being able to provide teaching assistantships to graduate students, there is an unmistakable tone of excited expectation for the research outcomes.
As Powers says, "One of our most important goals is to guide responsible development while protecting essential areas."
If you would like to support the School of Marine and Environmental Sciences please visit the website.
---
---