---
Posted on June 9, 2022 by Alumni
Alumni
---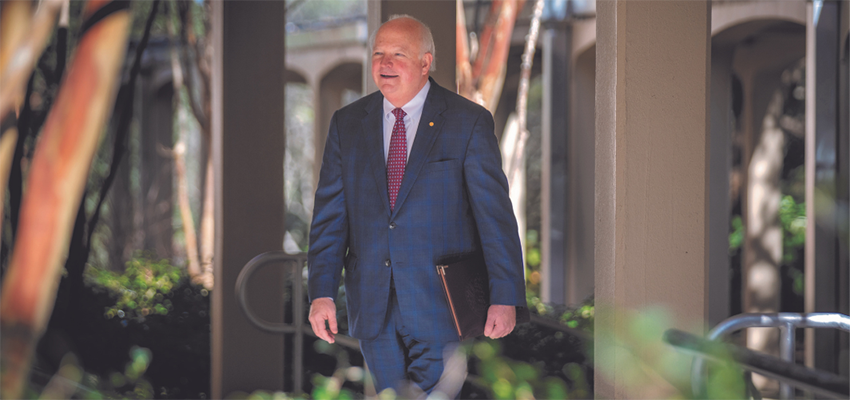 President Jo Bonner begins to share this vision of South as the 'Flagship of the Gulf Coast.'
---
When Jo Bonner meets a student on campus, he wants to know three things.
"What are you studying?
"Where are you from?
"How did we convince you to come to South?"
The first two questions set up the third, which gets to the big picture of what Bonner wants to know and what he's spent considerable time trying to understand since arriving Jan. 1: How is the University of South Alabama going to grow?
The answer will determine South's direction for the foreseeable future.
"South has come a long way. We're still a young university whose progress is owed to the presidents who came before me, our outstanding faculty, staff and students, and the more than 90,000 alumni who serve on a daily basis as examples of South's promise," Bonner said. "South has a proud history, a foundation that allows us to focus on what is right in front of us. I'm convinced that together we can take this University to the next level in education, research and healthcare as the Flagship of the Gulf Coast."
Grassroots marketing is just part of Bonner's campaign to reintroduce South to old friends and find new audiences across the region and state. But as a former U.S. congressman and chief of staff to Alabama Gov. Kay Ivey, Bonner clearly understands its importance.
There are big plans, including shuttling high school students to campus on buses as a recruitment effort, along with small touches, such as the spirit buttons Bonner keeps in his pocket to hand out.
In May, he traveled to promote South in Alabama's Wiregrass region, and he brought a potent weapon: Student Government Association President Camille Bonura, who is from Enterprise and whose family owns car dealerships throughout the area.
The month before, he welcomed college counselors from area high schools to a reception at Hancock Whitney Stadium. When Bonner's not recruiting new students, he's working the crowd at Jaguar sporting events, thanking donors and promoting South to anyone who will listen. His calendar is full and, at the same time, open for anyone who calls.
Bonner also spent his first 100 days on a listening tour, traveling to South's colleges and schools, administrative offices and USA Health facilities to get feedback from faculty, students and staff. An inauguration is planned for fall.
"I'm keenly aware that I'm the new guy," Bonner said. "While I believe I can contribute, there is a tremendous amount of talent and knowledge throughout our institution. It was important to hear from members of our community about their challenges and concerns, as well as explore opportunities where we can grow – with additional students, investments and research."
Old Hand, New Mission
At a downtown meeting of the Rotary Club, where he promised closer ties between the city and the University, Bonner needed no introduction. He'd already worked with many of the business and community leaders in attendance. He's also a former club member who made sure to mention the "Four-Way Test," the moral code adopted by Rotary International.
Bonner, 62, talked about feeling like he was coming home to Mobile. An old hand with a new mission.
"How many of you have a relationship with the University of South Alabama?" he asked, and saw nearly every Rotarian raise a hand. "Outstanding. That's exactly what I was hoping to see."
After his speech, people lined up to meet Bonner. He offered business cards and a hands-on approach.
"We need your help," he told them. "We need you to encourage young people to consider the University of South Alabama. We want to meet your students in the president's office."
Elizabeth Stevens, president of the Rotary Club of Mobile, has known Bonner for more than 30 years. He's already part of the community. Few have more experience in public affairs on the Gulf Coast.
"We're thrilled for the opportunity to work with Jo," she said. "He understands the city, the state, the nation. In the downtown community, we want there to be a strong relationship with the University."
Bonner's appearances also allow him to spotlight recent good news for the University and USA Health: $140 million in funding for a new College of Medicine building, a new School of Marine and Environmental Sciences, the opening of a freestanding emergency department in West Mobile and the Mapp Family Campus for healthcare in Baldwin County. There was growth last year in freshman enrollment, and applications for fall are up
In May, Bonner announced one of his biggest decisions yet when he named Dr. Andi Kent as provost and executive vice president.
Kent, who served in both roles on an interim basis during Bonner's first several months, accompanied him on many of his meetings with students and faculty. He wanted to hear about the successes of the University and what it's doing well. He also wanted to hear about the challenges facing the University and what it could do better.
"It's been pretty powerful," Kent said. "What I've learned is that he is sincere, and he is committed. I've witnessed him take something a student or faculty member has said to him and three days or two weeks later share it back to another group as something we need to think about, or something great that we're doing, in an appropriate context. It means so much to him that it becomes part of his conversation.
"These tours are helping him build a broad-based team. His team is big. It's not just the President's Council and the people who work in his office. His team is actually 14,000 students and 8,000 employees who are looking to further the mission of the University of South Alabama and USA Health."
Jim Moore, president of the USA National Alumni Association, didn't know Bonner very well, but he was seated at the president's table for an alumni dinner in March. The hall was packed and service was a little slow getting started. Finally, Bonner got up, grabbed two pitchers, and served water and iced tea to his neighbors.
"Can you imagine a university president doing that?" Moore asked. "My wife was so impressed. Little things like that give a great impression."
Questions and Stories
In some ways, Bonner's tours across campus and the region feel like a campaign swing, where he's meeting constituents and asking for their support, while hearing their concerns and promising to do what he can.
After more than 40 years in politics, he's comfortable in that role.
Bonner – the Jo is short for Josiah – enjoys shaking hands with alumni and bumping fists with students. He's got a lot of questions. He tells a lot of stories.
When a communications student says he's from Albertville, a small city in north Alabama, Bonner already knows that it's called "The Fire Hydrant Capital of the World." When the student says he works as an intern at a Mobile television station, Bonner says, "Tell Peter I said hello.
When another student says she transferred from Alabama State University, he asks if she knows Dr. Quinton Ross, president of the university. She smiles and says why, yes, she does.
"He's an old friend of mine," Bonner replied. "He's called three times to check up on me."
Bonner enjoys sharing a self-deprecating sense of humor with students. One of his favorite stories is about finishing third in a three-man race to become Student Government Association president at the University of Alabama. He also tried and failed to become Big Al, the school mascot.
When Bonner doesn't know the answer to an academic question, he doesn't hesitate to say so. He describes himself as a nontraditional university president. He jokes that being a retired politician makes him a statesman.
When the College Republicans at South asked him to speak to their group, he said sure – if the first meeting included the College Democrats.
"I'm buying the pizza," he said. "The goal is to talk about what we can do together to make this campus a better place."
During that pizza summit, Bonner's wife, Janée, sat across from him. She's a Mobile native whose parents were longtime Jaguar basketball season ticket holders. Pictures of SouthPaw and Ms. Pawla with the Bonner's children, Lee and Robins, make regular appearances in family photo books.
"One thing that anyone who has spent any amount of time in Mobile knows is that the University of South Alabama means so much to the community," said Janée, who has jumped into her role as first lady and is often seen with her husband at University events. "It's in our region's DNA, and we're grateful to have this opportunity to work with South's students, faculty, staff and alumni.
"Jo has a talent for working with people, especially younger people and students. He is passionate about their overall success and well-roundedness, and I know he's going to bring all his energy to this job."
Listening and Talking
Dr. Alvin Williams, interim dean of the Mitchell College of Business, has seen Bonner use that energy in wooing donors, recruiting students and meeting faculty. He's made several trips to the Mitchell College in the first few months, including bringing by Alabama Labor Secretary Fitzgerald Washington to speak with students.
"The most obvious thing is his people skills," Williams said of Bonner. "He's very comfortable building relationships. He's among the most careful listeners I've encountered. It's important for him to know where the college is headed and what he can do to facilitate that. I think he sees himself as a facilitator."
Bonner talks about getting calls and visits from other university presidents in Alabama. One offered free advice on moving from state politics to higher education.
"He said, 'Jo, you might not want to go up to a bunch of academics and just tell 'em what you want to do,'" he said. "'You might want to listen to them and learn from them first.'"
So that's what Bonner has been doing – listening and learning. Professors from accounting to visual arts have gotten a chance to speak their minds. Along the way, his vision for supporting South's mission is taking shape: A university that punches above its weight in academics and research, with a growing student population, an active campus life and a thriving academic health system that makes South a first-choice institution.
"Our goal is to dominate the market between New Orleans and Tallahassee," Bonner said. "We can do this because we are an attractive, affordable option for students and their families across the state and beyond, especially for those living in Coastal Alabama, along the Mississippi Gulf Coast or in Northwest Florida.
"And if you're in those areas, we intend to become your university, no matter what school colors you may have in your closet."
Beth Shepard, an associate librarian and 2021-22 president of the Faculty Senate, has met with Bonner several times. She shared her concerns about University support, particularly for academic research, and public outreach, especially in the Black community. He agreed that these were important issues.
"I think he has a very unique set of skills that were honed by his previous experience in politics," Shepard said. "Community building, stakeholder development – those are things I've seen him bring to South. A real focus on bringing relevant people to the table. And that is encouraging.
"You have to recognize his enthusiasm for his new role and his love for South. I do and really appreciate it."
---
---