---
Posted on May 18, 2023 by Alumni
Alumni
---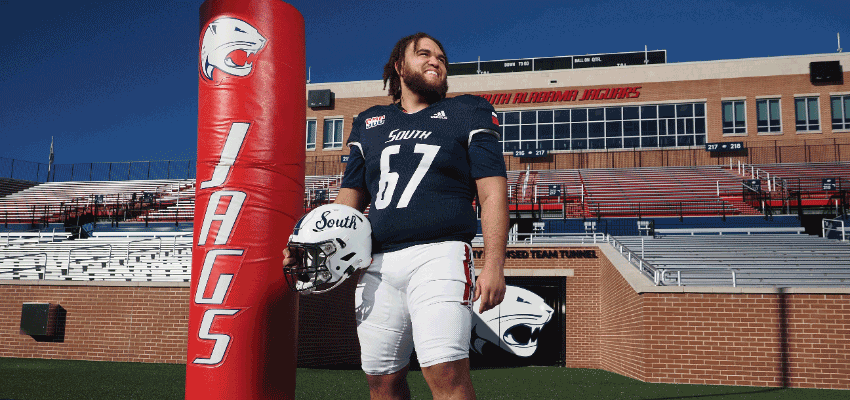 Reggie Smith, a walk-on from Pensacola, earned a scholarship before his fifth season of football at South Alabama.
Download larger image
---
After four years as a walk-on at the University of South Alabama, Reggie Smith finally earned a starting position – and full scholarship – for what turned out to be a stunning 10-3 season ending with the Jaguars playing in a bowl game.
"This is like a dream come true," said the senior from Pensacola, Florida. "Of all the teams playing Division I football, only 13 had 10 wins this year, and we were one of them. We're riding high. It's been so much fun."
A final treat for Jaguar players and fans came with the R+L Carriers New Orleans Bowl in the Superdome on Dec. 21.
Smith, 23, has teammates who were in junior high school five years ago. That's when he began his football career at South. The Jaguars had a losing record and played in old Ladd- Peebles Stadium near downtown Mobile. He was an undisciplined teenager with a lot to learn.
"I was kind of a goofball, trying to make everyone laugh," he said. "Now I'm more serious."
Now the Jaguars play in brand-new Hancock Whitney Stadium on the South campus in west Mobile. Now Head Coach Kane Wommack has begun a new era. Now the football program has grown up just as Smith did.
Gordon Steele, offensive line coach for the Jaguars, knows what he has at right guard.
"It helps that Reggie has been here so long," Steele said. "He carries himself like an adult. He's totally bought into what we're trying to do here. And he's a South guy through and through."
Smith, who plans to graduate this spring, is majoring in leisure studies and thinking about becoming a football coach. He spends long hours each week training and practicing. Then he watches film of games and practices.
At South, Smith has matured as a student, too. He's more disciplined and focused. He has a favorite instructor, Leigh Delaney-Tucker, in the biology department.
"If the game's not fun, there's no sense playing it."

–JAMES JACKSON
"She makes class so enjoyable," he said. "And she's probably the nicest person on the planet. She enjoys her career and makes it fun for us, too."
James Jackson, who plays center on the Jaguar offensive line, calls Smith one of the most outgoing members of the football team. In and around the locker room, he talks and jokes with everyone. He's also a student of the game.
"Reggie's probably one of the smartest offensive linemen we have," Jackson said. "He knows what everyone does on every play, even the backs and receivers. The whole offense. It's crazy."
During a game, Smith and Jackson line up side by side. They share victories and defeats, touchdowns and turnovers. Competition is fierce, but there are light moments.
"We'll be running down the field on a screen and be talking and laughing about something," Jackson said with a grin. "If the game's not fun, there's no sense playing it."
Smith grew up in Pensacola and attended Escambia High School. He loved playing football, like his father and grandfather before him.
His mother, Teresa Smith, is a registered nurse. His father, Reginald Smith II, works in construction. He helped build Stokes Hall on the South campus.
That's where his son lived for three years while working and waiting for his turn to play for the Jaguars. "He's never been a quitter," said Reginald Smith. "He took this opportunity to walk on and try to earn a scholarship. I told him whatever you decide, that's fine with me."
The younger Smith — Reginald Smith III — enjoys having his parents in the stands at Jaguar games each Saturday.
"They're super fans," he said. "They even went to the UCLA game at the Rose Bowl out in California. At home games, they sit in Section 304 and they usually have my 3-year-old nephew. I always look up at them. Sometimes they come down to the wall and give me a high-five." Smith thinks that UCLA game, which South lost 32-31, helped the Jaguars build a winning season.
"We should have won that game and that was good for our confidence," he said. "That's when we knew we were a good team."
Smith is already thinking about returning to South for a sixth season, thanks to an NCAA rule that allows an exemption for the season marred by the coronavirus pandemic. In the meantime, he's savoring this season. The South team has earned a place in Jaguar football history.
During an interview in the athletic department offices, Smith admired the view looking down on the field at Hancock Whitney Stadium. It offered a different perspective. Sometimes he sounded like an alumnus planning Saturday nights in the future.
"I can't wait," he said, "to come back here and watch a game."
---
---