---
Posted on June 25, 2021 by Casandra Andrews
Casandra Andrews
---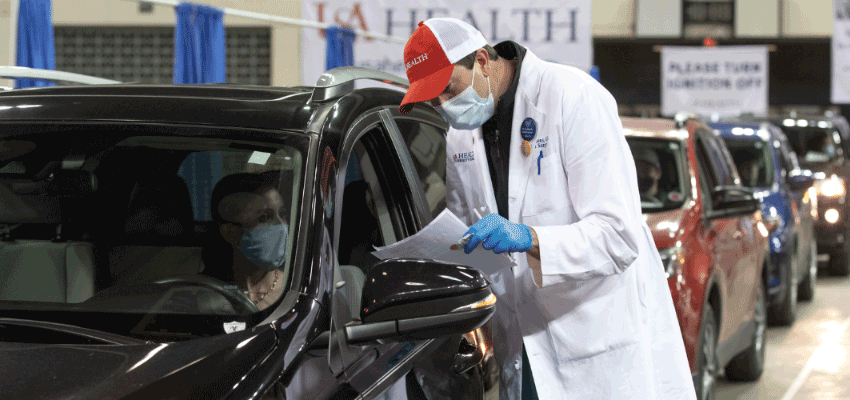 ---
When a vaccine to fight the spread of COVID-19 was first approved for use, USA Health was on the front lines of distribution efforts in Alabama, being first in the region to administer doses of the Pfizer- BioNTech vaccine to healthcare workers at University Hospital on Dec. 15, 2020.
The same can be said for efforts to reach deep into the community with the potentially life-saving shots. Leaning on what was learned during the first year of the global pandemic and the creation of a drive-through COVID-19 testing center, the University of South Alabama's health system quickly expanded its partnership with the City of Mobile in early 2021 and opened a drive-through vaccine clinic at the Mobile Civic Center Arena. There, thousands of patients, staff and members of the public have received vaccinations for COVID-19.
As volumes increased, nurses came out of retirement to volunteer their time for the vaccination effort. Students from the USA College of Medicine and the Pat Capps Covey College of Allied Health Professions
also began donating time, including Saturdays, to offer vaccines and perform other needed healthcare duties at the civic center.
Community Vaccine Clinics
Shortly after launching the vaccine clinic in January, a group of local pastors met with USA Health staff about bringing similar clinics to areas where residents may be at a higher risk for complications from the
virus and less likely to get vaccinated.
Momentum for the first community-based clinic began to build after Yorktown Missionary Baptist Church minister, the Rev. Christopher Williams, connected with Natalie Fox, D.N.P., an assistant administrator and chief nursing officer for USA Health Physicians Group, who is also leading the pandemic response team.
With the details set, Williams and his church community canvassed the neighborhood in Africatown, sharing information and urging residents to attend. When staff from USA Health showed up at the church parking lot on a frigid February day, a long line of vehicles awaited them.
Sitting inside his silver truck, Daniel McVay Jr., a kidney transplant recipient in 2015, said he was relieved to get the first dose of the vaccine, noting the convenience of the vaccination clinic so close to his home
was a blessing. All told, McVay was one of more than 400 residents who received an injection of the Pfizer-BioNTech vaccine from USA Health staff members during the first community-based clinic. Since then, thousands more have received the vaccine at similar events throughout Mobile.
"We are proud to continue to lead vaccination efforts on the upper Gulf Coast," said Michael Chang M.D., chief medical officer for USA Health. "Part of our role as an academic health system is to train the
next generation of healthcare providers on how to best serve our patients, including vulnerable populations. This sometimes includes outreach efforts such as the community-based vaccine clinics held
in underserved areas across Mobile."
The community-based vaccine clinics also have included locations such as First Baptist Church in Tillman's Corner, the Joseph C. Dotch Community Center in Trinity Gardens, Friendship Missionary Baptist Church on Cody Road, L'Arche Mobile, the Learning Tree Group Home, three Mobile public housing senior living complexes and Riverside Baptist Church on Dauphin Island Parkway. Clinics continue to be scheduled across Mobile and Baldwin counties as staff and resources allow.
Focus on Educators
Understanding the public health need to vaccinate people as quickly as possible, USA Health also began working with public school systems in Mobile and Baldwin counties, hosting numerous mass vaccine events to focus vaccination efforts on educators on both sides of Mobile Bay. From bus drivers to cafeteria workers to classroom teachers, the health system's focus is to provide protection from COVID- 19 to those who need it most.
In February and then again three weeks later, USA Health staff and volunteers administered more than 8,000 COVID vaccine doses to teachers, school staff and others who attended mass vaccine events
focusing on educators at the Mobile Civic Center and at locations in Baldwin County.
More than 2,200 Baldwin County educators received the second dose of the Pfizer-BioNTech vaccine at the Robertsdale County Coliseum on Friday, March 5. Among those receiving the shot was Baldwin
County Superintendent Eddie Tyler, who drew applause from those gathered.
"We are giving them the best chance to protect themselves," said Allen Broome, PharmD, director of health system pharmacy for USA Health, who oversaw the Robertsdale event.
In Mobile on March 6, Mobile County Public School System staff arrived throughout the day at the civic center arena for a drive-through event offering second doses of the vaccine. All told, more than 2,100
injections were given at the clinic where 150 health system and University volunteers pitched in to ensure the best experience possible for those receiving the vaccine.
Among those vaccinated was Sterling Spencer, a teacher at Grand Bay Middle School, who sat behind the wheel of his car that afternoon, grinning as he waited for his second shot. "I am showing my students that it is safe to take vaccines," he said. "You should trust the science, and you need to make sure you are making informed and smart decisions."
As the upper Gulf Coast region's only academic health system, USA Health maintains a three-part commitment to providing excellent clinical care, educating the next generation of physicians and other care providers and conducting research. As an essential safety-net healthcare organization for this region, people rely on the University of South Alabama's health system for vital specialty services that are not available anywhere else locally.
Vaccination Education
USA Health continues to seek innovative and meaningful ways to fulfill its mission of helping people lead longer, better lives. Members of the pandemic response team recently worked with 411 operators and
United Way partner agencies, teaching them how to set up vaccination appointments for community members who need assistance.
In the business community, USA Health has partnered with the Mobile Area Chamber of Commerce. On April 8, Chang led a webinar on the importance of vaccinations for small businesses. A similar webinar is planned for the Business Council of Alabama. On April 16, a small business vaccine event for Gulf Coast companies took place at the civic center.
As of mid-May, USA Health had given more than 70,000 vaccines for COVID-19.
A commitment to excellence in patient care continues to drive USA Health staff as they work daily to refine efforts from how patients register online for the vaccine to the most convenient way for motorists to enter the parking lots to where patients wait in their cars inside the civic center arena and at community events.
"It reminds us of why we got into healthcare in the first place," said Sarah Kahalley, director of clinical resources for USA Health Physicians Group. "That's to do the most good we can for vulnerable people."
---
---