The Whiddon College of Medicine Turns 50
---
Posted on May 18, 2023 by Alumni
Alumni
---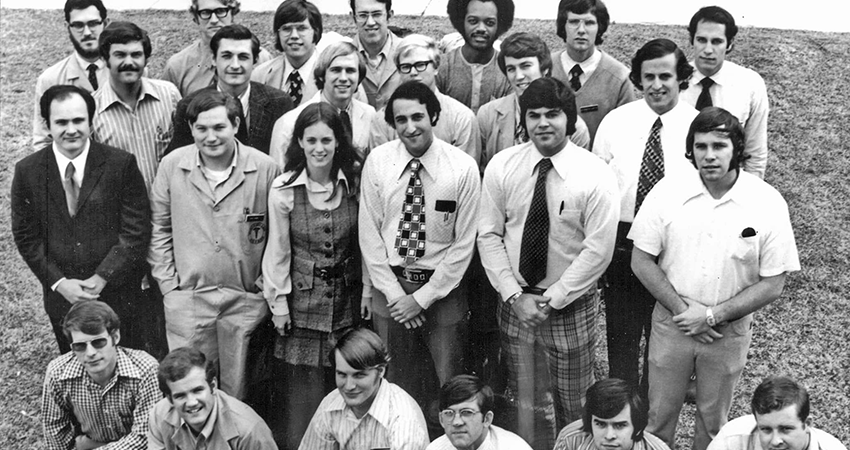 ---
This year marks the 50th anniversary of the entry of the charter class of the University of South Alabama Whiddon College of Medicine. In an article published in the Journal of the Medical Association of the State of Alabama in 1983, the writer stated, "We were welcomed to our orientation to the hospital by a professor of pathology who, surveying our 25 eager faces, spoke a few words about the importance of inference in clinical practice. By way of illustration, he observed that he could infer that we were all 'Pretty smart, but not real smart.' This caused some consternation in the ranks, so he quickly explained: 'You see, I know you have to be pretty smart to be admitted to medical school, and not real smart to want to be.' We soon discovered what he meant."
Shortly after the University of South Alabama opened in 1964, President Frederick P. Whiddon saw the need to educate physicians who ultimately would practice in Alabama and care for its citizens, particularly those in rural and underserved areas. He began to share his vision with community and state leaders about establishing a medical school in Mobile. His tenacity and determination prevailed. On January 3, 1973, the USA Whiddon College of Medicine welcomed its charter class of 25 medical students.
The Whiddon College of Medicine quickly developed a strong reputation for providing students with a high-quality medical education and has maintained this reputation for the past six decades. It also served as the foundation for a growing academic healthcare system, leading to the creation of the College of Nursing in 1973, the Covey College of Allied Health Professions in 1975 and the initiation of its first Ph.D. program in basic medical sciences in 1978. Dean of the Whiddon College of Medicine and Vice President for Medical Affairs, Dr. John Marymont, shares, "We are a diverse community focused on the science and practice of medicine for Alabama, the Central Gulf Coast and beyond. We educate, we discover, we serve."
Plans are underway for a new 250,000-square-foot, state-of-the-art education and research building. It will provide an environment to expand the class size from a maximum of 80 first-year medical students to 100 and ample laboratory space to support our growing portfolio of research studies.
To celebrate the rich 50-year history of the Whiddon College of Medicine, the USA Medical Alumni Association, in coordination with the Whiddon College of Medicine, has planned several regional alumni events, continuing medical education seminars and a Whiddon College of Medicine Alumni Reunion.
An all-class Whiddon College of Medicine Alumni Reunion will be held at the Grand Hotel Golf Resort & Spa, Autograph Collection, June 8-11, 2023. The weekend culminates with a special 50th anniversary celebration honoring 50 People of Influence. In addition, alumni, faculty and staff are invited to share their favorite memories and personal stories through a special edition book commemorating the 50th anniversary.
---
---