Prescription for good health: Learning to cook
---
Posted on December 12, 2019 by Alumni
Alumni
---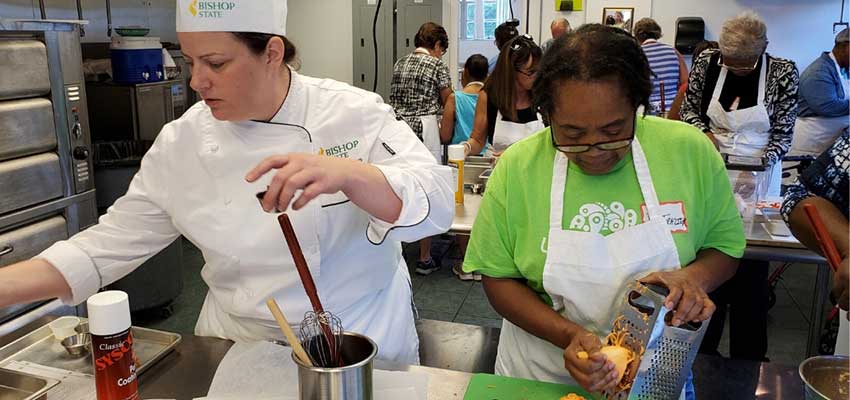 ---
Clad in chef's whites, instructor Gabi Wilson addresses the class. "Tonight we've got avocado toast. It's super trendy right now," she says. "Group 2 will make a spinach and feta frittata, essentially a crustless quiche."
In this teaching kitchen in midtown Mobile, healthcare meets culinary arts. The USA Health Culinary Medicine Program aims to motivate 18 participants in the class to eat more fruits and vegetables, and arm them with the cooking skills they need to prepare delicious meals.
At one table, Janice Carr, 57, heats up an electric griddle for oatmeal pancakes in keeping with the breakfast theme of the evening's class at Bishop State Community College in Mobile. "I found out about this (class) when I went to a cancer survivor's event," said Carr, a breast cancer and lymphoma survivor who also suffers from diabetes. "I said, 'I need to learn to cook better for myself.'"
The goal of the forward-thinking program is simple: identify people who struggle with multiple health problems and offer healthy cooking as part of the remedy. In 2016, leaders at USA Health's Mitchell Cancer Institute championed an idea they had admired at other academic settings such as the Harvard School of Public Health and Tulane University. Two years later, MCI's Division of Cancer Control and Prevention is on its sixth course using a curriculum licensed from Tulane's Goldring Center for Culinary Medicine.
In addition, a team of faculty from the USA College of Nursing has been working to offer Culinary Medicine lessons to an inter-professional class of medical, nursing and physical therapy students. Their thinking: why not get future healthcare providers to teach their patients about the serious benefits of healthy eating?
One early supporter was Robert Israel, M.D., a board-certified internal medicine physician with USA Health in Mobile. "I gradually learned over years of practice that most chronic diseases I was treating in the office -- cancer, heart disease, diabetes, hypertension, falls with injury and such -- were actually lifestyle diseases or related to unhealthy lifestyle choices," he said. "The way we in healthcare were dealing with that was not working. In fact, it was failing miserably."
Israel looked into what other universities were piloting and delved into Michael Pollen's "Food Rules," and "The Omnivore's Dilemma." What he learned was life changing. "I also realized that saying, 'Go eat more vegetables and fruit' to a patient who might not even know how to hold a knife, made no sense," he said. "So we had to start where our grandmothers and great-grandmothers started, in the prep kitchen."
The collaboration has resulted in a total enrollment of 85 community participants over the past two years, not counting 48 students in health professions.
In the kitchen
On one Thursday night, Chef Gabi demonstrates how to use a chef's knife to chop a bell pepper. She sets the stem and top aside, explaining to the students that they can be frozen and used to make vegetable stock for future dishes.
Two rows over, a husband and wife sauté chopped onions in a saucepan on one of the industrial stovetops. Nearby, another participant shreds an apple to make turkey and apple sausage. Also on the menu are breakfast tacos and a peanut butter/banana smoothie.
"These recipes are great, because they work on building a lot of flavor," explains Chef Gabi. She stops a student here and there to tweak their cooking techniques.
Nancy Brumfield, a registered dietitian nutritionist, has worked with the Culinary Medicine Program for the past two years. Before Chef Gabi teaches knife skills and cooking safety, Brumfield has already briefed students on how to interpret labels and conserve calories.
"Breakfast can be a real trap for hidden sugars," she warns, adding that a healthy goal for breakfast is 300 calories including fewer than 2 grams of saturated fat, at least 5 grams of fiber and fewer than 10 grams of sugar.
What about Raisin Bran? "A serving has 17 grams of sugar," Brumfield explains to a surprised class. "Look for 5 grams or less."
One night, the curriculum calls for sandwiches with hummus as a spread, bean and bell pepper nachos, chicken salad and cucumber-tomato salad. Everyone is encouraged to sample each other's cooking.
"Next week, I want you to come back, and tell me how you used fruits and vegetables in what you cooked," Brumfield says.
Prevention at its best
Program leaders see a growing need for nutrition-culinary education in Alabama, where almost one-third of adults are obese, putting them at a higher risk for chronic illnesses such as heart disease, type 2 diabetes, stroke, cancer and hypertension.
So far, funding for the program has been provided under a CDC grant through the Alabama Department of Public Health. The Daniel Foundation of Alabama has also backed the effort. Organizers are seeking even more funding to take the program to the next level.
"This is prevention at its best -- changing behaviors so you don't need a pill for cholesterol or hypertension," said Margaret Sullivan, one of the early supporters who is now vice president for development and alumni relations at the University of South Alabama. "This program gives patients the tools, and the meals are very affordable."
'Enlightening' course
Walking into her fifth class, Carr, the two-time cancer survivor, said that she and her mother, 86, have been watching what they eat more closely. Already a proficient cook, she said she had sauteed whitefish and added it to corn salsa and beans on warm corn tortillas to make tacos. "We've been noting ingredients on different items and looking at the serving sizes," said Carr, who works as a licensed investigator for the City of Mobile.
By the end of the course, Carr had more good news to report. "My favorite class was the sixth. We prepared all types of snacks, including popcorn, that were good and good for us," she said. "This has been enlightening for the way I eat and cook."
---
---