South Formalizes Exchange Program with German Universities
---
Posted on November 1, 2017 by Bob Lowry
Bob Lowry
---
University of South Alabama electrical engineering major Thomas Stubblefield, left, and Karlsruhe University of Applied Sciences automotive engineering major Edward Dotzlaff are participants in the University's engineering student exchange program. Stubblefield spent last spring semester in Germany and Dotzlaff is spending this fall semester at South. Bottom photo: Mauricio Cole, a South mechanical engineering student, also spent last spring semester at Karlsruhe.
---
Volkswagen markets "the power of German engineering." From German automotive engineering, we have BMW, Mercedes, Audi and Porsche. There's Airbus for aerospace, Siemens for healthcare, Bosch for power tools, and Evonik and BASF for chemicals.
You get the picture.
So, when the opportunity presented itself for mechanical and electrical engineering students at the University of South Alabama to participate in an exchange program with Germany's Karlsruhe University of Applied Sciences, the answer was "Ja!" (That's "yes" in German.)
"This is very important to our engineering students because it provides the opportunity for them to study for a semester at one of the major universities in Germany," said Dr. John Steadman, dean of USA's College of Engineering.
A memorandum of understanding was signed recently between several Alabama universities, including South, and several German universities, including Karlsruhe. The memorandum formalized an exchange program in which South had already been an active participant, with some USA engineering students studying in Germany last spring and some German engineering students studying on the USA campus this fall.
"During their semester at Karlsruhe, our students take engineering courses in their major, taught in English for both German and American students," Steadman added. "This allows them to get study abroad experience without added cost, either in tuition or time to graduation. Such experience is of great importance to many multinational companies who employ our graduates, such as Airbus, Evonik, BASF and Austal."
Thomas Stubblefield, a USA electrical engineering major from Mobile who is scheduled to graduate next summer, spent last spring semester at Karlsruhe. "Germany is an excellent country as far as academics are considered, especially in engineering," said the graduate of St. Luke's Episcopal School. "We learned a great deal in all of our classes." Thomas also learned some useful things outside the classroom.
"I feel like I learned so much more about how to meander through new places that may or may not speak my native language. I feel confident I could be dropped off anywhere in Europe, and be able to effectively navigate myself wherever I wanted to go, whether that be on buses, trains or planes."
Mauricio Cole also spent last spring semester at Karlsruhe. "I decided to participate in the German program so I could experience exotic places and see how people on the other side of the world live," said Cole, a mechanical engineering major from Mobile and a graduate of McGill-Toolen Catholic High School. "Personally, I've gone to school my whole life on one street – Old Shell Road – so when the opportunity came to live and learn in a foreign place, thousands of miles across the Atlantic, I said 'Well, why not?'"
Edward Dotzlaff, from Karlsruhe in Germany, has pretty much the same story as Mauricio and Thomas. Just as they are attending their hometown university, so is Edward. He majors in automotive engineering there ("Sort of a combination of mechanical and electrical engineering."). Edward gave three reasons why he wanted to leave Germany and come to South to be part of the engineering exchange program.
"First, I wanted to improve my English. Second, I wanted to see a different culture. And, third, I wanted to experience a different school system. ('In Germany, one subject and one exam; in the USA, one subject and many projects, assignments, exams.')"
For Steadman, the engineering dean, the exchange program is a perfect match for South and the College of Engineering. "This is a major development in the 'globalization' of our engineering programs," he said. Students who are interested in participating in the exchange program should contact Steadman at jsteadman@southalabama.edu.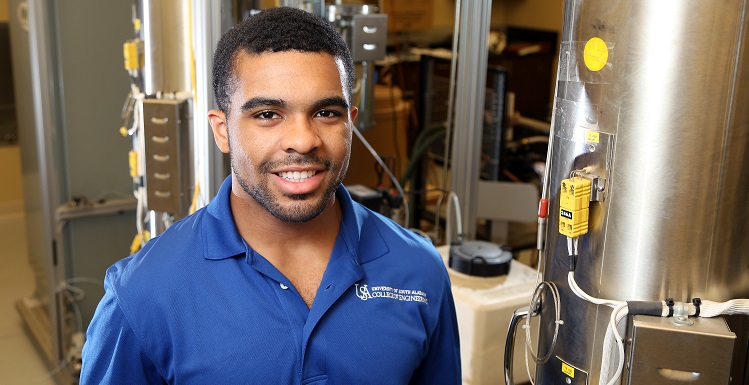 ---
---