A Judge Who Cares Builds a NEST
---
Posted on January 2, 2019
Alumni Relations
---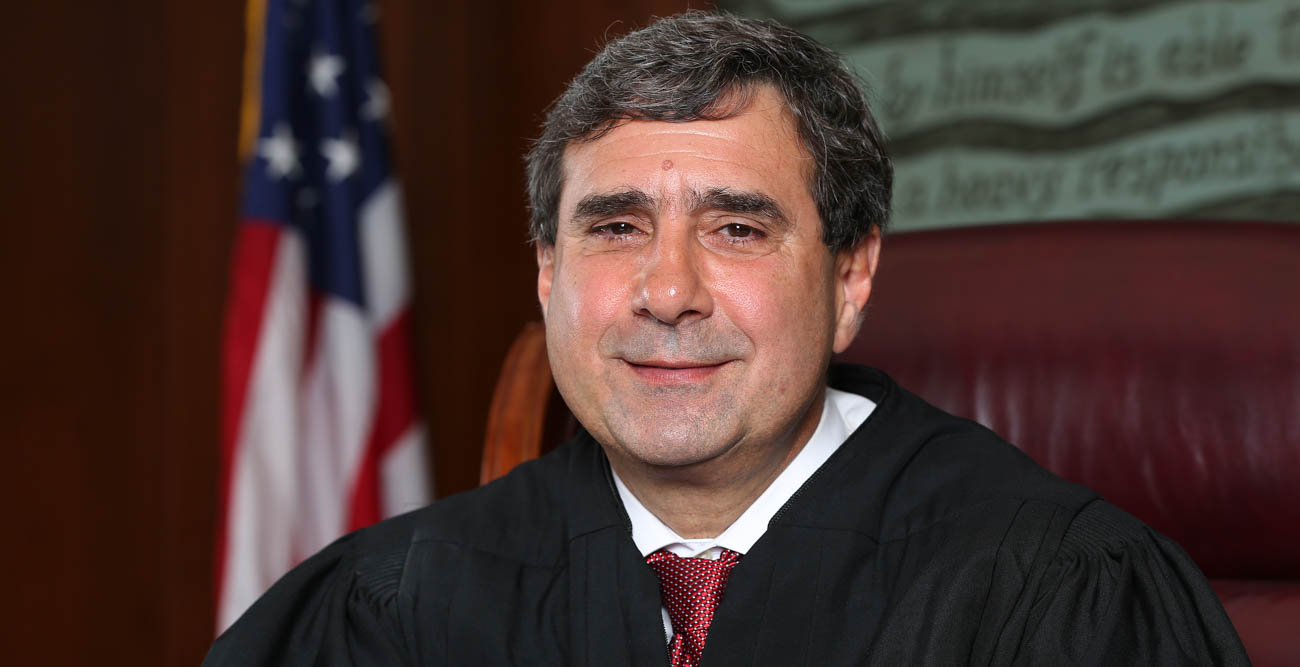 While a student at South, Edmond Naman, now a Mobile County Circuit Court judge, took a theater class that would end up critical to his success. "It was really that department that I think had a real big impact later because so much of my job is going out in the public and conveying messages. Going out to children and families and trying to make a clear case for what I'm trying to do and how I'm trying to change their lives."
---
Edmond Naman, a Mobile County Circuit Court judge and head of Mobile County Juvenile Court, dreams big. He co-founded an organization called NEST of Mobile that, as its website says, "aims to Nurture children, Equip parents, Strengthen families, and Transform communities."
After just a few minutes of conversation with him, you will believe that he and NEST can do every bit of that. And you will have been recruited to help.
The judge says he developed his persuasive powers on stage at the University of South Alabama. He likes to reel you in with stories. Here are four that describe the arc of a life of service.
When he was 12 years old, he saw an ambulance door swing open to reveal his beloved uncle, mortally wounded. Naman's grandfather had come to the United States from Lebanon. The family had worked hard and done well. Naman's father was a dentist. The uncle ran a grocery store. That's where a robbery turned into a tragedy.
Torn by fury and despair, young Edmond endured the funeral, the trial, the grief, the loss. "It was one of the most horrible times in my life," he said. "I think that really inspired me to be a DA."
Naman was a Mobile County assistant district attorney from 1995 until 2007. A Mobile native, he had attended Mobile's UMS Preparatory School (now UMS-Wright). He has a degree in English, biology and philosophy from the University of South Alabama and a law degree from Jones School of law in Montgomery.
What most helped his career is something he did at South for fun. "I took a theater class on a lark and loved it so much I got real involved in it," he said. It taught him how to communicate. "It was really that department that I think had a real big impact later because so much of my job is going out in the public and conveying messages. Going out to children and families and trying to make a clear case for what I'm trying to do and how I'm trying to change their lives."
As a prosecutor, Naman encountered many lives that needed changing. "I was handling all types of cases dealing with children," he said. "I was noticing that so many of the children that I was sending to prison and jail all had one thing in common. They were all high school dropouts."
That leads to the next story. It opens in a grocery store where Naman liked to stop for coffee. Over the years, he watched the son of the owner grow up into a fine young man. The father had brought the family to America from Iran and had worked tirelessly to provide for them. The boy was studying engineering so he could get a good job and take over some of the burden.
Then one day came shouts, gunshots, screams. Two young men robbed the store for money to buy new clothes to wear at a football game. The bright, selfless engineering student died.
"I prosecuted that case, and I was so into it," Naman said. "I remember almost feeling a sense of hatred for those two young men. Almost the way I had felt when I was a 12-year-old boy." He won the case. At sentencing, he pressed for the death penalty.
Then the families of the killers testified. "Mothers and grandmothers, aunts and uncles," Naman said. They asked, not that the young men escape responsibility or get out of jail, but simply that they not be executed. "They were begging, please, just let my child die in prison," Naman said. "It was not just one family that had lost their son. There were two other families that had lost something dear to them."
In 2006, Naman won election as a Mobile County Juvenile Court judge. Twice since, he has run for reelection unopposed. The third story begins with him looking down from his bench at a 12-year-old boy arrested for selling drugs in school. "He's just a little guy," Naman said. "The jumpsuit that we have for inmates almost swallowed him up. He was so scared, and he was so lost. Rather than want to fuss at him, I wanted to hug him."
The boy lived with his 80-year-old grandmother. There was no money for nice clothes, cool shoes, a PlayStation. No problem, said a neighborhood drug dealer. Just take this stuff to school and sell it. You'll get rich. Instead, the first time the boy tried it, he got caught.
Naman's court works with organizations in and out of government (including the University of South Alabama) to help such children. "We got him in the programs," Naman said. "We got him in a good tutoring class. We got his grades up. We got his behavior where it needed to be. Because he was really just a good kid. He just needed a little help."
The day the boy completed probation, he called Naman. His grandmother was so proud of his progress that she said he could go to the Greater Gulf State Fair. But his ride had fallen through. Naman recalled, "I said, 'Oh, I'm so sorry. What can I do for you?' He said, 'I just wondered, Judge, what are you doing tonight?'"
Naman had a commitment. But there would be other nights. He and his chief of probation, Lawrence Battiste (now Mobile's chief of police), began taking the boy to football games, having him over for dinner, just spending time with him.
That sets the stage for the final story. It opens with Naman trying to sneak out of a meeting he hadn't wanted to attend. Then Dr. Norman McCrummen, former pastor of Spring Hill Presbyterian Church in Mobile, stood up. "As soon as he started speaking, I realized I had to stay," Naman said. Here was a man, Naman realized, who could help him bring hope to those who had no power over their lives.
Together, they talked to successful people who wanted to help others achieve that same good fortune. McCrummen brought in Edwin "Pete" Peters, a financial adviser. "Pete's another graduate of South Alabama," Naman said. "He has wholeheartedly thrown his whole life into this program. He has been the president of our board since its inception."
NEST (nestofmobile.org) sends volunteer teams to mentor at-risk youths and families in Mobile County. The teams help families with employment, budgeting, meal planning, housing—basic life skills that nobody has ever taught these families. The volunteers tutor, encourage and do whatever else they can to keep kids in school.
Mostly, they care. "All my life, I have had people who pushed and pulled and overcame obstacles for me," Naman said. "They would not let me fail. They gave me everything that I needed to be successful."
All successful people have a support system. NEST volunteers provide one. "That's all it is," Naman said. "Just someone who cares and loves you."
---
This story originally was published in SOUTH magazine, a publication of the Office of Alumni Relations and the USA National Alumni Association. Read more stories in the latest edition.
---