Honors Junior Finds Outlet, and Mentor, at MCI Lab
---
Posted on January 4, 2017
Marketing and Communications
---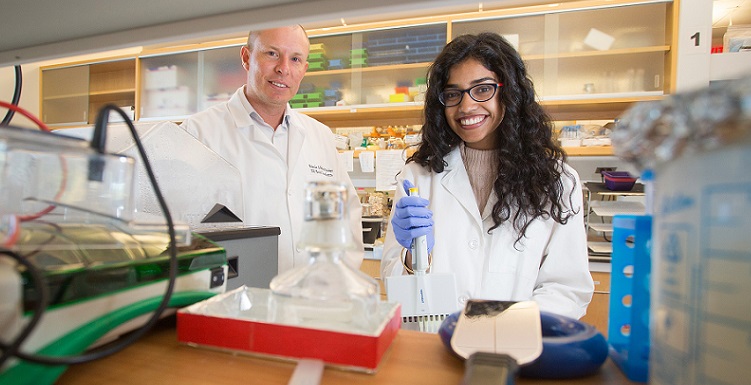 Pooja Revanna, a junior Honors student, works with her mentor, Dr. Peter Sykora, at a USA Mitchell Cancer Institute lab.
Download larger image
---
When Pooja Revanna, a junior majoring in biomedical sciences, decided at a young age she wanted to follow in her mother's footsteps and be a doctor, she had no idea that she would learn first-hand what it's like to be a patient with a life-threatening disease — or that her experience would ultimately inspire her field of study.
Diagnosed at the age of 14 with acute lymphoblastic leukemia, now in remission, Revanna has a unique patient-centered perspective she plans to bring to a career as a pediatric oncologist.
"This field of medicine is emotionally difficult, and not too many people can go through the pain and sadness that comes along with it," Revanna said. She added that her personal experience with childhood cancer gives her the confidence to "know that seeing these patients in pain will affect me differently, because I know what they are going through, but I feel like I can stay strong enough to help them."
With passion and commitment, Revanna, a student in South's Honors Program, takes advantage of every opportunity available to her to help her on the path.
One of those opportunities was a summer internship at USA's Mitchell Cancer Institute, where Revanna focused on cancer research, believing medical schools "want someone who will go beyond what they are required to do. Research and volunteering are examples that show this passion for helping people."
Working in an intense hands-on internship, Revanna learned how to culture and maintain human cells, participated in multiple experiments early on and throughout the program and contributed to data that will be used in peer-reviewed papers, all while working alongside her mentor, Dr. Peter Sykora, instructor of oncologic sciences and manager of MCI's technology development facility.
A native of Melbourne, Australia, Sykora was recruited to the Mitchell Cancer Institute a year ago by Dr. Robert W. Sobol, chief of the molecular and metabolic oncology program, to create, as Sykora describes it, "novel new approaches to cancer therapy and diagnosis."
With a professional background investigating DNA repair in malignant and non-malignant skin disease due to exposure to arsenic in drinking water and in the neurodegeneration associated with Alzheimer's disease, Sykora described expanding his path investigating DNA repair for cancer research as a "perfect fit."
According to Sykora, the lab is currently screening DNA damaging agents for new compounds that may have chemotherapeutic value, and also working with the Dauphin Island Sea Lab to establish "what genotoxic effects the algal blooms popping up in the Gulf might have for marine life, as well as downstream human effects."
In his experience with mentoring students, he finds it important to identify his interns' strengths and weaknesses early in the research project, and then "tailor it around the student strengths as much as possible." He added "By the end of the summer, Pooja was able to confidently do a variety of experiments routinely done in our lab."
Her time worked out so well, in fact, that she continues to work at MCI, focusing primarily on her undergraduate honors thesis.
"I enjoyed the atmosphere and how much I was learning," Revanna said. "As soon as I started I was told that I wouldn't just be sitting around and watching, but actually doing experiments and helping out. I like knowing that I am doing something productive."
Just as she is gaining critical knowledge through her classes, Revanna said the lab work is making her a better student.
"Going to research became a time of the day where I got a break from school and could enjoy performing experiments," she said. "It sounds a little dorky, but knowing I performed the experiment correctly and received a positive outcome gave me a feeling of content. Research also is helping me with school. There were many subjects I was learning in class that directly correlated with the work I was doing at MCI, and that gives me a better understanding of the concept."
---