These Four Siblings Attend South
---
Posted on January 8, 2016 by Joy Washington
Joy Washington
---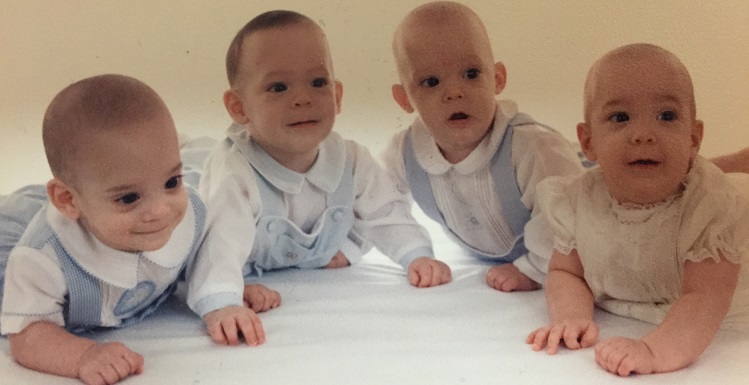 The Richburg quadruplets, from left, Connor, Lee, Dalton and Jordan, were born at USA Children's & Women's Hospital when it was located inside the USA Medical Center. Each is a freshman today at USA and is pictured below, from left, Dalton, Connor, Jordan and Lee.
---
The Richburg quadruplets – Connor, Dalton, Jordan and Lee – were born at USA Children's & Women's Hospital. Nearly two decades later, each has returned to the University of South Alabama, this time as first-year freshmen.
As students, they are following in the footsteps of their mother, Rhonda Richburg, who graduated from USA.
"Each of us decided individually that we would go to South," Connor said, "And we have had a great first semester."
At birth, the students were delivered by Dr. Keith Peevy, a USA neonatologist who is a professor in the College of Medicine. He was assisted by Cathy McCurley, a neonatal intensive care unit nurse at the time, who cared for them following their birth. Here's what they weighed when they were born:
Connor was the smallest of the four, weighing 1 pound, 14 ounces.
Dalton was the second smallest, weighing 2 pound, 5 ounces.
Jordan, the only girl, was the largest, weighing 2 pounds, 14 ounces, and the first to go home.
Lee was the second largest, weighing 2 pounds 10 ounces, and the second to go home.
"We are proud of each of them," said Rhonda Richburg. "Connor, Dalton and Jordan decided to live at home while they go to college, and Ken and I are grateful for their decision. They are receiving a great deal of support from the faculty and staff at South Alabama. We are very pleased."
Fellow classmates and professors can easily tell them apart, because they are fraternal instead of identical. Connor is studying general studies with a goal of focusing on some aspect of engineering, Dalton is considering business or engineering as a major, Jordan is a biomedical sciences major and Lee is majoring in nursing.
While some freshmen can struggle feeling alone their first year of college, Lee, who received a Presidential Scholarship, funded by the Mitchell-Moulton Scholarship Initiative, is excited to be sharing the college experience with his siblings.
"All of us are enjoying South," he said. "My sister, Jordan, and I are more alike. She and I have found similar interests in mission work. Connor and Dalton have similar interests and activities. We are also thrilled to be closer to one of our mom's good friends."
That good friend is Tracy Coleman, associate director of strategic annual campaigns in the USA Development Office, who knows the four students very well. She was there when they were born. They call her Aunt Tracy, since she and Rhonda Richburg have been friends since childhood.
"I have enjoyed watching them grow up, and I am excited they are studying at USA," Coleman expressed. "I am honored to help them while they are on their college journey."
The foursome has a strong bond. They are studying and enjoying their college experience. However, they never thought they would end up going to a university right at home.
"We thought we were going to go out of town to college," Connor said. "Neither of us thought we would study at the university connected to the hospital where we were born. But, we made a great choice and came full circle to South."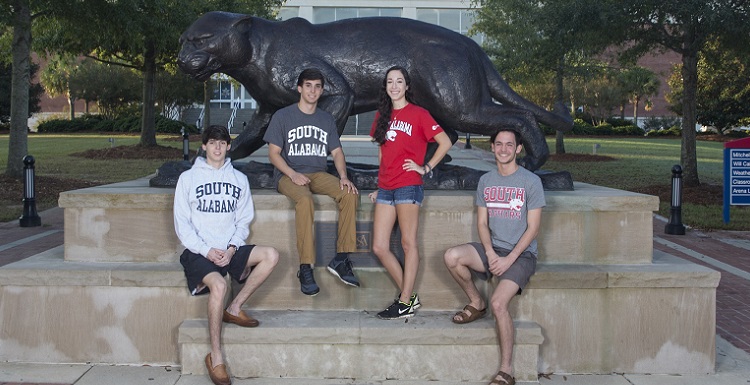 ---