Fifteen Picked for 40 Under 40
---
Posted on January 8, 2018
Bob Lowry
---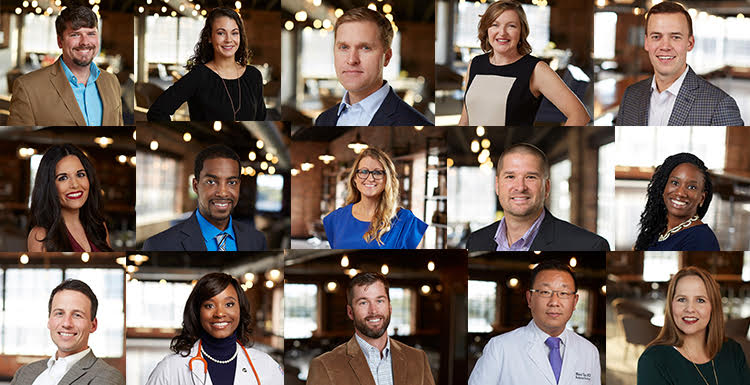 Fifteen members of the University of South Alabama community were selected by Mobile Bay Magazine to its annual 40 Under 40 list of people who demonstrate leadership, professional excellence and a commitment to the local community.
---
The impact of the University of South Alabama is highlighted in Mobile Bay Magazine's recently released "40 Under 40" feature, which includes 15 USA employees and alumni. Published each January, the story showcases 40 local young leaders who are positively impacting the Mobile area.
"One of our institutional priorities at the University of South Alabama is University-Community Engagement," Dr. Tony Waldrop, University president, said. "There is no better example of this than the young men and women featured in this magazine, all of whom are dedicated to enhancing the quality of life for all of us. We're very proud of our USA employees and alumni."
Members of the University community are:
Claudia Bjork '14; Research and Development Engineer, Ingalls Shipbuilding, a Division of Huntington Ingalls Industries.
Natalie Fox '07, M.S. '10, DNP '17; PNP-BC, Director of Nursing for Ambulatory Services, USA Health.
Jeremy Fletcher DPT '10; OCS, CSCS, Assistant Professor of Physical Therapy, University of South Alabama; Major, U.S. Army Reserve.
Sean H. Gleason '06; Executive Manager/General Manager, Infiniti of Mobile, a Joe Bullard Company.
Hunt Griffith '12; Financial Advisor, Morgan Stanley.
Abe Harper Jr., President/CEO, Harper Technologies, LLC.
Chip Hartin M.D. '05; Surgeon-in-Chief/Chief of Pediatric Surgery, USA Children's & Women's Hospital; Associate Professor of Pediatrics and Surgery, University of South Alabama.
Amanda Jones '01, M.Ed. '04, Ed.D. '16; Principal, Mary B. Austin Elementary, Mobile County Public Schools.
C. Michelle Jones '02; P.E., Instrumentation Engineer, Hargrove Engineers + Constructors, and Executive Director and Project Manager, HarGIVES.
Melva Lajoy Jones, CMP, Director of University Special Events, University of South Alabama.
Paul Kleinschrodt '10; P.E., PMP, Project Manager, Constantine Engineering, Inc.
Krystal Lockett '14, MSN '17; Co-Owner, Gloria's Reliable Sitting Service.
Ashley Petersen, COO, DocRx, Inc.
Weisi Yan, M.D., Ph.D., Director, CyberKnife Program; Staff Radiation Oncologist, University of South Alabama Mitchell Cancer Institute.
Grant Zarzour M.D. '11; Total Joint Orthopaedic Surgeon, Alabama Orthopaedic Clinic.
---