South Grad's Office Has Four Wheels
---
Posted on January 9, 2017
Marketing and Communications
---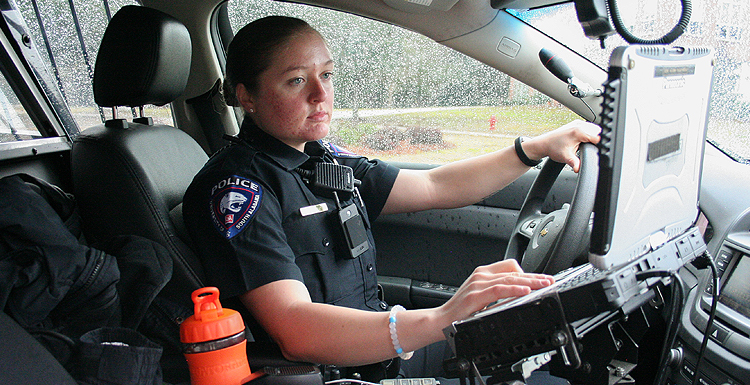 During her training at the State Police Academy in Selma, Ala., Ashton Pennington was awarded the prestigious "Leadership Award."
---
Shortly before graduating high school and entering the University of South Alabama, Ashton Pennington shifted her long-held career goals from sports medicine to law enforcement.
Her instincts were clearly spot on. After earning a bachelor's degree in criminal justice from South in May 2016, Pennington was almost immediately hired as an officer with the USA Police Department. During her training at the State Police Academy in Selma, Ala., Pennington was awarded the prestigious "Leadership Award" as the best all-around cadet in her rigorous 13-week class, which began with 64 cadets but graduated only 50.
The award may have been a surprise to Pennington, but it came as no shock to Zeke Aull, USA's police chief. He had no doubt that Pennington, who worked as a Student Auxiliary officer with the department as an undergraduate, would excel at the academy.
"Ashton is an excellent officer who cares about her alma mater and represents USA extremely well," Aull said.
For Pennington, 23, the journey from sports medicine to law enforcement evolved naturally and with the assistance of motivational South faculty who kept her challenged, focused and confident in the choice she made.
"I like the whole idea of helping get people back where they need to be, and at every turn, law enforcement reminds me that that's exactly what I'm doing," the Hartselle, Ala., native said.
Pennington, a javelin thrower on USA's track and field team as a student, said South's criminal justice program clicked with her immediately. She enjoyed not only the myriad theories her studies encompassed, but also the firsthand law-enforcement experience so many of her professors brought to the classroom, including everything from drug task force roles to U.S. Secret Service stints.
"I just found so many of the criminal justice theories so interesting, especially when you start explaining socioeconomic backgrounds of people, why they do this and not that and just how they grew up. These studies — and there are plenty of them out there — help us decide why this or that is happening, and that's really interesting to me," she said.
Reflecting on her time at the Academy, which graduated officers across the state, Pennington said it took a little while to get used to being roused at 5 a.m. in a structured, "very military" environment, but she adjusted and walked away with some powerful lessons learned.
"Nothing was free there. We had to do pull-ups to pay for our meals, but I'm not complaining. It taught us you have to work hard for everything and nothing is handed to you," she said.
The program included two weeks of legal classroom training, firearms training and classes on defensive driving.
"Who doesn't want to drive a car really fast through cones? But seriously, it all boiled down to being able to handle a high-speed pursuit without compromising yours or the public's safety," she said.
While Pennington knows she could have applied with any number of departments, she said she never hesitated to join USAPD. She fell in love with the campus and its feel when she first arrived.
"I came down on a track scholarship, and I just really loved it from that first visit. During my junior year I applied for the Student Auxiliary program, and it really helped me see this was the career I wanted. But the biggest thing is I have a good relationship with the students, and that is so important because when we have that, they'll work with us. They'll support us, and that's very important in this field."
---