When Lightning (Fast) Strikes Twice
---
Posted on January 12, 2016 by Marketing and Communications
Marketing and Communications
---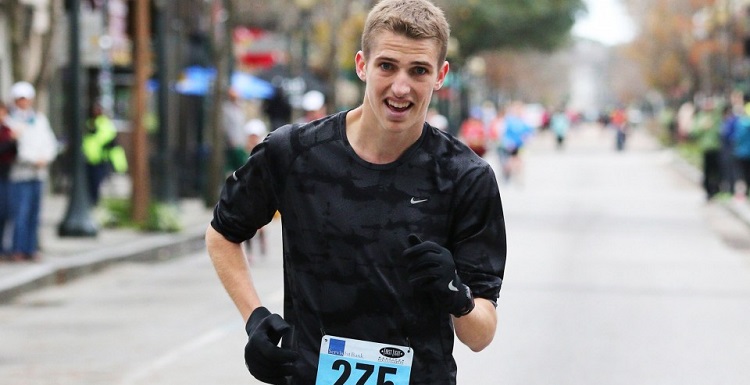 Engineering student and marathon winner Cody Parker said his favorite place to run on campus is the Glenn Sebastian Nature Trail. Here he takes part in the 2016 Servis 1st Bank First Light Marathon. Photo courtesy of Alabama Media Group.
---
Imagine running your first-ever marathon and trotting away with first-place honors.
Now imagine repeating the feat in your second attempt, and you'd be living Cody Parker's extended runner's high after defending his men's marathon title during Sunday's Servis 1st Bank First Light Marathon.
"I'm planning to try and go for a three-peat," Parker said after his win, already eyeing the January 2017 race. The annual event features a Boston-certified marathon, half marathon, five-person relay and 1.2 mile fun run, all benefitting the L'Arche Mobile community.
Parker, a junior chemical and biomolecular engineering student at the University of South Alabama, finished Sunday's marathon with a time of 2:50:26 – six minutes and 31 seconds a mile – or less than one minute more than the 2:49:31 he recorded in 2015.
First Light Marathon organizers "told me last year I was the youngest person to ever win the marathon, so that really pushed me," said Parker, now 20.
The Bay Minette native said he started running as a middle school student and ran track and cross-country for Baldwin County High School, while also playing a little baseball and soccer. And although he began his collegiate career on USA's cross-country team, the demands of the rigorous engineering program relegated it quickly to a hobby instead.
"I really just wanted to focus on school. Engineering's a pretty tough major, and getting up at 5 a.m. to go out and run was pretty rough," he said.
Instead, Parker said running became an escape and go-to stress reliever.
"I like it too much. I couldn't give it up completely. I figured out doing it this way – on my own – that it's the perfect way to just get away from everything. I don't have to think about school or anything. It's completely peaceful," he said.
So what's on his playlist while he runs?
Absolutely nothing.
"I don't run with music because I know during a race I can't have it. If I become reliant on it, then that race will seem that much longer to me," Parker said, noting it also would take away from what he likes most about the solitude and peace he's found in his training routine.
"If you're distracted by music, you really can't enjoy the sights and views on your run. When you're on trails, you get to enjoy nature. You don't want to miss that," he said.
And because a large portion of his training takes place on the USA campus, Parker said, his preparation gives him a particular edge on the 26.2-mile course.
"The First Light marathon runs right through campus, and the hills were really perfect training for it," he said, noting his favorite running spot on campus is the Glenn Sebastian Nature Trail.
Parker's advice to anyone considering distance running is simple.
"The hardest thing is getting started, and it's a long, long process to get comfortable with the idea of a marathon, but the pain you feel in the beginning will go away. I didn't start out running like this. You have to put in the work, and then eventually it does become fun because it does get easier," he said.
And training is not something Parker takes lightly.
He runs about 50-65 miles per week, including one long run of about 18-20 miles. The rest of the week Parker runs in six- or seven-mile stretches, including two days where he picks up the pace or does interval training. He goes through two or three pairs of running shoes each year.
In addition to eyeing his third consecutive men's marathon First Light title, Parker said he plans to finish his degree and would love to land a job right here in the Mobile area – with the likes of Evonik Industries or Hargrove Engineers + Constructors – rather than move away from his Baldwin County roots.
"I'm from here, and this is home. This is where my family is, and I really love it," he said.
---