COM Dean Receives Champion of Life Award
---
Posted on January 14, 2016 by Marketing and Communications
Marketing and Communications
---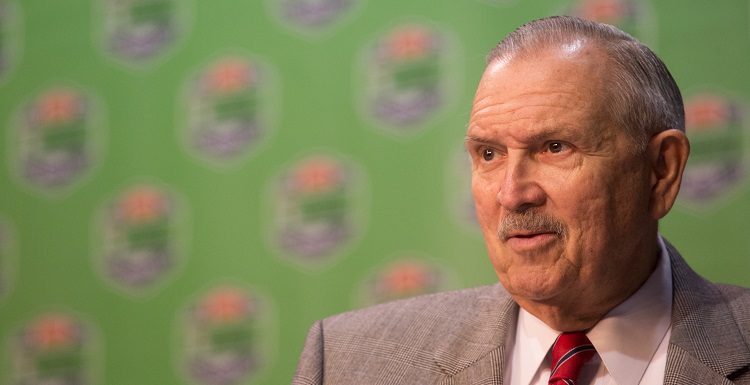 Dr. Samuel Strada, dean of the College of Medicine, has published more than 200 articles and abstracts, earning national recognition for his research on cellular signaling mechanisms.
---
Dr. Samuel Strada, dean of the University of South Alabama College of Medicine, recently was honored as a 2015 recipient of the GoDaddy Bowl Champion of Life Award.
Each year, a group of deserving individuals who have attained great success by demonstrating dedication and hard work are selected to receive the Champion of Life Award. The award honors Dr. Strada's commitment to excellence in the community, state and nation.
A native of Kansas City, Mo., Dr. Strada is known today as a successful dean, professor, researcher, keynote speaker and active community member. Dr. Strada and his late wife, Judy, were married for 43 years. They have four children, Rochelle, Joe, Jason and Johnny; and four grandchildren, Merritt, Sam, Mary, Evelyn and Betsy.
Dr. Strada earned a bachelor of science degree in pharmacy, graduating with distinction in 1964 from the University of Missouri-Kansas City (UMKC). He continued his education earning a master's degree in pharmacology from the University of Missouri at Kansas City School of Pharmacy. In 1970, he received a doctorate in pharmacology from Vanderbilt University School of Medicine in Nashville, Tenn. He completed postdoctoral training as a Staff Fellow in Washington, D.C., Saint Elizabeth's Hospital, National Institute of Mental Health (NIMH). Prior to joining USA, he spent 11 years on the faculty at the University of Texas Medical School at Houston during which he served one year as acting chair of pharmacology. He joined the school as assistant professor, was promoted to full professor in 1981 and completed a sabbatical year (1979-80) as a Senior International Fellow in the laboratory of Professor Sir Philip Cohen, MRC Protein Phosphorylation Institute, Department of Biochemistry, Dundee University, Dundee, Scotland.
Dr. Strada joined USA as professor and chair of pharmacology in 1983. In 1994, he was named senior associate dean for the USA College of Medicine. His other appointments at USA included acting director of the graduate program in basic medical sciences, assistant dean for admissions and acting chair of psychiatry. He was instrumental in the creation of the Office of Technology Development, The Office of Research Compliance and Assurance, and the USA Technology and Research Park. He has served on numerous college and university-wide committees, including chair of the Athletic Council and as Faculty Athletic Representative to the NCAA and Sun Belt Conference from 1990-1997.
Dr. Strada has published more than 200 articles and abstracts, earning national recognition for his research on cellular signaling mechanisms. He has been an active member in the American Society for Pharmacology and Experimental Therapeutics and the Council of Academic Societies of the Association of American Medical Colleges. In addition, he has served as president of the Association for Medical School Pharmacology Chairs as well as the Southeastern Pharmacology Society.
Dr. Strada has received numerous awards including USA's Medical Alumni Association Distinguished Service Award, the Friend of Pharmacy Award from Auburn University's Harrison School of Pharmacy, and the Alumni Achievement Award from the UMKC School of Pharmacy Alumni Association.
The Champion of Life Award was presented to Dr. Strada during the GoDaddy Bowl's Mayor's luncheon banquet on Dec. 22, 2015, at the Mobile Convention Center.
---