USA Remembers King With Community Outreach
---
Posted on January 16, 2017
Joy Washington
---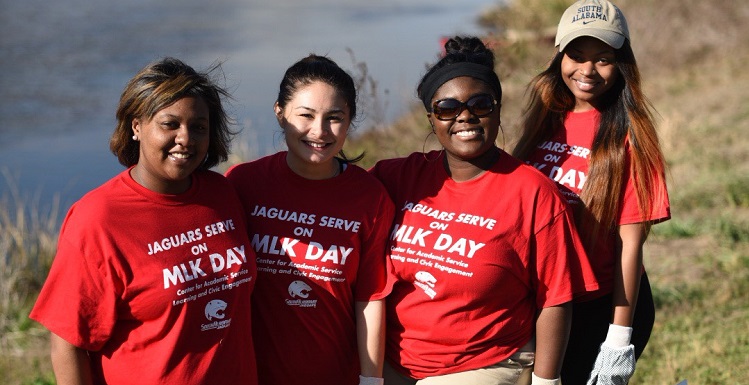 University of South Alabama students participate in a clean-up project Monday as part of the MLK Day of Service.
---
"Life's most persistent and urgent question is: 'What are you doing for others?'" -Dr. Martin Luther King Jr.
University of South Alabama students, faculty and staff answered this question Monday, January 16, participating in service projects in Mobile and Prichard during the MLK Day of Service and the annual MLK Day March in downtown Mobile.
"South Alabama unites with the community to honor the memory and service of one of the great civil rights leaders by doing service projects on the national MLK Day of Service," said Kimberly Pettway, director of South's Center for Academic Service-Learning and Civic Engagement, which sponsored the service project initiative. "This is a special time that we all can give back to the community as a collective unit."
Hundreds of South Alabama volunteers helped with numerous community activities including cleaning projects, organizing, sorting clothing items, lawn and landscaping, and washing of transport vehicles.
The MLK Day of Service is a part of United We Serve, which is President Barack Obama's national call to service initiative.
Service projects were done at locations including:
Little Sisters of the Poor Sacred Heart Residence
Africatown
Dumas Wesley Community Center
Goodwill
Ronald McDonald House
Mount Zion Primitive Baptist Church
For more information about upcoming service-learning opportunities, email Pettway at kpettway@southalabama.edu, or visit www.southalabama.edu/centers/caslce.
---