One Marathon Won, 183 Miles to Go
---
Posted on January 16, 2020
Thomas Becnel
---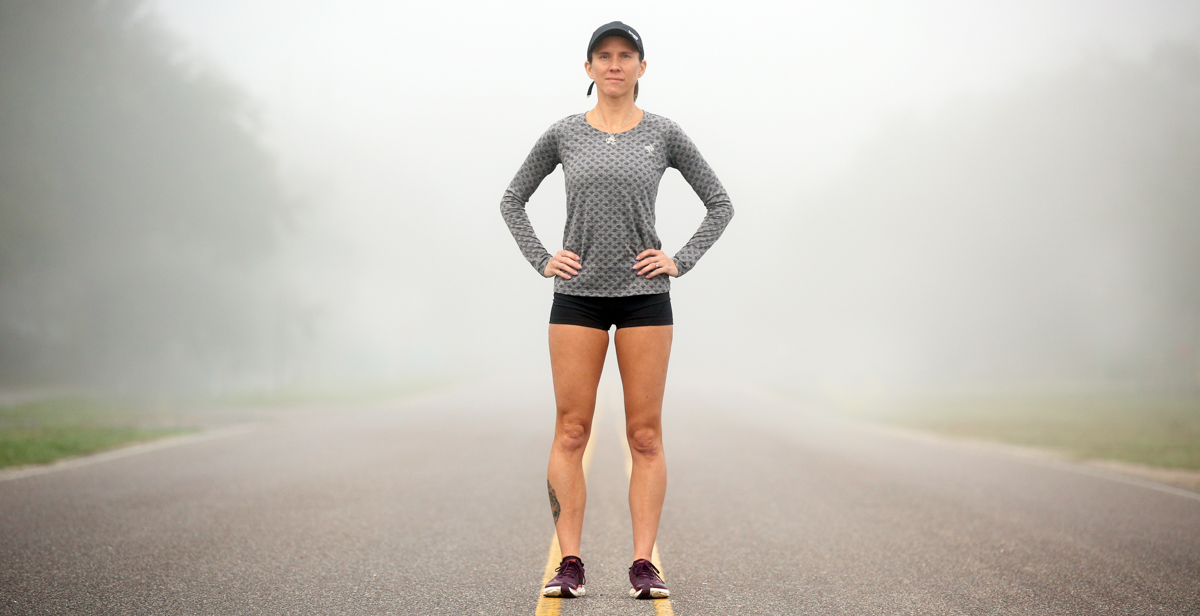 Jessica Jones, who earned a Ph.D. in microbiology from South, is set to complete seven marathons on seven continents after winning the Mobile Marathon. She trains on Dauphin Island, where she lives and works.
---
By the time Jessica Jones ran through campus at the University of South Alabama, where she earned a Ph.D. in microbiology, she felt good about her chances in the 2020 Mobile Marathon.
"I knew I was in the lead," she says. "A lot of spectators are really cool about letting you know where you are in the race. I was running by myself for a long part of it. There was one guy way in front of me, and another guy way in back of me."
Jones ran back to downtown Mobile Sunday morning and won the women's race with a time of 3 hours, 10 minutes and 31 seconds.
The 42-year-old Indiana native is a supervisory microbiologist at the Food and Drug Administration laboratory on Dauphin Island. For nine years, she worked full-time and did graduate coursework in the College of Medicine on USA's campus. She earned her doctorate in 2009.
That was a marathon, too.
"I missed out on a lot of graduate student life, because I was working so much, but late nights in the lab, everyone has those stories," Jones says. "We'd coordinate our breaks, running these 10- and 12-hour experiments, then go to Mellow Mushroom for beer and pizza."
Dr. John Foster, professor emeritus in the department of microbiology at USA, remembers Jones as a tenacious student.
"Most people would have quit when faced with the rigors of doctoral research piled on top of her full-time FDA responsibilities, but she handled these stresses with grace and good humor," he says. "To this day, I hold her up as a model for graduate students who question their career choice when an experiment fails or when they bemoan having to work in the lab on weekends."
Foster didn't blink at news of Jones and her latest success at running 26.2 miles.
"It doesn't surprise me that she won the Mobile Marathon," he says. "She was probably designing an experiment while doing it."
World Marathon Challenge
There's a Netflix television show called "Jessica Jones," but the South graduate isn't a fan of the superhero program. "Never seen it," she says.
On Dauphin Island, where Bienville Boulevard stretches just over 7 miles from one end to the other, Jones keeps busy with work, her husband, Ron, their three dogs and training. Her schedule includes long runs nearly every day of the week.
She stands 5-foot-3 and weighs 109 pounds. She has brown hair and fair skin that freckles during the summer. A colorful tattoo of an orchid curls around her left wrist.
Jones may not be a superhero, but she faces a great test of her physical conditioning and mental fitness. It's called the World Marathon Challenge. Competitors run seven marathons in seven days on seven continents.
"Why not?" she says, laughing.
The 2020 race series will start Feb. 6 with a marathon in Antarctica. It will end Feb. 12 with a marathon in Miami. In between, there will be races in South Africa, Australia, Dubai, Spain and Brazil, with long charter flights between each event.
For Jones, the Marathon Challenge is an investment in time and money. She expects to finish each marathon. She hopes to set a new record for best average time.
"This has been a long time coming," she says. "Four years – four years I've been planning to do this."
Vibrio Vulnificus Research
Jones grew up in Indiana and, after earning a bachelor's degree, got a job with the FDA at 21 years old. She's been on Dauphin Island ever since. She works at the Gulf Coast Seafood Laboratory and has done research on marine organisms.
The title of her 2009 doctoral thesis was "Characterization of Dilution Growth Arrest in Vibrio Vulnificus and Recovery by Secreted Growth Factors."
The Vibrio bacteria are often popularized as one of the "flesh-eating" kinds. Jones shrugs. Popular science can be tricky.
"I wish the news was a little less sensational," she says, "but it's good education."
Jones did cross-country in high school and college, but gave up running for several years when she began her FDA career. Later she returned to the sport and overcame a hip injury to begin winning her age group in different races. The 2013 Boston Marathon bombing motivated her to qualify for the famous race.
"It was incredible, the sense of community," she says. "I wanted to be a part of that."
Jones has a goal of running marathons in all 50 states by her 50th birthday. She's done 22 so far. She doesn't know why she was drawn to the idea of running multiple marathons on consecutive days.
Last year, as preparation for the World Marathon Challenge, she did five Gulf Coast marathons in five days. It wasn't as grueling as she feared. Her fastest time was on the second-to-last race.
"Not bad," Jones says. "All distance running is a testament to the human mind. You just get yourself mentally prepared and do it."
---