Freedom, Equality Focus of 'Teach-In'
---
Posted on January 17, 2017
Joy Washington
---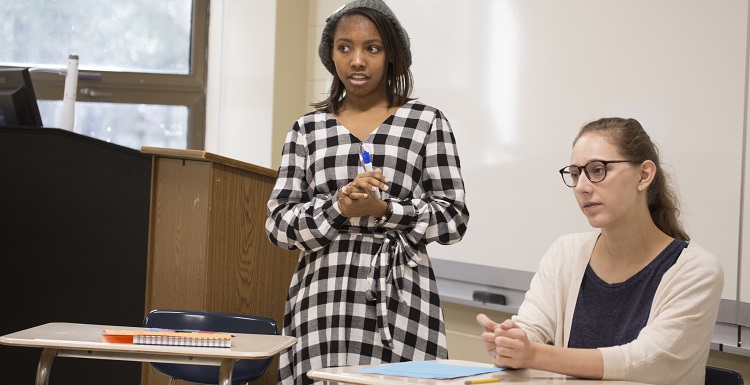 Ashlyn Cohen, left, and Lydia Turner help lead a session on the Declaration of Independence and equality during Monday's 'teach-in' held in commemoration of Dr. Martin Luther King Jr.
---
"The function of education is to teach one to think intensively and to think critically. Intelligence plus character — that is the goal of true education." –Dr. Martin Luther King, Jr.
While marches and other events took place on Monday, Jan. 16, to commemorate Dr. Martin Luther King Jr. Day, a group of seven University of South Alabama students organized and presented an on-campus "teach-in" on the "Exploration of the Declaration of Independence in Defense of Equality."
More than 40 students, faculty, staff, and community members participated in the presentation-style forum that included breakout sessions and a wrap up session.
The African-American Studies Program sponsored this educational event where students researched, organized and facilitated all the sessions with the guidance of Dr. Kern Jackson, associate professor and director of African-American Studies. The student facilitators encouraged discussion on the Declaration of Independence, specifically, the sentence that says "unalienable right to life, liberty, and the pursuit of happiness."
"We did a great deal of research to prepare for the teach-in," said Ashlyn Cohen, a sophomore visual arts major from Mobile. "A lot of important details were discussed regarding our Declaration of Independence. I have never facilitated a program such as this. It was great to lead the discussion. And, I hope to be able to conduct future teach-in sessions. This was a great experience."
Cohen's co-facilitator was Lydia Turner, a freshman foreign languages and literatures major. Turner and Cohen, both Faith Academy graduates, were thrilled to find out they both were attending South and would be leading this informative discussion.
"Through this process, I have a better understanding about this great country of ours. I really enjoyed the teaching and learning aspect of this project, "Turner explained. "We dissected the Declaration of Independence, and there was a robust discussion about how there's no freedom without equality."
There were also points made during the discussion about how civics or government should be taught earlier and longer at all grade levels.
"Whereas freedom and liberty seem to rise to the top in the contemporary American consciousness," Jackson noted. "How the Declaration articulates equality is just as, if not more, paramount."
Jackson shared author Danielle Allen's latest book, "Our Declaration: A Reading of Independence in Defense of Equality," with the student facilitators as background for the teach-in. Jackson also recognized freshman Giana Harris Stallworth, who came up with the idea of incorporating this forum as a way to celebrate MLK Day.
---