South Graduate Advocates Fair Housing with Outreach, Enforcement
---
Posted on January 17, 2022
Thomas Becnel
---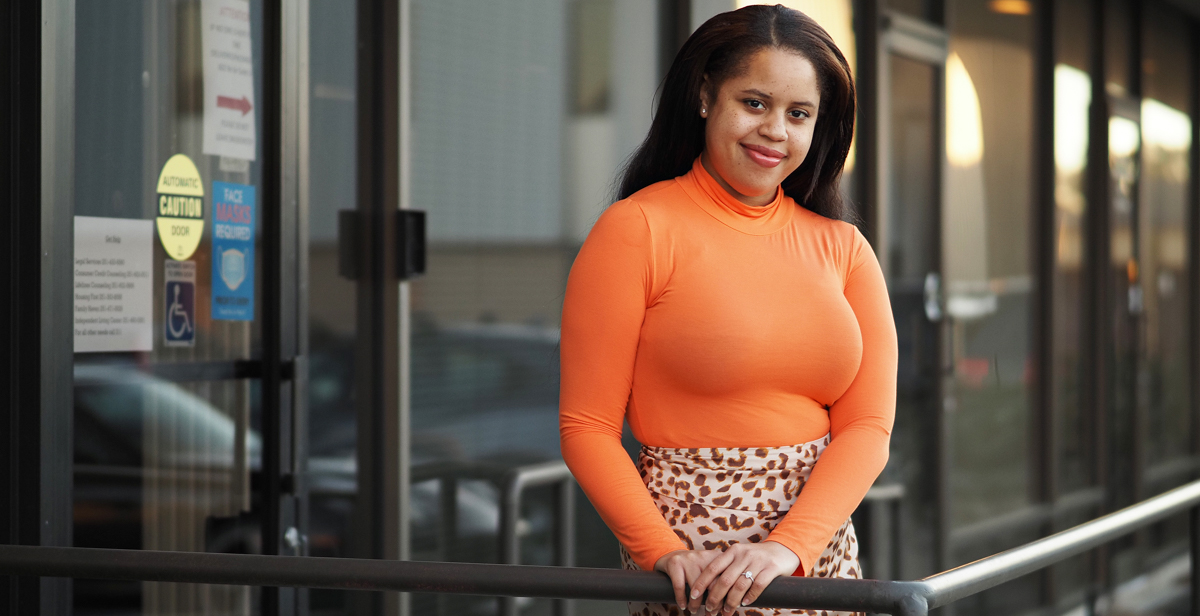 Brittney Dixon, in front of the Center for Fair Housing in Mobile, says housing choice plays a critical role in equality. "Housing can affect whether you have a grocery store in your neighborhood, or good schools, or even sidewalks," she said.
---
The University of South Alabama is running a series beginning Martin Luther King Jr. Day that focuses on South students, employees and alumni who are advancing Dr. King's vision in six areas – poverty, jobs and wages, housing, education, justice and peace. Today's story is on housing.
At the Center for Fair Housing in Mobile, Brittney Dixon investigates complaints from people who believe they're being discriminated against on the basis of their race, sex, religion, disability or sexual orientation.
Her title is enforcement coordinator, but sometimes her job is mediation, negotiating agreements between would-be renters and the owners of homes and apartments.
"You get a lot of pushback," Dixon said. "You have to be creative. I try to think, if I was the owner, what would I be thinking? A lot of times, they're not even thinking about what they're doing, and have been doing for years, and whether it's wrong."
The Center for Fair Housing is a private, nonprofit community resource dedicated to the elimination of housing discrimination, the promotion of housing choice and the creation of inclusive communities. The Mobile office of the national organization serves eight counties in South Alabama.
Dixon, a Mobile native, graduated from the University of South Alabama in 2012 with a degree in communications. Her first job at the Center for Fair Housing was outreach coordinator, before she moved into enforcement.
In her current role, Dixon thinks back to her sociology classes at South.
"Just understanding family dynamics and being mindful with your clients," she said. "If you dig a little deeper, ask a few more questions, you learn how a person's home life affects everything. I try to take that extra step to understand everyone. It helps make my job a lot easier."
Often, just hearing from the Center for Fair Housing will make home owners and apartment managers more receptive to clients. Other times, it makes no difference at all.
If landlords refuse to follow the law, the Center for Fair Housing will file complaints with the federal department of Housing and Urban Development. HUD can levy fines on businesses and require their employees to do training — sometimes at the same Center for Fair Housing office where their cases began.
Dixon's office works with community partners such as church groups and neighborhood organizations, along with city and state agencies. They refer clients back and forth. Helping people often starts at home.
"Housing is key," she said. "Housing can affect whether you have a grocery store in your neighborhood, or good schools, or even sidewalks."
One of her jobs is recruiting volunteers, including South students, to pose as home buyers and renters. The idea is to test whether real estate agents or apartment managers treat different people the same way. Dixon reports that it is still routine for Black applicants to be turned away, told there are no vacancies, only to have white applicants welcomed and told there are several homes or apartments available.
"It's so prevalent," she said. "There's not even a clear reason why a lot of times. Some people just don't want to rent to black people, or women, or people with disabilities. If you're someone in a wheelchair, that can be heartbreaking."
Teresa Bettis, executive director of the South Alabama Center for Fair Housing, has worked at the nonprofit since 1999. The mission of the organization remains the same, though there are always new challenges, such as the coronavirus pandemic.
"Discrimination happens more frequently than people think, only now it happens with a handshake and a smile," Bettis said. "Our No. 1 complaint for several years now has been from people with disabilities. People may need wheelchair ramps or handicapped parking spaces. Or they may require a caregiver or a service animal. These are what's called reasonable accommodations."
When facing a housing problem, the Center would rather negotiate solutions than refer matters to HUD. That's where staffers such as Dixon step in to do their jobs.
"She's grown over the years, after starting in outreach," Bettis said. "She's an asset and we're happy to have her."
From Business to Communication
Dixon, 33, grew up on Church Street in the historic Oakleigh neighborhood near downtown Mobile. Each year, from her front yard, she would look and listen for the start of Mardi Gras parades.
"I always assumed anyone could live anywhere," she said. "My mother's parents, they were the second black family to live on their street in Mobile."
Dixon attended Murphy High School and grew up interested in theater, engineering and business. She remembers answering the phone for the family construction company, Kellie's Patios and Foundations.
After graduating in 2012 with a degree in communications, she accepted an internship at the Center for Fair Housing. When the internship ended, she was hired full-time.
The Center for Fair Housing does a lot of advertising, but many people still don't know about the organization. One of the biggest challenges for the organization is connecting with people with problems or crises that include a place to live.
"Often we're the last resort for people," Dixon said. "That's why outreach is so important."
Outreach and Enforcement
In recent years, COVID-19 has disrupted work for employees at the Center for Fair Housing. Hurricane Sally ripped the roof off their building in 2020. Offices were repaired, but now everyone works at home.
Dixon misses the camaraderie of the center office, but enjoys her own space.
"In the office, sometimes you can get bombarded with people and things," she said. "When it's phone-only, it's easier to give directed attention to each individual who calls in."
When Dixon isn't working, she's interested in film production. She took vacation days last year to work as an assistant on a film shoot in Mobile.
"Working on a movie set," she said, "was like a dream come true."
At the Center for Fair Housing, she remembers starting as an intern. In meetings, she marveled at how staff members traded information and ways to solve problems. After joining the staff, she worked in outreach before joining enforcement and becoming more of an advocate for people and their housing needs.
"Looking back on it, it was huge, a totally different thing," she said. "I went from connecting people to programs to doing enforcement, looking at situations and learning the specifics of the law, all the different sections and codes."
Dixon still works to let the public know what services are provided by the Center for Fair Housing. Many people think housing issues are for low-income clients, but she explains that factors such as race, sex and disability cut across income levels.
In Baldwin County, which draws many retirees, age and disability are often issues.
Dixon recalls a case where a woman needed wheelchair access to her home. Leaders of a homeowner's association fought installation of a wheelchair ramp because they didn't like the way it looked in their community. In the end, the woman got her ramp, but not without a struggle.
The message from the Center for Fair Housing is that renters and buyers have rights. Discrimination is unfair and illegal. But help is available.
"If you feel like you've been discriminated against, give us a call," Dixon said. "It's as simple as that."
The South Alabama Center for Fair Housing is at 602 Bel Air Boulevard, Mobile. During the pandemic, most client work is done over the phone. The office number is 251-479-1532.
---