Fanny Meisler Trauma Center Opens
---
Posted on January 21, 2020
Marcomm
---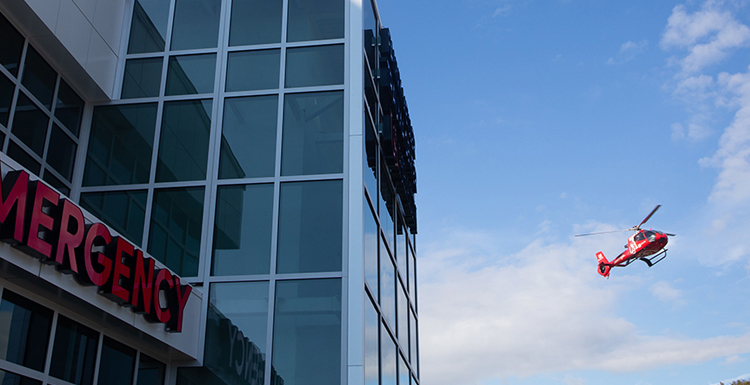 Fanny Meisler Trauma Center at University Hospital will deliver world-class care to more patients.
---
Designed to deliver world-class care to more patients, the new $20 million Fanny Meisler Trauma Center at University Hospital – the region's only level 1 trauma center – officially opened today at 6 a.m.
"Opening a new emergency department means we are dramatically increasing access to state-of-the-art technology and the highest-quality care provided by members of our academic health system," said Edward Panacek, M.D., M.P.H., chair of emergency medicine at USA Health. "With almost three times as much space as we had previously, we are expanding our ability to meet the healthcare needs of the people in our community as we train the next generation of healthcare providers."
The new emergency department is approximately 27,000 square feet, nearly triple the amount of space in University Hospital's previous department. The new center has 38 examination rooms and three expansive trauma bays. To increase efficiency, CT and X-ray imaging are located within the center.
USA Health formally broke ground on the project in December 2018. At the time, officials announced the facility would be named The Fanny Meisler Trauma Center, in honor of the late wife of local philanthropist Bert Meisler, who donated $5 million for the project.
At a ribbon-cutting in December 2020, Gov. Kay Ivey noted the importance of the emergency department to the economic development of the area and the state, reinforcing the state providing a $4 million grant through an economic development bond issue.
For several years, USA Health has been raising additional money for the emergency department through the "A Night Honoring Heroes" fundraiser. Because of the generosity of the USA Foundation and other individuals, the new space features the most modern equipment available for the delivery of care, as well as for conducting research and training healthcare providers.
White-Spunner Construction served as the general contractor on the project. HOAR Construction was construction manager and Caldwell Associates was the architectural firm for the project.
---