Grants Highlight Biomedical Engineering Track
---
Posted on January 22, 2016
Ashley Givens
---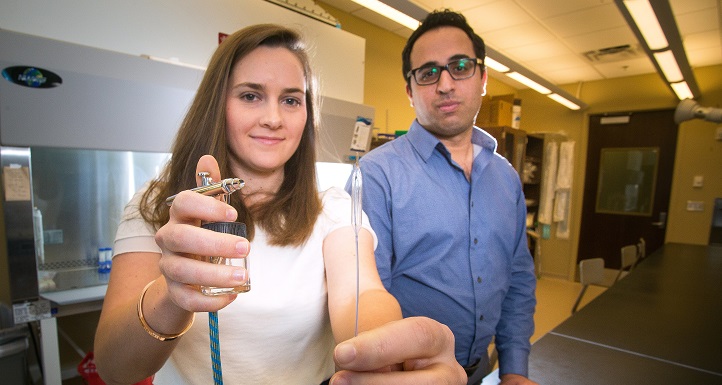 University of South Alabama graduate student Emily Turner holds a balloon catheter in a lab with her research mentor Dr. Saami Yazdani. Turner and Naga Annamdevula, pictured in bottom photo with mentors Dr. Silas Leavesley, left, and Dr. Thomas Rich, each were awarded a $52,000 research grant by the American Heart Association.
---
Two University of South Alabama graduate students were recently awarded highly competitive American Heart Association grants to help support their doctoral research as part of in an interdisciplinary biomedical engineering track — a collaborative effort between the University's College of Medicine Graduate Program in Basic Medical Sciences and the College of Engineering.
The award winners were Emily Turner and Naga Annamdevula.
"The rationale behind establishing the track between our two colleges was to use our graduate program as a way to mesh the analytical and mathematical strengths of faculty in the engineering disciplines with the biological strengths and insights of faculty in the basic medical science disciplines," said College of Medicine Dean Dr. Samuel J. Strada. "The ultimate goal of this merger was to develop a synergistic educational environment that promoted collaboration between the various disciplines."
The Colleges of Medicine and Engineering jointly established the Biomedical Engineering Track of the Basic Medical Sciences Ph.D. program six years ago, said Dr. Silas Leavesley, who teaches in the program. "Naga and Emily are both very qualified and promising doctoral students working on highly interdisciplinary biomedical engineering projects. Having both of them receive a highly competitive, nationally recognized extramural fellowship is a testament to the dynamic and interdisciplinary training environment we have been working to establish between the Colleges of Engineering and Medicine."
"We are certainly proud of Naga and Emily for their great work and success in obtaining AHA fellowships," said Dr. John Steadman, dean of the College of Engineering. "I am very pleased with the collaboration that has been established between the Colleges of Medicine and Engineering, which is now a source of many research projects and a new shared core facility."
Turner, working with research mentor Dr. Saami Yazdani, was awarded a two-year $52,000 grant for her work on "Keratose as a Novel Drug Carrier for Drug Coated Balloons."
"The work is aimed at providing a better alternative to treat peripheral artery disease, which is clogging of the arteries in the legs," Dr. Yazdani said. "While stents work great for clogged arteries of the heart, they don't have a good track record for diseased and clogged arteries in the legs, requiring patients to have repeat procedures as often as every six months."
Turner and Yazdani's project builds on current technology of drug-coated balloons, but looks for a better version of what's on the market today.
"Our preliminary tests show that we have a novel excipient or drug carrier (keratose - a form of keratin) that is capable of sustaining long-term drug release," Turner said. They hope their new excipient will lead to improved treatment of peripheral artery disease and, therefore, an improved outcome for patients.
"This work interests me because it has a clear translation to improving clinical treatments and ultimately patient care, moving from benchtop to bedside," Turner said. "I love waking up every day and being part of a new endeavor — answering research questions and discovering things that have never been studied before."
A native of Ocean Springs, Miss., Turner earned an undergraduate degree in science and technology at the University of Alabama at Birmingham, then came to USA for graduate work because of the variety of options offered.
Annamdevula, working with research mentor Dr. Silas Leavesley and co-mentor Dr. Thomas Rich, also was awarded a two-year $52,000 grant for her work titled "Spatial distribution of PDE4 isoforms regulates cAMP compartmentalization and endothelial barrier permeability in PMVECs."
"The major focus of my research is to study the role of Phosphodiesterases in regulating cAMP signal specificity and thus maintain the endothelial permeability," Annamdevula said. "Acute Respiratory Distress Syndrome (ARDS) is one of the leading causes of death in the United States. A key characteristic of ARDS is disruption of the endothelial barrier of the blood vessel leading to pulmonary edema."
But measuring the factors that regulate permeability has proven to be a complex problem, she said. Her research is based on a five-dimensional imaging process, accounting for x, y and z spatial components, a time component and a hyperspectral component.
The work is satisfying, she said, because it helps "untangle the concepts that can be clinically translated and will be used to better understand the disease progress and treatment and improve the quality of living."
Again, the collaboration between colleges is key to her work.
"My research is half engineering and half biological science," Annamdevula said. Working with her mentors, and in collaboration with the College of Medicine, "provided us more insight towards the biological approaches."
Annamdevula is a native of Rajahmundry, India. She earned a bachelor's in technology degree in India. She earned a master's in chemical engineering at USA, working with Dr. Leavesley, a time she describes as "the best research period that I had in my life," and inspiring her to continue studies toward a Ph.D. in USA's Basic Medical Sciences Program.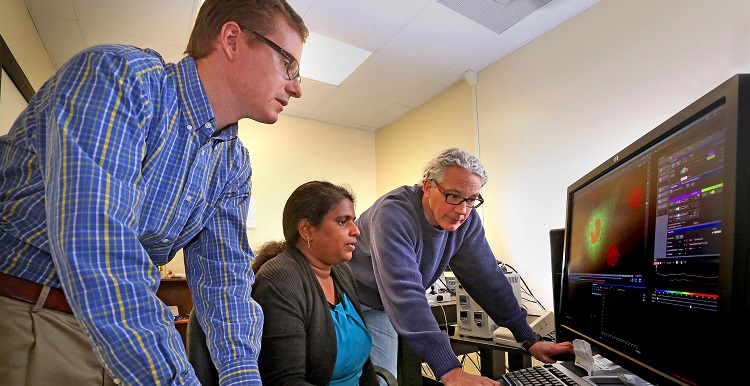 ---