USA Researchers Aid in Fight Against Superbug
---
Posted on January 22, 2018
Ashley Givens
---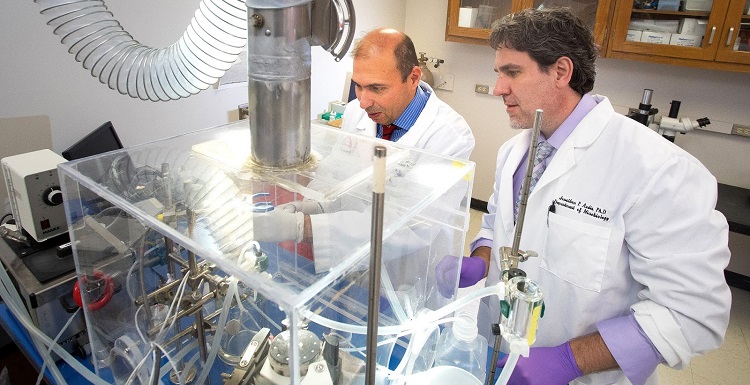 USA researchers Dr. Jonathon Audia, right, and Dr. Diego Alvarez recently developed a model of bacterial sepsis and pneumonia that can aid in the fight against antibiotic-resistant bacteria.
---
Researchers at the University of South Alabama College of Medicine are aiding in the fight against antibiotic-resistant bacteria — an ever increasing issue of importance in public health.
Dr. Jonathon Audia, associate professor of microbiology, and Dr. Diego Alvarez, associate professor of physiology and cell biology, have developed a vertically integrated research program to study Pseudomonas aeruginosa, a pathogen recognized by the World Health Organization to be critically in need of new antimicrobial treatments due to current antibiotic resistance profiles.
"At USA, we have developed a clinically translatable, vertically integrated experimental model to further our understanding of Pseudomonas aeruginosa pneumonia and sepsis," Dr. Audia said. "Our work models infection and host stress responses at the levels of cells in culture, isolated lungs, and in infected rodents."
This comprehensive approach is one of the first of its kind. Drs. Alvarez and Audia have been researching the pathogen and studying its impact on lung biology and pathogenesis since 2010, publishing numerous scientific articles on the topic. Dr. Mark Gillespie, chair of pharmacology, and Dr. Troy Stevens, chair of physiology and cell biology and director of the USA Center for Lung Biology, are using the model for NIH-supported research in their labs at the USA College of Medicine.
The World Health Organization developed its global priority pathogens list of antibiotic-resistant bacteria to help in prioritizing the research and development of new and effective antibiotic treatments – identifying the most important resistant bacteria at a global level for which there is an urgent need for new treatments. The pathogens were then grouped into three priority tiers: critical, high and medium. The pathogen Pseudomonas aeruginosa was listed in the critical tier.
A pseudomonas infection is hard to treat because the bacteria can resist many types of antibiotics, the medicines normally used to kill bacteria.
According to Dr. Jonathan Rayner, director of the Laboratory of Infectious Diseases at the USA College of Medicine, there is a critical need for new drugs to be developed against pseudomonas. "There hasn't been a new antibiotic on the market in approximately 30 years," he said. "We have this very dire situation where we have bacterial strains that are resistant to most current antibiotic regimens."
Dr. Alvarez said pneumonia and sepsis remain the most deadly diseases caused by infectious agents worldwide — resulting in 3.2 million deaths in 2015 and representing the third overall cause of mortality. Pseudomonas aeruginosa is one of the most common causes of hospital-acquired pneumonia and sepsis and is associated with high mortality and significant impairment in quality of life for those that survive.
"Experimental models such as ours are of critical need to understand the pathogenesis of the bacteria, and the response of the host to infection — both of which contribute to pathogenesis," Dr. Audia said.
"We envision this model being extremely useful for testing of new diagnostics, therapeutics, and vaccines to combat Pseudomonas aeruginosa, and we are currently in the process of expanding the model to test other similar infections," he added. "This experimental model could represent an important resource to outside organizations that have identified lead technologies that require further testing in order to move toward human clinical trials."
---