National Museum of Mathematics Honors South's Pavelescu
---
Posted on January 24, 2022
Lance Crawford
---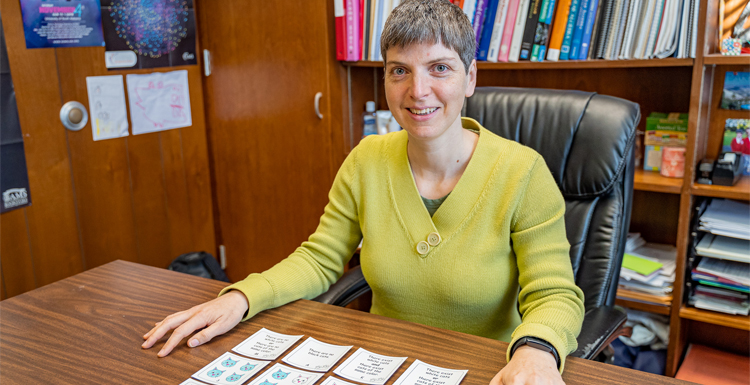 Dr. Elena Pavelescu shows the logic activity she created called "A Game of Cats" that was awarded the third place Rosenthal Prize. Sponsored by the National Museum of Math, the Rosenthal Prize recognizes the most innovative math educators from around the world who are creating engaging, hands-on lesson plans for elementary and middle school students.
---
Dr. Elena Pavelescu has always loved math. As a ninth grader in her hometown of Targoviste, Romania, she fondly remembers sitting at the kitchen table for hours with her father solving geometry problems from a book.
"I loved both the camaraderie and the small dose of competition in who would be the first to find a correct solution," said Pavelescu, an associate professor in South's department of mathematics and statistics. "The joy in solving what initially seemed as a very hard problem was hard to match."
Pavelescu now brings that passion to the classroom, not only at South, but at outreach programs as well. The Mobile Math Circle is one them that focuses on middle and high school age students.
At one particular Mobile Math Circle meeting, Pavelescu discovered students were having a hard time with a logic question. It inspired her to create a logic activity she called, "A Game of Cats."
"It helps students learn about conjunction, disjunction, negation, and 'if' statements," she said.
The game uses cards showing one to four cats of different colors, and statement cards about the number and color of cats. Students work in groups through a sequence of tasks which help them understand basic logic principles. They solve puzzles and create their own which the other groups try to solve.
"Creating the activity, writing the lesson plan, and working with the students has been a very positive experience," she said.
"A Game of Cats" not only helped her students but earned Pavelescu international recognition. She recently was awarded the third place Rosenthal Prize for Innovation and Inspiration in Math Teaching from the National Museum of Mathematics, also known as MoMath. She was one of 111 educators from 25 states and 13 countries nominated for the award. It is the first time for an educator from the state of Alabama to win.
"MoMath believes it is so important to recognize creative and engaging math teachers in order to inspire the next generation to become mathematically literate," said Cindy Lawrence, MoMath's executive director.
With the award comes a $2,500 cash prize, and her lesson plan will be featured in MoMath's virtual archive of award-winning activities accessible to educators worldwide.
"I was delighted to win the third prize in the Rosenthal Award competition, to have my work recognized in this way," Pavelescu said. "It is particularly rewarding to know that other teachers might use the Game of Cats activity in their own classrooms."
Pavelescu and the other top finishers projects can be found on the MoMath website.
---