South Meteorology Grad Uses Creative Communication During Weather Crisis
---
Posted on January 25, 2017
Alice Jackson
---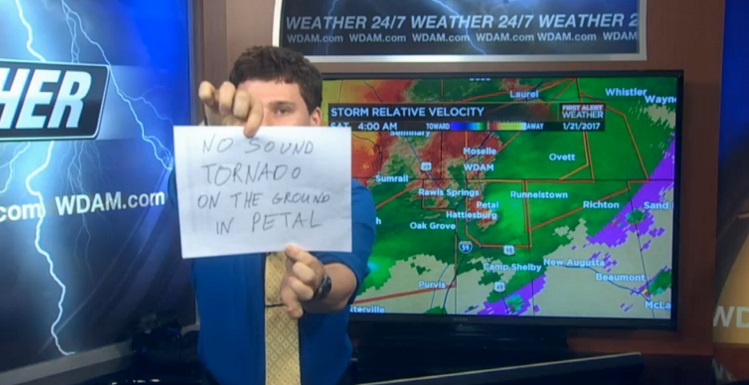 Meteorologist Patrick Bigbie, a 2015 South graduate, used handmade signs to warn viewers about severe weather when his sound was knocked out. Photo courtesy of Patrick Bigbie.
---
Quick thinking while violent storms rolled through Hattiesburg, Miss., on Saturday has made meteorologist Patrick Bigbie, a 2015 South grad, a hometown hero.
Bigbie was reporting weather "wall-to-wall" in the pre-dawn hours when the combination of lightning strikes and electrical power brownouts knocked out the audio and ticker feed that streams across the bottom of newsfeeds at WDAM-TV 7, where he is one of three meteorologists on staff.
Bigbie and his colleagues knew a tornado was already on the ground, heading their way.
"The computers were rebooting over and over because of the brownouts, and since the electricity didn't go off totally, the station's emergency generators didn't kick in," Bigbie explained. "It was chaotic for us, but when our producer came running into the studio, saying we'd lost our audio, everyone just stopped talking. I really don't know what made me do what I did next."
Bigbie, who grew up watching the Weather Channel rather than cartoons, "grabbed a piece of paper and a Sharpie," then scrawled "No Sound Tornado on the Ground in Petal." Petal is a Hattiesburg suburb. Then, he held the paper up to the camera for viewers to read. With seconds feeling like minutes, Bigbie took info, wrote it down and held it before the camera.
The tornado left the area with four dead and severe damage to portions of south Hattiesburg and the downtown of nearby Petal.
"A couple of our co-workers lost homes as well," Bigbie said.
Shortly afterward, a photo of Bigbie holding up the warning was being shared on Facebook. He has been interviewed by the Weather Channel, which has posted a story about him on their website.
"I've had the biggest response from people wanting to buy me a beer at a bar, or wanting me to be the king of their Mardi Gras parade," Bigbie said. "It's been an overwhelming response."
---