South Students, Faculty Volunteer at Project Homeless Connect
---
Posted on January 25, 2019
Joy Washington
---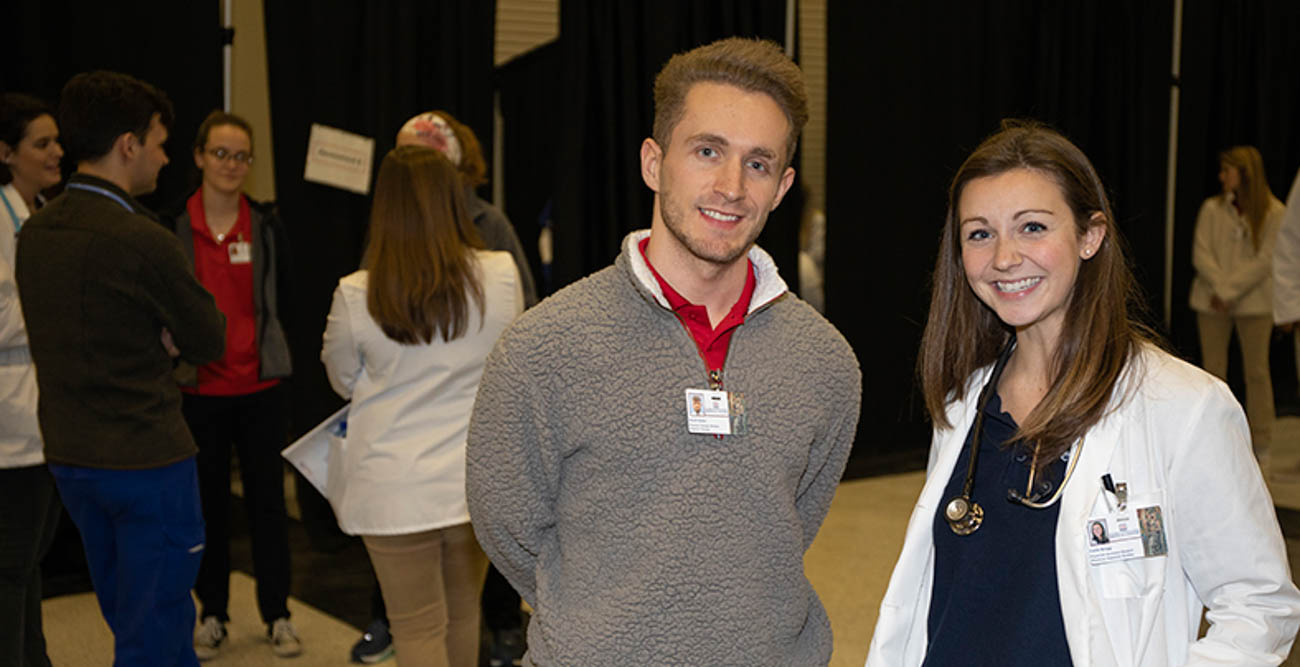 David Green, a physical therapy student, and Callie Bragg, a physician assistant student, were two of the more than 270 South volunteers to offer assistance and provide services at Project Homeless Connect.
---
More than 270 volunteers from the University of South Alabama collaborated Friday with Housing First Inc. and other non-profit organizations from Mobile and Baldwin counties for Project Homeless Connect, providing a one-stop shop experience for the estimated 370 attendees who are experiencing homelessness. The event was held at The Grounds in west Mobile.
The University's new Office of Community Engagement played a huge role in coordinating volunteers from South. USA provides most of the volunteers for the annual service event, in addition to managing logistics for the set up and supporting with an interdisciplinary focus which includes the colleges of Medicine, Nursing, Allied Health Professions and other academic areas at South Alabama.
With the support of the volunteers, the homeless participants were able to receive haircare, medical help, food and beverages, clothing, shoes and leads to potential employment.
"Our volunteers signed up through our new platform, South Serves, this year," said Shannon Shelley-Tremblay, director of USA's Office of Community Engagement. "Lee Boykin is our volunteer coordinator, and she did an excellent job managing volunteers for this important community service effort."
South Alabama first-year physician assistant student Callie Bragg of Huntsville, Ala., and class president was one of the 40 students in her class who volunteered serving the participants seeking health services. She was able to see firsthand how her future career field will help support the needs of those who are experiencing homelessness.
"We were given options to volunteer at Project Homeless Connect," Bragg said. "And we all agreed that it was a great opportunity to join this important effort and serve our community. We wanted to learn how as future physician assistants we would need to support participants dealing with homelessness and understand their specific needs."
Bragg, a graduate of Huntsville High School, has been on numerous medical mission trips to Africa, the Dominican Republic and Haiti. She will graduate from South in 2020.
"Having these experiences has taught me a great deal about humility and compassion for others. I am also grateful for the resources we have. After I complete the physician assistant graduate program at South and become certified, I want to share my skills as a professional by doing a medical mission trip once a year. I also realize that we have some of the same needs in our community. This experience has opened my eyes to wanting to be a servant and help save lives and care for others."
David Green, a South Alabama student from Ocean Springs, Miss., and graduate of Ocean Springs High School is in the physical therapy program at South and served as a navigator for today's event.
"At first, I didn't know what to expect, but I was super willing to serve, and I am so glad I did. This is an amazing event that connects the participants to numerous services in our local area," Green explained. "I was paired with the participants as a navigator. I helped them locate agency representatives that were able to provide them with the resources they need."
---