Bishop State Partners on Pathway USA
---
Posted on January 27, 2016
Bob Lowry
---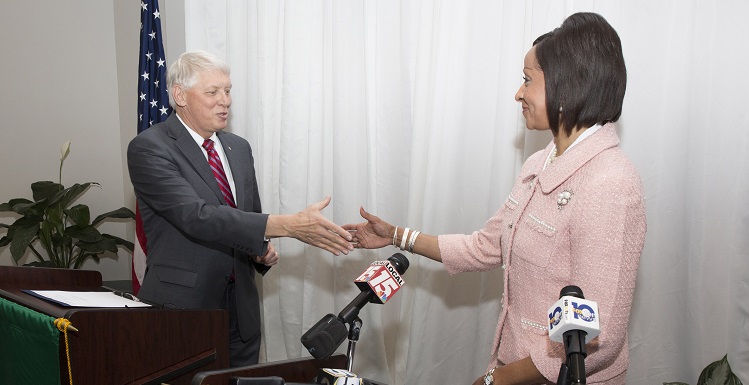 University of South Alabama President Tony Waldrop and Bishop State Community College President Valerie Richardson formalize the Pathway USA agreement between the two institutions at a news conference.
---
The University of South Alabama's new Pathway USA program has expanded to include Bishop State Community College in Mobile. As with last week's Pathway USA announcement regarding Faulkner State Community College, the academic partnership with Bishop State will enable more BSCC graduates to transfer to South Alabama and earn their bachelor's degrees.
"By partnering with Bishop State, Pathway USA will enable more community college students to receive a degree from the University of South Alabama and provide these students with an earlier involvement in USA activities," said University of South Alabama President Tony Waldrop. "Bishop State and South Alabama have a lot of history together, and we're looking forward to the next, exciting chapter."
"At Bishop State, our motto is 'A Great Place to Start' and the Pathway USA program is further evidence of that," said Bishop State Community College President Valerie A. Richardson. "We are committed to serving our community in the best way possible, and this innovative initiative will greatly assist us in our mission."
Pathway USA, which will begin with the 2016 fall semester, is geared toward students who are not admitted at South as well as students who may simply prefer to begin their college education at Bishop State. These students may choose to have a copy of their USA application and supporting documents forwarded to Bishop State for admission consideration. Students already attending Bishop State may also apply for Pathway USA. A unique application will be created and available for Bishop State students to complete and submit.
Bishop State students who enter the Pathway USA program will have unique benefits, such as:
Guaranteed admission to USA upon successful completion (cumulative grade-point average of 2.0 or higher) of the associate's degree
A USA academic advisor assigned to them who will meet students at Bishop State and provide individual guidance on course selection and map out degree plans
Reverse Transfer agreements that will allow Bishop State students who transfer to South without an associate's degree to complete that degree after entering USA
Special discounts through USA's Jaguar Productions
Complimentary admission to South Alabama athletic events
Persons wanting additional information on Pathway USA at the University of South Alabama are urged to visit the Pathway USA website, contact USA's Enrollment Services office at (251) 460-6494 or email enrollmentservices@southalabama.edu.
About the University of South Alabama
The University of South Alabama is a global teaching and research university that provides more than 16,000 students with an exceptional education in business, the liberal arts, education, engineering, computing, the sciences and health care. USA's commitment to student success includes small class sizes and hands-on research opportunities in 100 undergraduate, graduate and doctoral degree programs offered through nine academic colleges and schools. USA offers advanced and innovative health care through the USA Health System.
Bishop State Community College
Bishop State Community College is a state-supported, open-admission, urban community college located in Mobile. The College consists of four city campuses, dedicated to serving the residents of Mobile and Washington counties in southwest Alabama. The College is part of the Alabama College System, the state-supported network of two-year community, junior, and technical colleges that serves the residents of Alabama. Bishop State instructors are in touch with labor-market trends and job requirements, so its students can be assured they will get the education they need for success. For more information, visit www.bishop.edu.
---