South Alumni Named Teachers of the Year
---
Posted on January 28, 2022
Lance Crawford
---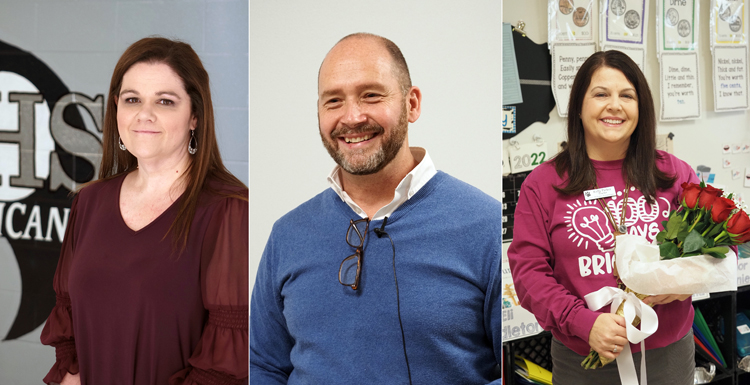 Mobile County Public Schools have named their 2022 Teachers of the Year. From left; Jaime Bosarge, Bryant High School; William Edmonds, Barton Academy; Kelly Parker, Tanner Williams Elementary School. All three teachers are University of South Alabama alumni.
---
Mobile County Public School System has named its Teachers of the Year, and all three are University of South Alabama alumni. Each of Mobile County's 90 schools selected a Teacher of the Year, who was then nominated for the countywide honor. A committee selected the winners and will forward their applications on to be considered by the state for Alabama's Teacher of the Year.
Kelly Parker is a National Board-Certified Teacher who teaches second grade at Tanner Williams Elementary. An educator for 14 years, she is one of MCPSS's first dyslexia interventionist resource teachers. She has led professional development on foundational reading skills and served on her school's team for accreditation through AdvancED. She took a lead role at Tanner Williams in implementing project-based learning. She received a grant from Ag in the Classroom to fund a greenhouse, where students planted seeds to sell and raised more than $2,000 for the school. She enjoys sharing her love of writing with her students, allowing each class to complete a book for their successors as part of her series, Sweet Home Tanner Williams. She has bachelor's and master's degrees from the University of South Alabama and an education specialist degree from the University of West Alabama.
William Edmonds is a National Board-Certified Teacher who teaches French at Barton Academy for Advanced World Studies. With 24 years of experience in the classroom, Edmonds has also taught French across the state of Alabama through the ACCESS distance learning program as well as at the University of South Alabama. He has served as an International Baccalaureate Examiner, grading IB exams, and as president of the Alliance Francaise de Mobile. Before becoming a teacher, Edmonds was a banker. He has a bachelor's degree in global business and French from the University of Mobile and a master's degree in education from the University of South Alabama. He believes teaching should be engaging for each student and that teachers should create a shared and fun learning community for all.
Jamie Bosarge was a laboratory technician at a local hospital before she decided to switch careers to education. She now teaches biology, anatomy and biotechnology at Bryant High School in Bayou La Batre. She sponsors the Student Government Association and co-sponsors the Spirit Congress. She started the after-school Science of Crime Scene Investigation program. She received her bachelor's degree from the University of South Alabama and is in her 14th year of teaching. Bosarge has received several awards and grants, including the Shell Regional Lab Challenge for High School and a Texas Instrument STEM grant. She aspires to lead by example, promoting a culture of life-long learning. Her classroom includes opportunities for inquiry-based learning as she teaches real-world lessons that encourage students to develop problem-solving and critical thinking skills.
"I am proud of the work that each and every one of our teachers does in the classroom every single day, and today I am especially proud of these three teachers for receiving this prestigious award," said Mobile County Public Schools Superintendent Chresal D. Threadgill. "To be selected by your peers to represent your school is an honor in and of itself. To be recognized as one of the top three in the county is a testament to how outstanding these individuals truly are."
Mobile County Public Schools has a great track record in the Alabama Teacher of the Year competition. As a teacher at Dawes intermediate school, Chasity Collier was named Alabama's Teacher of the Year in 2018. Bryant high school's David Dai was named Alabama's top High School Teacher of the Year in 2020. Julie Neidhardt, of Hutchens elementary school, was a top four finalist for Alabama's Teacher of the Year in 2021.
---