South Community Volunteers at Project Homeless Connect
---
Posted on January 30, 2017
Joy Washington
---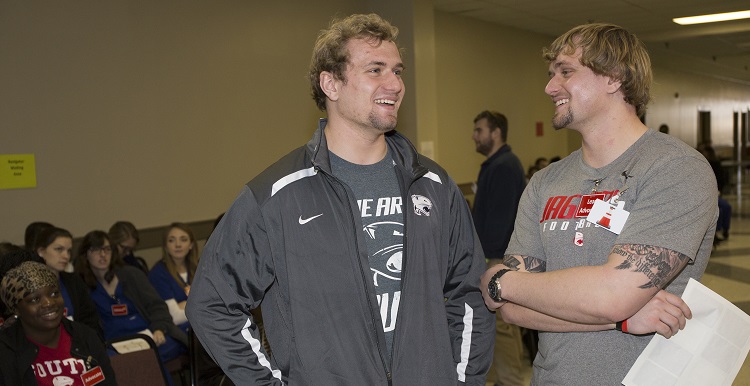 Twin brothers Daniel, left, and Caleb Butler were among several hundred South volunteers at this year's Project Homeless Connect. Volunteers served and supported nearly 300 homeless individuals.
---
University of South Alabama senior Caleb Butler was on crutches recovering from knee surgery the last time he served with other South volunteers at Project Homeless Connect.
"I was really down after my surgery, and I decided to join the South effort to help with Project Homeless Connect last year," said Butler of the day-long community effort to help homeless clients become self-sufficient and secure services they need. "One of the clients was surprisingly from my hometown of Enterprise, Ala. She was several years older than me, but grew up on my street, and her father worked at the peanut company where my father worked. She shared with me how she had become homeless. I thought, 'I could be homeless.' It changed my outlook on life immediately and gave me the fresh start I was looking for."
Butler, a social work major, had such a healing experience at Project Homeless Connect that he decided to serve on the student leadership executive committee. And on Friday he brought his identical twin brother, Daniel, to help at this year's event. Both are defensive linemen for the Jaguars.
"My brother, Caleb, and I have had some challenges in our lives, and this is great that the Mobile community has come together to help those in need," said Daniel, an interdisciplinary studies major. "We had to get involved."
The Butler brothers were among several hundred South students, faculty and staff who participated at Project Homeless Connect, sponsored by Housing First and the Homeless Coalition of the Alabama Gulf Coast, along with numerous other community partners. They served and supported nearly 300 homeless individuals.
The event, which was held at The Grounds, provided basic services for the homeless in Mobile and Baldwin counties, including health and mental health screenings, legal aid, social services and employment opportunities. South students work alongside faculty in providing health screenings.
Transportation for clients was provided.
"We could not pull the health screening component off without South Alabama," said Eric Jefferson, executive director for Housing First, Inc. "We are appreciative to South and all of our collaborating partners who provide these much-needed services to homeless clients."
Dr. Margaret Moore-Nadler, assistant professor in the department of community mental health in South's College of Nursing and a member of the Continuum of Care board of directors, said all partners are working together to help those in need. The co-chairs who worked alongside her are Mary Myer, nursing senior instructor, and Dr. Kathryn Bydalek, associate professor of nursing.
"We are here to provide health screenings to prevent disease," Moore-Nadler said. "We identified those who are in a disease state and referred them to health care providers who can write prescriptions or give them medical treatment. Also, this is real-world experience for our students. South students learned to work as an inter-professional team while helping to improve the health of homeless individuals."
---