Kelly McCarron Named Associate VP for Medical Affairs, Health Development
---
Posted on January 31, 2018
Marketing and Communications
---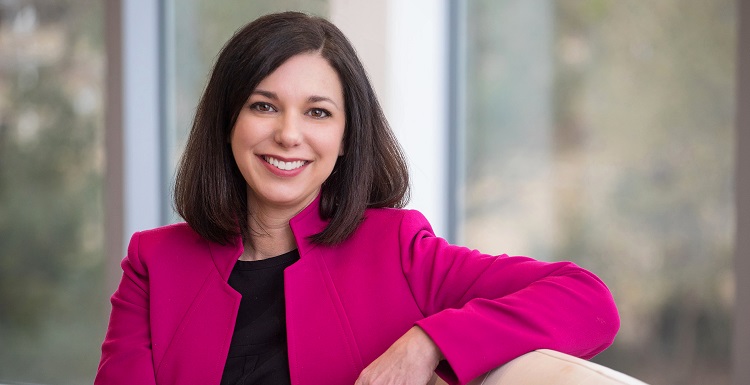 Kelly McCarron's new role as associate vice president for Medical Affairs, Health Development, places her on the front lines of community engagement in raising the profile of USA Health
---
After six years as director of development for the University of South Alabama's Mitchell Cancer Institute, Kelly McCarron has been promoted to associate vice president for Medical Affairs, Health Development for USA Health.
In her new role, McCarron will oversee development efforts for the entire health system, including USA Medical Center, USA Children's & Women's Hospital, USA Physicians Group, MCI, the university's College of Medicine and its Medical Alumni Association.
In her most recent role with MCI, McCarron managed a portfolio of more than 125 major and principal gift prospects, contributing significantly to the $7.3 million the institute secured in 2016, representing a 277 percent increase over the prior fiscal year. The USA Health promotion caps her nearly 20-year career in development and outreach at the university level.
"I look forward to working with Kelly in her new role," said Margaret Sullivan, USA vice president for Development and Alumni Relations. "Kelly has the skills and proven track record in engaging our stakeholders, community and business leaders, and grateful patients to advance the mission and health services we provide.
"Working collaboratively with our talented team of development professionals and USA Health leadership, we have a tremendous opportunity to more effectively tell our story and expand our philanthropic base," Sullivan said.
McCarron said USA Health has a solid donor base upon which to build, and her first steps will include meeting with key personnel.
"I see a tremendous amount of opportunity," she said. "The momentum we have going at the moment is amazing, and we really need to capitalize on it by continuing to share our story. It's about communicating clearly the unparalleled services available here and never passing up an opportunity to share who we are as a health system and who we serve throughout the region."
McCarron's new role places her on the front lines of community engagement in raising the profile of USA Health, whether it is promoting the region's premier Level I trauma center at USA Medical Center, the specialized high-risk obstetric and neonatal services at Children's & Women's Hospital or the Gulf Coast's only academic cancer research center at MCI.
"USA Health has grown and prospered because of the hard work and dedication of caring and committed leadership and the amazing work of all of our employees," she said. "This institution touches everyone's life along the Gulf Coast and has evolved to play a vital role in the communities we serve."
Prior to her most recent position with MCI, McCarron served four years as USA's assistant director of major gifts for medical development. She also spent seven years in alumni affairs – five as director – at Spring Hill College in Mobile and served as an alumni and development assistant at Vanderbilt University before being promoted to activities coordinator.
McCarron currently serves on the MCI Women's Cancer Program Committee as well as the Council for the Advancement and Support of Education, and the American Association of Medical Colleges' Group on Institutional Advancement. In addition, she volunteers with St. Ignatius Catholic School and served previously on the MCI Fairhope Groundbreaking Committee, the USA Crowdfunding Task Force and the Camp Rap-A-Hope Board of Directors.
A native of Opelousas, Louisiana, McCarron earned her bachelor's degree in public relations from Spring Hill College. She and her husband, Jeff, have two children.
---