'I Must Follow My Passion'
---
Posted on February 2, 2016 by Joy Washington
Joy Washington
---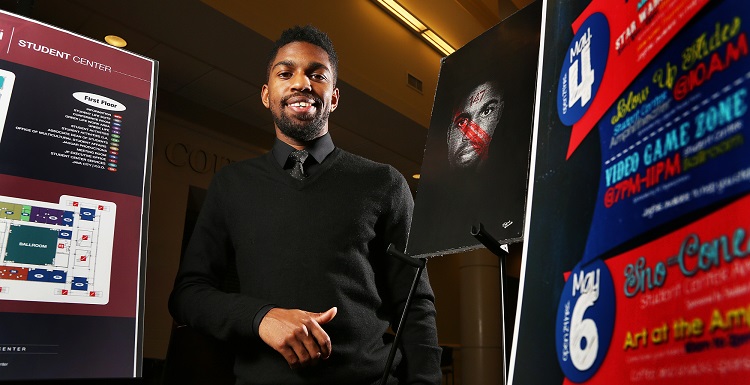 As an entrepreneur, Trebreh Baaheth, a USA senior majoring in strategic communication, has big plans to grow his graphic design, photography and video business into an advertising and marketing firm, while earning his degree. Here he's photographed with some of his designs.
---
It started with freestyle drawing on paper when Trebreh Baaheth, known as "Trey," a strategic communication major at the University of South Alabama, was in the seventh-grade. He would think of an idea and just let his pencil create the image he saw in his mind.
"I was inspired to start creating digitally after my elementary school principal saw my drawings," Baaheth explained. "I downloaded the trial version of Photoshop CS3, and graphic design became my passion."
When Baaheth started doing graphic design, he would spend many hours learning how to navigate the software and design creative pieces.
"I love being creative," he said. "I would be up until 3 a.m. many mornings on my computer. And then I would have to get up at 5 a.m. to catch the school bus, and I wouldn't even be tired. My parents would try to get me to go to bed, but I needed to create."
By the time Baaheth was a senior in high school, he had joined the photography club and honed his graphic design skills so well that one of his mom's classmates, who owned a New Orleans sports marketing and entertainment firm, hired him to create a magazine ad for several New Orleans Saints football players who were raising funds for their foundation.
"The owner saw some of my work and tested me a little bit by having me design a few things for her," he said. "She loved what I produced, and I had the job. It was the first time I thought this could grow into a business. TRB Photo Designz was born."
As Baaheth started his freshman year at South Alabama, he would do more graphic design work for a new client, who happens to be his grandfather, M. Allam Baaheth. He's the principal scientist for Baaheth Research & Development, located in the USA Technology and Research Park.
"I am grateful that my grandfather has given me the opportunity to create ad designs for his company," he said. "My first creative project with my grandfather's lab was an ad for the USA basketball program."
During his junior year, Baaheth had a wakeup call and decided to change his major from engineering to communication, with a concentration in advertising, branding and visual communication. This would be the second time he had changed his major. He started at South majoring in biology.
"For the first two years at South, I struggled through school," he explained. "I told my parents, 'I can't do this anymore. I must follow my passion and major in visual arts.'"
His parents, Namreh and Felisca, were very encouraging after their son had started building the business. They supported him changing his major and bought him his first camera.
Baaheth has received a great deal of support from Petre' Freeman, coordinator for the USA Office of Multicultural Student Affairs.
"We make a living by what we get, but we make a life by what we give," Freeman said. "Supporting Trey has been one of my personal satisfactions, because he always applies himself and seeks advice. Trey is a very humble and ambitious young man. It has been a beautiful thing to see him grow and build his business while studying at USA."
Baaheth, 21, has now added photography and video production to his business service roster. Baaheth is not only in high demand on the USA campus; he's building his clientele nationally with clients as far away as Washington, D.C.
The winner of the National Association for Campus Activities 2012 Regional Graphic Design award, Baaheth, is humbled by this recognition and his accomplishments.
"God gets all the glory and honor because He made this all possible," expressed Baaheth. "He is my creator. He created me to be a creator for him on this earth by living these words, Expect the Fresh."
Trey also credits his family and mentors for the success he's achieved.
"They have supported me in changing my major, and helped me build my business. This has given me a stress-free college experience at South. I am so happy to be living my truth."
And what is Baaheth's plan for the future?
"I plan to grow my business into a national advertising and marketing firm, making it a unique one-stop shop experience for my clients."
---