'Fabulous Fables' in Footlights at Theatre USA
---
Posted on February 3, 2017
Alice Jackson
---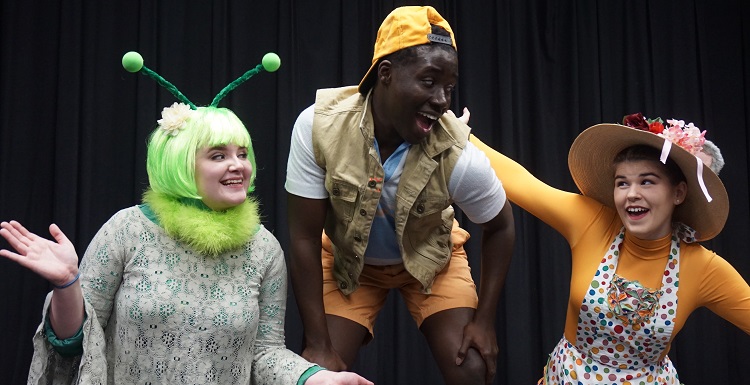 South theatre students Aryn Carr, Malcolm Hayden and Kaylee Pulliam rehearse for Theatre USA's production of 'The Fabulous Fable Factory,' which will run Feb. 10-18 at the Laidlaw Performing Arts Center..
---
A young boy named Monroe stumbles upon a broken "fable factory", then sets about to repair it in "The Fabulous Fable Factory," the third production of Theatre USA's 2016-2017 season, Feb. 10-18.
"The Fabulous Fable Factory," written by award-winning children's theatre playwright Joseph Robinette, is for audiences of all ages.
The cast features theatre major Malcolm Hayden as Monroe. Other members include theatre students Colton Adams, Althea Baldwin, John-David Burkart, Aryn Carr, Martin Cicco, Aaron Esters, Blake Greenwood and Kaylee Pulliam.
Jodie Cain Smith, an alumna of the department of theatre and dance, will direct. Music direction will be by Andre Chiang, instructor of music, and theatre major Cassidy Dangler will be choreographer.
Curtain time will be 7:30 p.m. each evening of the run with the exception of a 2 p.m. matinee on Sunday, Feb. 12. Additionally, a special community performance is scheduled for Saturday morning, Feb. 18, at 10 a.m.
All performances will be on the main stage of the Laidlaw Performing Arts Center, 5751 USA Drive South.
For additional information on the production, or for ticket sales, contact the USA Box Office at (251) 460-6306, or visit the Box Office in the Laidlaw lobby. The Box Office is open Monday through Friday, 9 a.m. until 4 p.m., as well as one hour before each performance.
---