Strickland Recognized for Genetic Research
---
Posted on February 3, 2021
Lance Crawford
---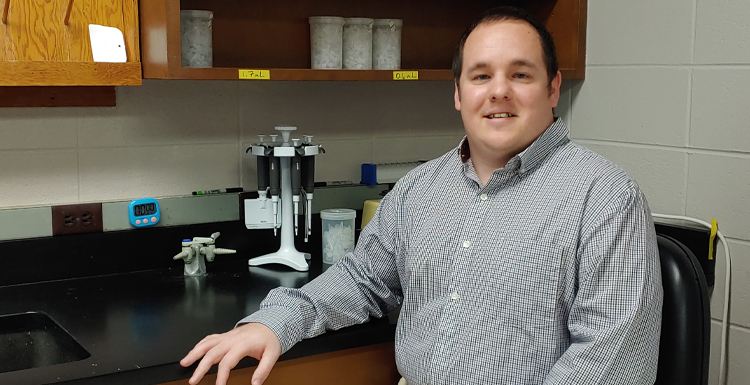 Dr. Jason Strickland, assistant professor in South's department of biology was part of a team breaking new ground in genetic research.
---
As a child, Jason Strickland was fascinated with snakes. Now as an assistant professor of biology at the University of South Alabama, he gets to study them up close.
"I grew up watching a lot of Discovery Channel and enjoyed the TV shows that worked with reptiles the most," he said. "Snakes are broadly fascinating because it is rare to find a person who doesn't have strong feelings towards snakes, the majority of those being negative."
That love of slithery reptiles has become Strickland's job. While doing his postdoctoral work at Clemson University, he and a team of researchers sequenced and characterized the genome of the Tiger Rattlesnake.
The Tiger Rattlesnake has the most toxic venom of the rattlesnake species, but also the simplest and, as part of a team, Strickland was interested in understanding if a simple venom phenotype was controlled by an equally simple genotype.
"We found that there was some gene loss in the genome, but the majority of the genes were not expressed even though they were in the genome," he said. "This suggests that regulatory mechanisms are responsible for the reduction in the number of toxins in the Tiger Rattlesnakes' venom rather than specifically what genes are present."
What researchers don't know is how regulatory mechanisms work. Still, Strickland and the team's findings were deemed significant enough to be published in the Proceedings of the National Academy of Sciences, one of the premiere journals in science.
"Articles published in PNAS need to have results that are broadly applicable to researchers, high quality, and clearly articulated," Strickland said.
He went on to point out that this research could lead to scientists understanding the genotype-phenotype relationship in other organisms.
"Understanding how genes are regulated is an important question because most traits are controlled by many genes that interact together," Strickland said. "These gene networks are complicated and it is hard to keep track of everything at once. Snake venom is a good model because we can identify the individual components in the venom trace them to the gene in the genome and determine what regulatory changes have occurred."
Strickland joined the faculty at South in August and like most everyone else, is learning to adjust in the era of COVID-19.
"The pandemic has made it challenging, but the students I have been able to work with in my classes have been great and have been doing the best they can," he said. "I really appreciated their effort. They had to deal with a first-time faculty member and a pandemic at the same time."
The paper co-authored by Strickland and published by PNAS can be viewed here.
---