Jones College Joins Pathway USA
---
Posted on February 7, 2020
Bob Lowry
---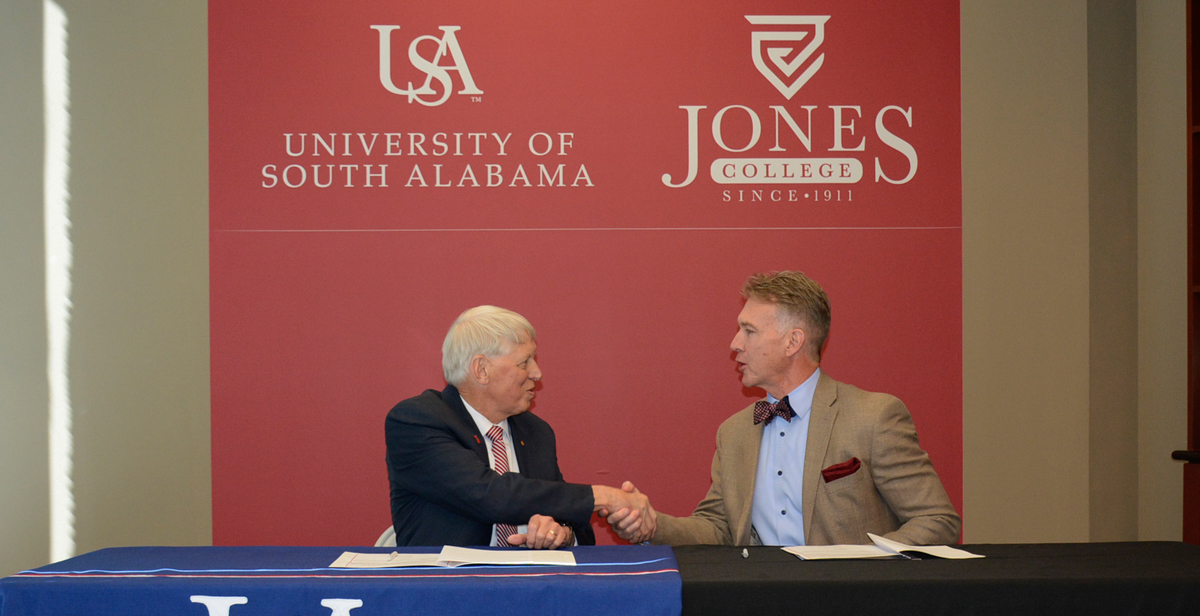 Dr. Tony Waldrop, left, president of the University of South Alabama, and Dr. Jesse Smith, president of Jones College, signed an agreement Friday that will expand access to a four-year degree through the Pathway USA program.
---
The University of South Alabama's Pathway USA program today welcomed Jones College of Ellisville, Miss., as the sixth Gulf Coast institution to join South in the program that streamlines the transfer process for students who earn their associate's degree. In a separate agreement, USA will offer an early acceptance program for Jones College associate degree nursing students to enroll in the RN to BSN program at USA's College of Nursing.
Together, the Pathway USA partnership and the USA College of Nursing early acceptance program will help more Jones College graduates transfer to South Alabama and earn their bachelor's degree from USA.
"Pathway USA will enable more Jones College students to receive a degree from the University of South Alabama and provide these students with an earlier involvement in USA activities," said Dr. Tony Waldrop, University of South Alabama president. "South Alabama has educated generations of Mississippians who are making positive impacts on their communities. We're very excited to build on that success by bringing Jones College into our Pathway USA family."
Previous Pathway USA partnerships have been established with Coastal Alabama Community College, Bishop State Community College, Mississippi Gulf Coast Community College, Pensacola State College and Northwest Florida State College.
"Our agreement with the University of South Alabama is providing another opportunity for anyone seeking a college education to have more pathways to obtaining a bachelor's degree," said Dr. Jesse Smith, Jones College president. "We are especially happy the University of South Alabama will now offer Jones College associate degree nursing students an early acceptance program option."
To get into the Pathway USA program, applicants to USA who are not admitted will be given the option of having a copy of their applications and supporting documents forwarded to Jones College by USA for admission consideration. Students already attending Jones may also apply for Pathway USA. A unique application will be created and available for Jones students to complete and submit.
Students in Pathway USA will have additional benefits at USA that may include:
Guaranteed admission to USA upon successful completion (cumulative grade-point average of 2.0 or higher) of the associate's degree
A USA academic adviser assigned to them who will provide individual guidance on course selection and map out degree plans
Special discounts through USA's Jaguar Productions
Complimentary admission to USA athletic events under the same terms and conditions as regular full-time USA students, including Jaguar football games on campus at USA's new Hancock Whitney Stadium
The separate agreement between the USA College of Nursing and the Jones College nursing program promises to promote and foster collaborative working relationships between USA and Jones College.
"Through this agreement, we can better leverage resources and more efficiently facilitate the progress of students seeking to further their education through the pursuit of undergraduate and graduate nursing degrees," Dr. Heather Hall, dean of the USA College of Nursing, said.
Persons wanting additional information on Pathway USA or the College of Nursing Early Admission Program are urged to contact USA's Office of Admissions at 251-460-7834 or Recruitment@SouthAlabama.edu, or Jones' Rachel Jefcoat at 601-477-5446 or rachel.jefcoat@jcjc.edu.
About the University of South Alabama
The University of South Alabama is a global teaching and research university that provides more than 14,000 students with an exceptional education in business, the liberal arts, education, engineering, computing, the sciences and healthcare. USA's commitment to student success includes small class sizes and hands-on research opportunities in more than 100 undergraduate, graduate and doctoral degree programs offered through nine academic colleges and schools. South also provides advanced and innovative healthcare through USA Health.
About Jones College
Jones College, formally known as Jones County Junior College (JCJC), is an open-door, two-year institution, granting associate in arts degrees, associate in applied science degrees, career and technical certificates, adult education credentials and workforce credentials. The college offers more than 80 academic and career and technical programs. Additional information about Jones College can be found online at www.jcjc.edu.
---