Perseverance Pays Off
---
Posted on February 8, 2021
Joy Washington
---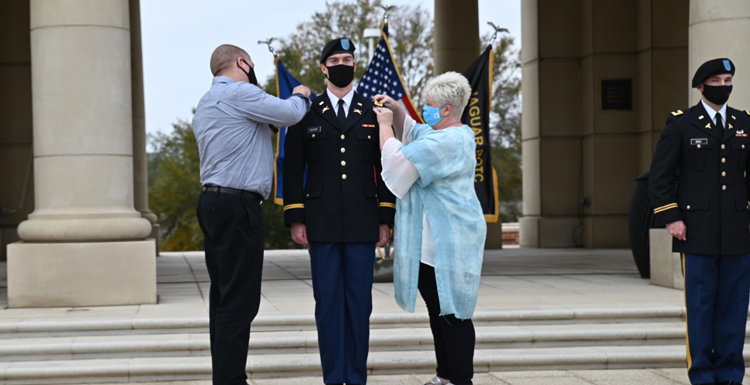 USA student 2nd Lt. Zachery LaJoie, a recent graduate, received his military commission after completing the USA Army ROTC program last fall. LaJoie's parents Steve and Bonnie pin his bars onto the uniform during the ceremony.
---
Exemplifying leadership, academic excellence and athletic abilities, 2nd Lt. Zachery LaJoie recently received his military commission from the U. S. Army Reserve Officer Training Corps, ROTC, at the University of South Alabama.
The USA Army ROTC program prepares students for the responsibilities of being an officer in the Active Army, Army Reserves or Army National Guard following graduation. LaJoie's goal to pursue ARMY ROTC led him to improve his mental and physical health. He was committed to pursuing the Army ROTC at South Alabama for the scholarship, service and leadership opportunities.
"I was having a challenging time in my life, and I was determined I was going to lose weight and finish college. I lost 70 pounds in one semester by committing to exercising at the USA Recreation Center," LaJoie said. "And then I was able to do what was required to join the Army ROTC, and meet the physical fitness requirements."
LaJoie graduated with a bachelor's degree in criminal justice with a minor in military sciences. He was commissioned as a second lieutenant in the U.S. Army. He has also been selected to serve on Active Duty as an Armor Officer. He is now in the Armor Basic Officer Leader Course at Fort Benning, Ga.
"While participating in ROTC, LaJoie consistently exceeded very high expectations and set the example of excellence by displaying his unparalleled abilities as a scholar, an athlete, and leader," said Lt. Col. Tavares Tukes, professor of military science at USA. "The quality indicators of becoming an Army officer are known as SAL, Scholar Athlete Leader. The physical fitness component requires stamina, resilience and time management. LaJoie also graduated with an above-average grade-point-average."
Tukes said LaJoie served not only as a leader in the ROTC but as an example "of what right looks like and what hard work yields." He said LaJoie's positive influence also extended to his classmates and became his touchstone.
LaJoie was also recognized with the 2020 George C. Marshall Leadership Award for his performance and leadership abilities. The GCM leadership award recognizes the top Cadets from the U.S. Army Cadet Command and the United States Military Academy, which has more than 35,000 cadets. He represented the USA and the Army ROTC as one of only 270 top-tiered cadets who exemplify the leadership attributes of the late Brig. Gen. George C. Marshall. Marshall had an unwavering commitment to the nation, and will be remembered for devising the Marshall Plan, which rebuilt Europe after World War II.
LaJoie is the son of Steve and Bonnie. He's the brother of twin sister Paxton. LaJoie and his family are natives of Niagara Falls, N.Y. He is now focused on his future in the military.
"My goals include being a great, confident and successful leader," LaJoie noted. "As a servant leader, I want to serve my country while leading soldiers with confidence."
For USA students who join ROTC, there is an opportunity to compete for a scholarship to pay for college, earn an academic degree, enhance leadership skills, and serve in the Armed Forces after graduation.
---