Outreach Through Works, Not Words
---
Posted on February 10, 2017
Carol McPhail
---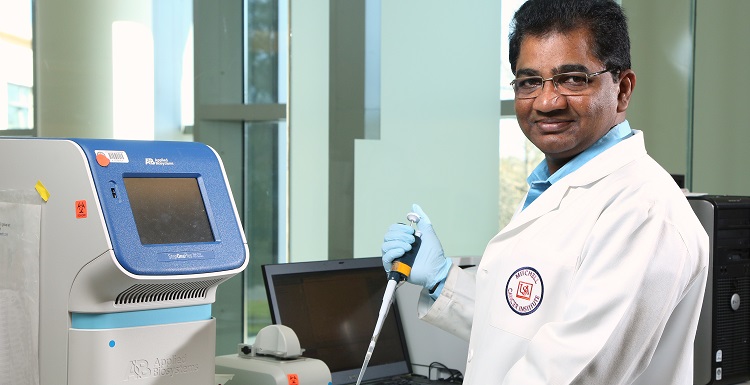 At MCI, the Rev. Joji Reddy Lingareddy is working with a team whose research could have implications for brain cancer patients with tumors that are resistant to some therapies.
---
As a youth in rural India, the Rev. Joji Reddy Lingareddy, S.J., knew he wanted to be a priest, preaching the gospel and doing social work among those who most need help. And while his religious vocation has followed a decidedly nontraditional track — all the way to post-doctoral research at USA's Mitchell Cancer Institute — he has discovered a new sense of preaching, which makes sense of all he holds most dear.
"When I decided to become a priest, I thought I would not be getting into the education side. I thought I would be getting into the social work and preaching side," says the priest, who goes by Fr. Joji. And then, recalling his catechism, asks, "What is preaching?" and answers, "Your life should become a preaching."
At Loyola Academy in Secunderabad, India, Fr. Joji oversees the performance of academic departments, 10 faculty priests and the welfare of 4,000 students. In Mobile, he's working in the lab of cancer researcher Dr. Komaraiah Palle, learning from the work Palle's team is doing on cell signaling and DNA damage that can encourage cancer growth, and working toward drug delivery methods to make chemotherapy and radiation therapy more beneficial. The work could have implications for brain cancer patients whose tumors are resistant to some therapies. Among his colleagues are three post-doctoral fellows, a visiting scientist and a graduate student.
Fr. Joji's work at MCI is designed to lay the groundwork for future collaboration with Palle and his team. When he returns to his own lab in India, he will further his research on plant extracts, hoping one day to identify herbal medicines for use as alternative cancer treatments.
The son of a farmer in the tiny village of Mariyapuram in the southern India state of Telangana, Fr. Joji received his early education not in a school but under the shade of a tree in a small village. His forefathers had been converted to Catholicism by French Jesuit missionaries 300 years earlier, and his father, the late Johannes Reddy, was a leader in the village and in the religious life of his region, converting many others to Catholicism. Even though his family was poor by any standard, Reddy's father, a devout believer, gave most of his earnings to those who were poorer still, Fr. Joji recalls.
"If I had my education in a small village under a tree, you can imagine, we couldn't afford to go to the best schools."
But visiting priests and nuns encouraged his interest in his studies, and his father sent him to nearby St. Jude's High School until the 10th form.
At that point, reaching the age of 16, he also reached a turning point. His father was beginning to search for a suitable wife for him, so Joji told his father about his life ambition to be a priest. His father supported the decision but told him that he had set aside eight acres for him — as he had for his other siblings — and the land would be there for him if the decision to become a priest seemed like a bad choice.
After pursuing an intermediate degree at Andhra Loyola College, Vijayawada, he engaged in a general introduction to the order, including two years of instruction in its spirituality. During his 15-year training for the priesthood, he worked with slum dwellers, AIDS patients and others who were among the most needy. Twice he spent 30 days in deep retreat — "a beautiful spiritual exercise established by St. Ignatius of Loyola," founder of the Jesuits.
Finally, he felt he was ready for the life of a priest as he had always imagined it — preaching and doing social work.
But the Jesuits had other plans. They sent him back to school for further studies, especially in the sciences. He earned a degree in biological sciences, and a university gold medal, then philosophy and theology before being ordained a priest in 2001.
Again ready for preaching and social work, the order sent him back to school, and he earned a master's in biotechnology at Loyola Chennai in India, followed by a master of philosophy and then a Ph.D. at Nagarjuna University in 2010.
As Fr. Joji began his work in higher education, he also started research work in his own small lab, working primarily with plant extracts and their antibacterial properties. He has published more than 25 international papers and presented papers in many national and international conferences.
In 2016, when he was asked to prepare to take over the administrative responsibility at his college this year, he asked permission to go abroad for post-doctoral study. And while working at MCI, he is living with the Jesuit community at Spring Hill College, giving him the chance to observe the administration of a Jesuit college in the U.S.
"I'm really grateful to them and grateful to the Mitchell Cancer Institute," Fr. Joji says, mentioning specifically Dr. Palle; MCI Director Dr. Michael Finan; Fr. Greg Lucy, chancellor of Spring Hill College and MCI benefactor Arlene Mitchell, as well as the study opportunity itself. "I'm really grateful for all these things."
---