South Healthcare Students Join COVID-19 Vaccination Effort
---
Posted on February 10, 2021
Thomas Becnel
---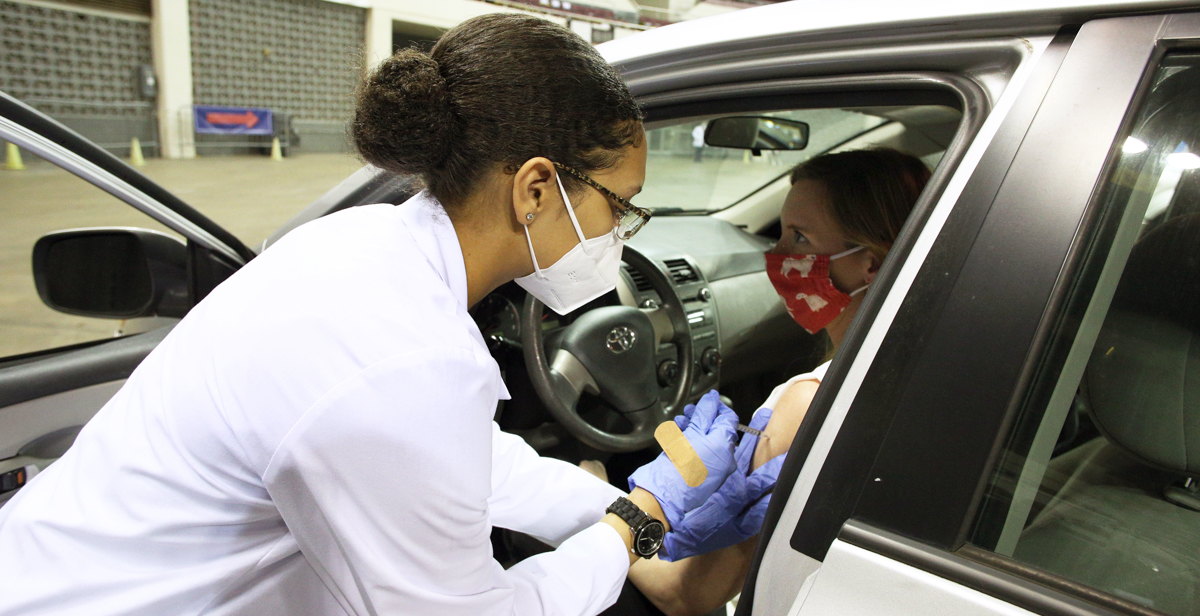 Alayna Reid, a nursing student at the University of South Alabama, participates in the COVID-19 vaccination effort at the Mobile Civic Center. Nursing students are assisting USA Health providers in operating the county's largest vaccination site.
---
Alayna Reid, a student nurse at the University of South Alabama, leaned over the passenger side of car inside the Mobile Civic Center.
"Hellooo," she said in a singsong voice, smiling behind her surgical mask. "How are you? This is going to be a quick stick."
Reid swabbed a woman's upper arm, injected the Pfizer vaccination for COVID-19, then smoothed on a purple bandage.
"You're good to go," she said, sending the car to the next station at the USA Health drive-through vaccination site.
On the far side of the Civic Center arena, there were more South students in blue scrubs with a left shoulder patch that said "College of Nursing." They are among a cohort of College of Nursing students, who have been joined by students and faculty in the physician assistant studies program, rotating through the Civic Center to assist USA Health nurses and others operating the county's largest vaccination effort. It is allowing the students to gain clinical experience while helping curb the spread of a pandemic that has gripped the country for nearly a year.
Yani Morejon, a junior from Mobile, spoke with people who just had their injections. She explained that side effects of the vaccination sometimes include arm pain, fever and fatigue.
"I'm going to take a nap when I get home," said one older woman.
"That sounds good," Morejon said, laughing. "And here are some beads."
She handed over a Mardi Gras necklace that said "USA Health" and "I got my COVID-19 vaccine!"
Morejon, a junior from Mobile, showed up early for a vaccination shift that began at 7 a.m. It felt like a special day.
"We're making history," she said. "It's so important, because nurses are overwhelmed, and I feel so grateful to be included. This is not something we do every day."
Sylvia Waweru-Smith, a nursing instructor at South, led eight students from her Foundations in Nursing class. The undergraduates got to watch professional nurses and then take their place in line. Everyone took turns giving injections, counseling and monitoring patients, and directing traffic.
At the Civic Center, nearly 1,000 people are vaccinated daily. Across the nation, more than a million people receive vaccinations every 24 hours.
"Our students are very excited to be part of this monumental effort," said Waweru-Smith. "They get excited giving flu shots, so this is another level. They see the significance."
Allyson Cornelius, another junior from Mobile, has personal experience with the coronavirus pandemic. She and several relatives contracted COVID-19 in December.
"I wasn't scared for myself, but I didn't want anyone to get it from me," she said. "Mine wasn't that bad; it was like strep throat. I lost my sense of taste, but not my sense of smell, which was weird."
She and other students shared coronavirus information sheets with people receiving vaccinations.
The Pfizer-BioNTech Vaccine is administered in a two-dose series, three weeks apart. Those receiving their first injection are asked to return in 21 days.
On her Tuesday shift working at the Civic Center, Reid got to give her first shots. She remembered her training at South.
First, she placed a finger on the shoulder point known as the acromion process. Then she moved three fingers down and located the deltoid muscle. Then she swabbed the skin with alcohol and jabbed a needle into the arm.
"Like a dart," Reid said. "Not too hard, but not too soft."
Dr. Chrystal Lewis, an assistant professor of nursing, led students through an early morning orientation for their work day.
She asked them to be flexible, because the program is always changing. She asked them to remember the importance of patient communication. She asked them to be upbeat and encouraging with people in line for vaccinations.
For many nursing students, the first days of clinical training make an impression.
"About 15 years ago, my very first patient was a Hurricane Katrina evacuee from New Orleans, and I can still picture it," Lewis said. "I can guarantee that these students will always remember this day."
---