Conserving Natural Resources for Alabama
---
Posted on February 13, 2019
Bob Lowry
---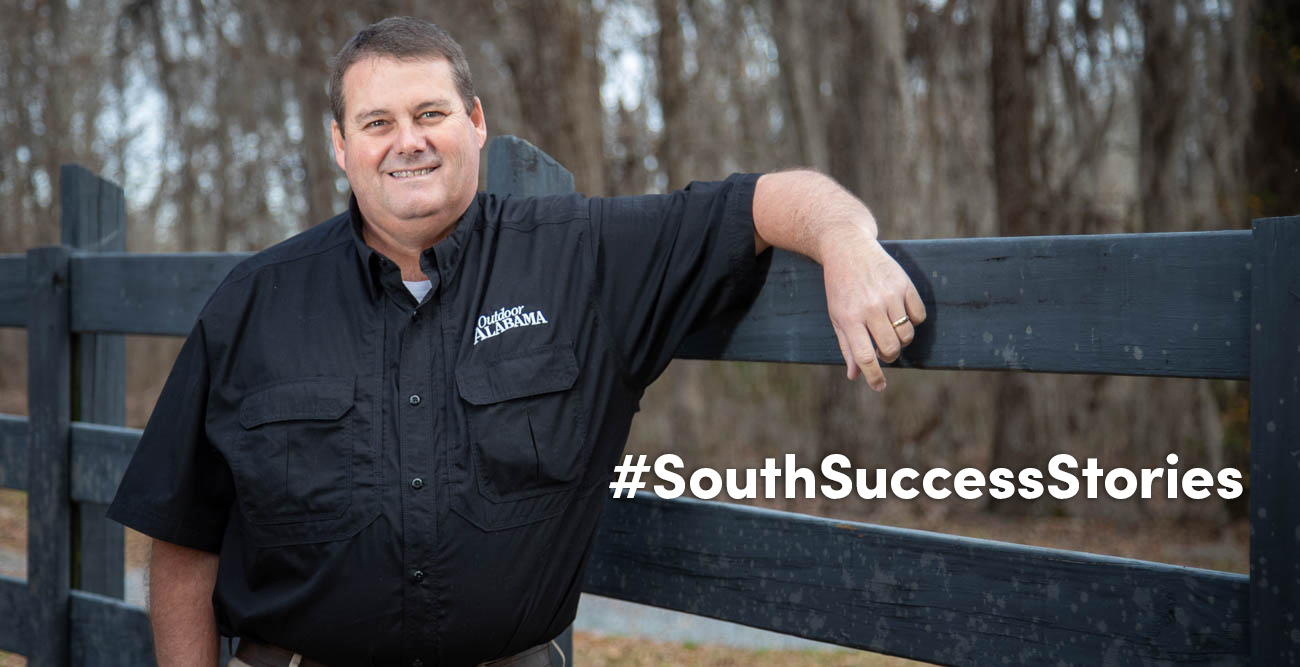 Chris Blankenship graduated from South with a degree in political science and criminal justice. His love of all things outdoors propelled him to become commissioner of the Alabama Department of Conservation and Natural Resources. Photo by Billy Pope, Alabama Department of Conservation and Natural Resources.
---
#SouthSuccessStories is an ongoing series featuring University of South Alabama alumni who are life-savers, innovators, game-changers, music-makers and creative-thinkers, successful in their careers and supportive of their communities.
"I went to work on the charter boats at Dauphin Island when I was 14 years old. I knew then that I wanted to do something for a living that would keep me connected to the outdoors and conservation."
And so it began for Chris Blankenship, a University of South Alabama graduate whose love of all things outdoors propelled him to become commissioner of the Alabama Department of Conservation and Natural Resources. But before all that, there was a kid from south Mobile County whose introduction to USA was on a baseball field.
"My father, Butch Blankenship, came to South to play baseball for Coach (Eddie) Stanky after finishing at Calhoun Junior College. He had some medical issues and did not get to play long, but he was always really proud of the baseball program under Coach Stanky and then Coach (Steve) Kittrell," Blankenship recalled. "We used to go watch a lot of games when I was a kid and I always thought it would be cool to go to school there one day."
A good student in high school – he first went to Mobile's B.C. Rain High before his family moved to Dauphin Island and he transferred to Alba High – Blankenship came to understand that a life outdoors would be interrupted by some life indoors. As in, inside a college classroom.
"I did very well in high school and there was no option from my parents for me to do anything but go to college," Blankenship said. "I considered many fine universities but I really liked the feel of the University of South Alabama. USA also offered me a great scholarship. The quality of the university and the generosity of the financial aid were both contributing factors on my decision to enroll at USA."
Blankenship initially majored in physics. "I was very impressed with the physics faculty on my visits to USA and felt like I would learn a lot and really be challenged. And boy, was I challenged!"
So much so that he, like others before him, changed majors. The outdoor life continued tugging at him.
"I could not see myself working in a lab or research facility for the rest of my life. I wanted to work outside. I had met some great game wardens on Dauphin Island and thought I might like to do that," he said.
Blankenship graduated from South in 1992 – the first person in his family to graduate from a four-year college – with a political science/criminal justice degree. And he immediately went back outside, to work as a conservation enforcement officer in the Alabama Department of Conservation and Natural Resources, the department that 25 years later he was appointed to run. The life journey amazes himself.
"I must say that I have been so richly blessed by God ordering my steps that it would be hard to follow. When I went to work on the charter boat, then attended South, then took an entry level job in conservation, I could never have imagined in the farthest recesses of my mind that one day I would be the commissioner of conservation, but here I am."
The Department of Conservation and Natural Resources is responsible for hunting and freshwater fishing biological and enforcement needs, saltwater commercial and recreational fisheries, management of state parks as well as the Forever Wild Land Trust program, along with oil and gas leasing and exploration in Alabama.
"We have 33 Wildlife Management Areas, 146 boat ramps, 21 state parks, 15 archery ranges, 22 state lakes, 13 shooting ranges, we manage over 750,000 acres for wildlife and we have the largest artificial reef system in the world," Blankenship pointed out. "With all those responsibilities, every day is a different day. I really like that about the job."
One might look at Blankenship's major at South, political science and criminal justice, and think that his coursework hardly prepared him for his career. But he works in the political arena, was appointed to his current position by the governor, and deals with politics of a sort on a regular basis.
"Most of the issues we have to work through are not resource related but are more resource-user conflicts and how to allow fair access to different groups of outdoorsmen," he explained. "Commercial, charter and recreational fishermen all have opinions on what percentage of the harvest they are entitled to. Stalk and stand hunters and hunters that use dogs for deer hunting have conflicts from time to time. Our job is to provide the maximum access for each group without infringing on the rights of others and still protect the stocks. That is a complex artistic endeavor sometimes."
Going forward, Blankenship has ambitious goals for Alabama's outdoors. His bucket list includes more access for fishermen, hunters, hikers, kayakers, bikers, campers, birdwatchers and all who love the outdoors. "We want to increase the stocks of deer, turkey, red snapper, bass and other species. More abundant stock should translate into longer seasons and better success." He also wants to increase the number of hiking, biking and horseback riding trails in the state parks, Forever Wild lands and other state properties.
"We also want to get the new generation of young people outdoors. We see a decline in outdoor participation in millennials and we want to reverse that," said Blankenship, whose life story drives him to succeed. "My life would not be nearly as rich and fulfilling if I did not spend time in the beauty of God's creation. I want our kids and our grandchildren to have even more of an appreciation for the wonderful outdoor opportunities we enjoy in Alabama than even I have had."
---