Follow SouthJaw in the Gulf of Mexico
---
Posted on February 15, 2016
Marketing and Communications
---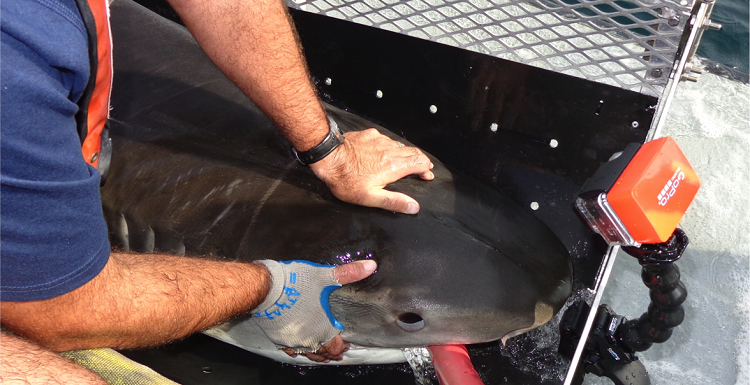 Dr. Marcus Drymon holds SouthJaw for tagging about 20 miles south of Ft. Morgan, Ala., on Aug. 11, 2015. Photo courtesy of Carlos Ruiz.
---
Move over @katyperry and @justinbieber.
The Twitterverse has a brand new handle, and this guy really is at the top of his food chain.
Scientists at the University of South Alabama, in partnership with the Dauphin Island Sea Lab, tagged a juvenile male tiger shark in August 2015, and not only can you follow his movements on the OCEARCH Global Shark Tracker, you can also chat with him via @TheSouthJaw while he cruises about the northern Gulf of Mexico.
"Thanks @OCEARCH! I was getting tired of the terrestrial land birds I'd been eating in the Gulf, so decided to hop on a new bird - Twitter!" SouthJaw posted. The shark's bio includes, "I might be a Tiger Shark, but I'm a Jaguar at heart."
Dr. J. Marcus Drymon, research assistant professor in USA's marine sciences department, explained the social media-savvy shark was dubbed SouthJaw by USA undergraduate students as a tribute to SouthPaw, the University mascot, and was tagged to "better understand movement, and ultimately draw linkages between movement and feeding ecology to tiger sharks in the Gulf of Mexico."
Drymon's primary research interests focus on marine fisheries ecology – including assessments of species' life history, distributions and trophic ecology in coastal ecosystems – and the majority of his work has been directed toward "increasing the effectiveness of management measures for coastal sharks."
In turn, his hands-on Sea Lab research has shown that coastal shark communities in the northern Gulf of Mexico can differ widely across relatively small spatial scales.
"My current research continues to explore the mechanisms responsible for this disparity, while addressing management issues through a series of fishery-independent surveys, satellite and acoustic telemetry projects and mesocosm experiments," he said.
And that's exactly where SouthJaw the Shark comes into play.
The tag allows researchers to track SouthJaw's movements via satellite every time he surfaces, and because this species is partial to surface birds, Drymon is hopeful the collected transmissions will reveal patterns associated with feeding ecology.
"Sharks like tiger sharks function as apex predators, meaning that – in a food web sense – they're at the top of their ecosystems, and that's a key role for an organism to occupy," Drymon said.
The research is unique, he said, in that the majority of tiger sharks tracked to date fall into the 10- to 15-foot range, but the nine tiger sharks native to the northern Gulf of Mexico tagged by USA and the Sea Lab are considerably smaller, averaging 4 to 5 feet.
"That's a critical life stage when marine biologists don't know much about these sharks, and this program allows us a glimpse into that stage of development," Drymon said.
He said a logical inference at this point could be that the waters off the coast of Alabama could function as a de facto nursery for young tiger sharks, but the data does not yet support the theory.
The bottom line, Drymon said, is that tiger sharks play a pivotal role in the regulation of healthy marine ecosystems, which affects everything from the seafood market to the job market.
"It really is integral to understanding how we live along the Gulf Coast," he said.
Ravi Rajendra, a USA biology major and pre-med student in his junior year, was not part of Drymon's SouthJaw tagging team, but he was among students in Drymon's "Shark and Ray Biology" course last May that tagged a scalloped hammerhead shark.
"Getting to tag the scalloped hammerhead was definitely one of the most memorable experiences of my life. So few people get to be so close to sharks and observe them as they really are. Very few people get to tag a shark," said Rajendra, president of USA's Student Government Association and the architect of SouthJaw's social media presence. "For me, to think that the scalloped hammerhead I tagged is out there swimming in the Gulf of Mexico is a pretty cool feeling. I also love the fact that the data from the tag will assist marine scientists as they seek to learn more about sharks.
"The coast is so important to the livelihood of so many people living in this area – all of us, really, whether people realize it or not. Yes, this is a passion for me, but I also see medicine as holistic, and this entire experience has helped me to better understand the relationship between man and the Gulf," Rajendra said.
And SouthJaw's newfound social networking fame?
That, Rajendra said, is simply a fun way to engage new audiences in the wonder the Gulf provides.
"You are beautiful in that photo!!" one follower tweeted SouthJaw.
"Thanks, I've found the salt in the Gulf to be the most exfoliating," SouthJaw tweeted back.
---