3 x 2 is 6 Performances of 'Schoolhouse Rock Live!'
---
Posted on February 17, 2016
Alice Jackson
---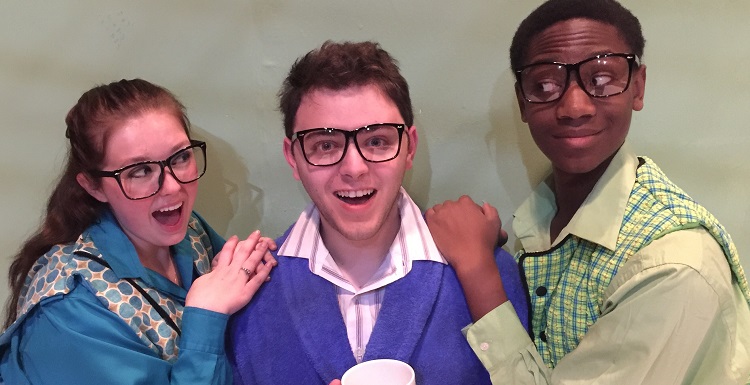 USA students, from left, Meghan Zuhowski, Blake Waters and Jeremiah Sims star in the musical, 'Schoolhouse Rock Live!,' at the Laidlaw Performing Arts Center.
---
Theatre USA brings back snappy, fun learning with the Feb. 19 opening of "Schoolhouse Rock Live!"
Based on the popular ABC-TV educational show that aired on Saturday mornings from 1973 until 1985, the musical opened in 1993. Fun music and snappy choreography combine to teach anything and everything, including the use of conjunctions and the process of how a bill becomes a law.
The cast features theatre student Blake Walters as Tom, a new teacher about to embark on his first day teaching, along with fellow students Cassidy Dangler, Malcolm Hayden, Amber Johnson, Jeremiah Sims and Megan Zuhowski.
Guest artist Stacey Driskell will direct, Daniel Driskell supervises music and Katie Felis is in charge of chorography.
The production opens at 7:30 p.m. on Feb. 19-20 and Feb. 25-27. A 2 p.m. matinee will be held Sunday, Feb. 21. All performances will be in the Laidlaw Performing Arts Center, 5751 USA Drive South, on the University's main campus.
For information on the production or ticket sales, contact the USA Theatre & Dance Office, (251) 460-6305, or visit the box office, located in the lobby of the Laidlaw Performing Arts Center. The box office is open Monday through Friday, 9 a.m.-4:30 p.m. and one hour before each performance.
---