Diplomat: Cubans 'Don't Want to Lose What We Have'
---
Posted on February 18, 2016 by Alice Jackson
Alice Jackson
---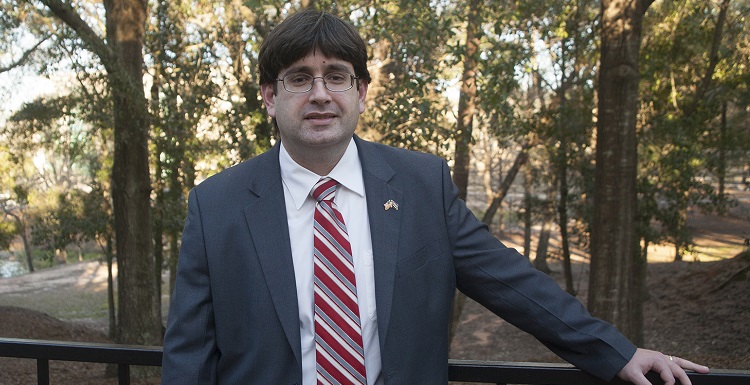 Miguel Fraga, first secretary of the Cuban Embassy in Washington, said in a visit to the University of South Alabama that 'the United States and Cuba are in the best moments of the last 50 years.'
---
Cuba's second-highest ranking diplomat to the United States told a University of South Alabama audience on Wednesday, Feb. 17, that his country wants "normal relations" with the United States.
Miguel Fraga, first secretary of the Cuban Embassy in Washington, spent the day meeting with University students and officials, then touring the Mitchell Cancer Institute. It was part of Fraga's three-day trip to Mobile, which became a sister city with Havana in the 1990s, to promote more open trade relations between Cuba and the United States.
"It's significant that while I am here, and while we are getting to know one another, that the United States yesterday signed a foreign trade agreement with my country to permit commercial flights between our countries again," Fraga said. "And your country has approved the first U.S. factory in Cuba in more than 50 years, and it is an Alabama company to make tractors."
Fraga acknowledged the historic Cold War split between his country and the United States that began in the 1960s, but he focused primarily on the benefits of the two countries beginning to resume relations again.
"I'm amazed at how much of your history here is shared with my country," Fraga said. "We Cubans love our baseball, and I learned here that our baseball came from Mobile."
In the 1860s, Cuban student Nemesio Guillot helped spread baseball across Cuba after he returned from studying at a college in Mobile.
Besides describing Cuba's politics, finances and the lifestyle of its 11.2 million citizens, Fraga talked about how the country is approaching potential problems that could result from increased economic trade with the United States and millions more tourists.
"Cubans want to change things, we also don't want to lose what we have, and we must solve those problems," Fraga said. "But, the United States and Cuba are in the best moments of the last 50 years, and we don't want to have to wait another 50 years for things to happen."
---