Forecasting the Weather and Making History
---
Posted on February 18, 2021
Lance Crawford
---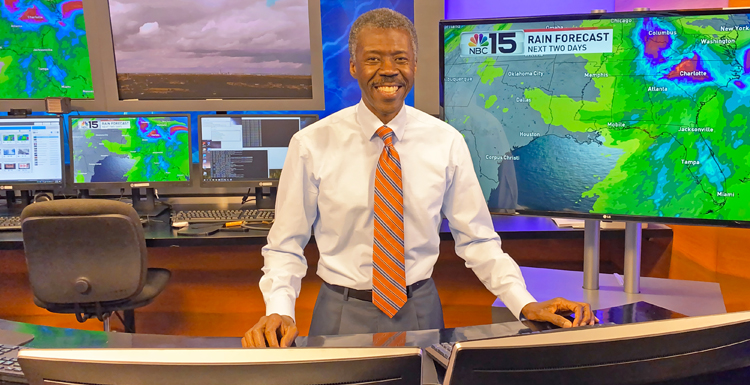 NBC 15 Chief Meteorologist and USA adjunct instructor Alan Sealls has achieved multiple firsts in his more than three decades in television.
---
By the time he was in high school Alan Sealls had three real interests, science, performing and helping others. It wasn't until a meeting with a local weathercaster in New York City – set up by Sealls's father – that he visualized a potential career.
"My dad worked behind the scenes at WCBS-TV. He set me up to meet with Irv Gikofsky when I was in high school and it confirmed that TV weather was a field that fit my interests," Sealls explained.
That spark ignited a passion for what would become his life's work despite the fact there were almost no Black meteorologists working in television news at the time.
"My parents raised me to believe that with preparation and persistence nothing was unattainable," he said.
And it wasn't. Sealls' accolades include double digit Regional Emmy Awards, two Best Weathercaster honors in Alabama and the American Meteorological Society Award for Excellence in Science for a series he produced on climate change. In 2017, Reddit users voted him "Best Weatherman Ever" during Hurricane Irma after one of his weather segments went viral on social media.
Sealls has broken through barriers along the way. He earned his bachelors and master's degree in meteorology and was always the only African American in his core classes.
In 1987, he began his career in Albany, Georgia, as the first Black meteorologist in that television market. Sealls' talent and work ethic soon led to an opportunity in Milwaukee, Wisconsin, where he again broke new ground.
One day while working at the station, a viewer called to complain about a Black man delivering the weather on TV, oblivious to the fact that he was speaking with Sealls.
"I was surprised but not shocked. I was offended but not hurt. It was his problem, not mine. I was amused at the irony that aside from his bigotry, he complained to me, about people like me," he said wryly.
He left Milwaukee for Chicago. In 1999, Sealls landed in Mobile at WKRG-TV, once again finding himself as the market's first African American TV meteorologist. Three years ago, he became president of the National Weather Association and the first African American to fill that role.
For the last 21 years Sealls has added teacher to his resume. He's an adjunct instructor in the earth sciences department at South. He teaches "Introduction to Television Weather" each spring semester sharing his knowledge of weather and skill in front of the camera.
Over the years, Sealls has noticed quite a change from the time he was a college student.
"I'm happy to see more gender and ethnic diversity each year in meteorology at South," he said. "The students are so far ahead of where I was as a student, because of weather and weather broadcasts all over the Internet, social media, and on traditional media."
His advantage when he was young was his father's job at the television station. It allowed him to at least visualize being a TV meteorologist. Now, he serves as a beacon for others to follow.
"I have had many African American adults tell me that I was a part of their motivation or inspiration to get into broadcasting, meteorology, or education. I also hear that from every other ethnicity, as well as from women," he said. "But I hope that while people note my many firsts related to ethnicity, they also think, what took us this long to get there?"
---